It's 2013 and London is still glowing in the aftermath of 2012. A dignified host city during the Olympic Games and great Jubilee celebrations, we showed the world just how wonderful the Great British capital is. The eyes of the world were on us and we did ourselves bloomin' proud.
When those 500,000 visitors descended on London last summer, London braced itself for booked-out rooms and overflowing pubs. My own friends from other cities and countries dropped by to take in some of the Olympic and Paralympic spirit - and I was asked a number of times about where is best to stay. It turned out, I didn't know the answer. There are so many hotels to choose from in London, but where do you start in finding an affordable, yet safe place in an exciting part of town?
Despite living in London for my entire life, I could only reel off a few well-known ones. There are the famous, glamorous hotels like The Savoy and The Langham - perfect for a posh G&T with work colleagues or afternoon tea with your mum, but perhaps not somewhere to stay when on a weekend break in the big city. Work trips are made more comfortable at the Park Plaza Victoria, and backpackers get a superb deal if they book a dorm at Kings Cross hostel Clink261 (£9-per-night, anyone?). Even the fashionista's dream rooms at The Pavilion are full of splendour - enough to attract the likes of Helena Bonham-Carter, Daniel Day Lewis and even Leonardo Di Caprio apparently.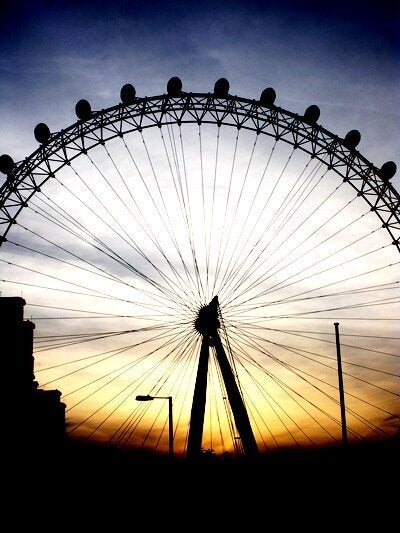 But if I was visiting London, I'd have no idea where to start. So it was quite an education for myself too when I decided to go on the hunt for lovely London hotels. Of course, checking out every nook was going to be tough - but I think I've found my top five. And if you're heading to London for Fashion Week or a Valentine's treat, Easter break or even a summer blow out - I hope these will come in handy.
TOP CHOICE: The Egerton House Hotel, Knightsbridge
First things first, this 19th Century townhouse hotel makes an absolute killer martini - and you'll be offered a glass as you check in. Sicilian barman, Antonio, is famed for his 40-years of cocktail-making and you'll be left in no doubt of his skills as you sit down in the bar with the perfect shaken (or stirred)... and relax.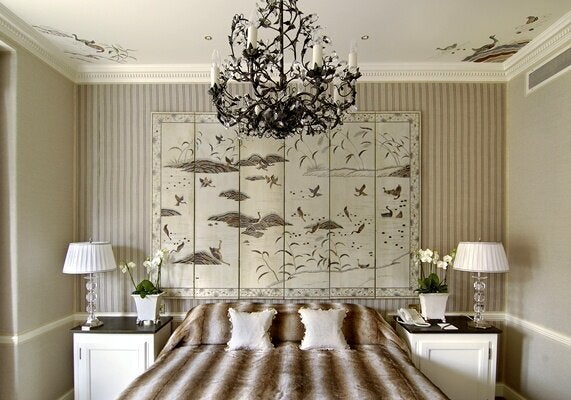 Stroll through the corridors to discover early 20th Century prints from the Illustrated London News. The glamorous guestrooms boast lithographs by Matisse, Picasso and Braque - while dramatic black chandeliers, leopard-print seats and four-poster beds enhance the glitzy mood in the various rooms. In the bar, you'll find an original print of Charles Schultz' lovable 'Snoopy' - a favourite spot for staff and guests.
By day, take the short walk to London's most famous stores, Harrods and Harvey Nichols and fill your wardrobe with designer dresses, new-line bags and scrumptious shoes. Continue your shoppers' paradise a little further on at the boutiques of Brompton Road. Don't forget to stop off at the Bluebird Café, Kings Road, a lunch favourite with Kate and Pippa Middleton. At night, you'll sleep peacefully as the hotel is tucked away from the main street.
The Victoria & Albert Museum and Royal Albert Hall are just five minutes away, with the Natural History Museum and Science Museum just a bit further on Exhibition Road. These are some of London's finest attractions and they're just a few minutes' walk. But if you're planning to explore further, Knightsbridge and South Kensington underground stations are a few metres away.
Just a few minutes from Old Street station is the buzzing Hoxton Hotel, located in the heart of East London's glitterati community. The area might be bustling with creative sorts, but whoever you are - you won't feel out of place at this completely laid-back hotel.
Walk into the lobby and you'll be welcomed at the sweeping reception desk. Stop for a minute and take in your surroundings. Is that the sound of someone playing ping pong? Why, yes, it is.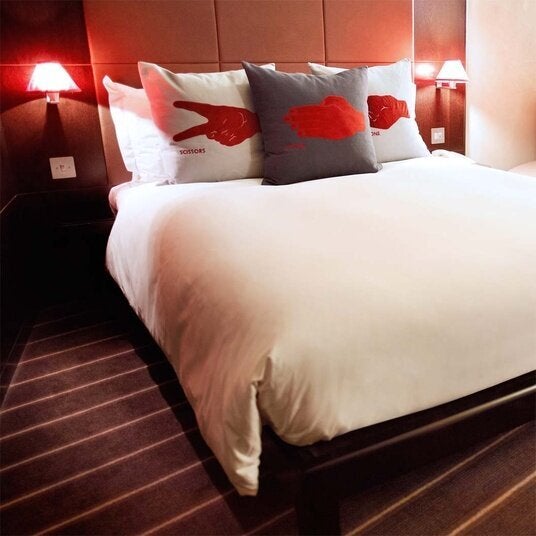 Pick out a bottle of wine, chocolate or crisps at reception and you'll pay the high-street price - perfect for creating your own minibar upstairs (and for a fraction of the usual cost). Your room, spacious and comfortable is the perfect base after a night in East London. But for something a little more special, book yourself into one of seven concept rooms - the preppy city-style design won't disappoint.
Stay here if you're planning a night out on the town and need somewhere easy to get back to. It's not quiet in Hoxton, so be prepared for bar noise to drift up into your room until closing time - but if you're out too, then there's no problem.
In the morning, you'll wake up to a complimentary breakfast bag - the genius idea of the former owner, who just happened to be a Pret A Manger boss. Guzzle on a Pret yoghurt, banana and orange juice to start your day and then nip into the old Shoreditch Station - now a café - for an delicious lunch of locally prepared hummus, fresh bread and coriander and chilli olives.
The Zetter Townhouse, Clerkenwell
The Zetter Hotel has been wooing guests since 2004, but this Georgian beauty opened its extraordinary 13-rooms far more recently. Each room is unique, but I'd recommend the Townhouse Apartment - which comes with bright and airy sash windows and a freestanding bath.
Located across the road from the original Zetter and St. John's Square, this is one slick townhouse, with a few curiosities which are worth exploring while you're here. The décor is brimming with character, with no eccentricity spared. Union Jack drapes hang across four-poster beds, while brightly upholstered chairs decorate the floor-space.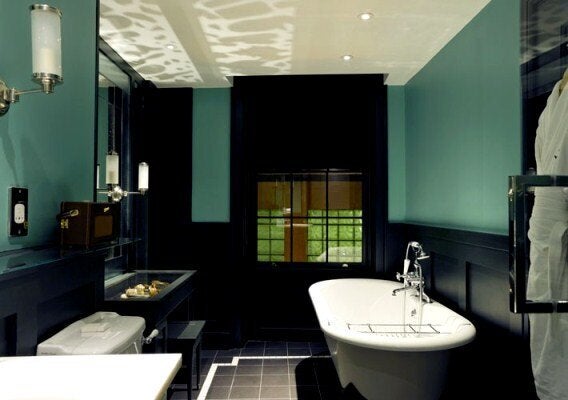 Down in the Cocktail Lounge-slash-old living room, mixologist Tony Conigliaro spends his time creating the perfect Old Fashioned, while you laze back in the green and brown arm chairs. Vintage radios and gramophones line the shelves and there's a slightly disturbing taxidermy tabby cat in an ice blue dress peering at you from across a mahogany table. What's not to like?
The area is full of polished restaurant and bars too - perfect for enjoying London's vibrant nightlife. A pre-dinner cocktail in the Cocktail Lounge will set you back £8.50, but the surrounding area of Clerkenwell is full of inviting eateries and bars - a favourite being the St. John restaurant, which serves up meat treats like no other.
Out West now and to the Hanger Lane in Ealing, where this simple, modern luxury lies. Rooms are straightforward, but come with great comfort - an orthopaedic mattress, deliciously crisp Egyptian cotton sheets and a power shower. There are no fancy chandeliers or stuffed felines here - just good service and an inviting pillow. You'll not want to leave.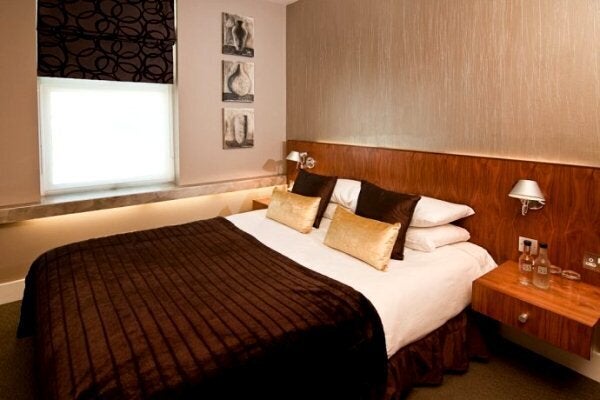 Breakfast is held in the conservatory, which overlooks 55's designer garden. A combination of leafy plant pots and a wooden deck make up the scene. In summer, this is the place to stop with a book or retire to with an ice cold cider - you won't be disappointed.
Of course, you're not in the West End - but take the seven-minute walk to West Acton station and the Central Line and you'll be in the thick of the Oxford Street stores in no time. But just three miles up the road is one of Great Britain's most iconic stadiums, Wembley. Take a tour and witness where some of England's greatest sporting moments took place. The number 83 bus will drop you right outside.
Hotel 41's individually designed rooms are the highlight of this hotel experience. Dramatic mahogany furniture fit perfectly with the welcoming white linen and there'll be fresh fruit and seasonal flowers waiting for you on arrival. If you're lucky in your room allocation, you might find yourself drifting off to the gentle flicker of an open fireplace too - the perfect added touch.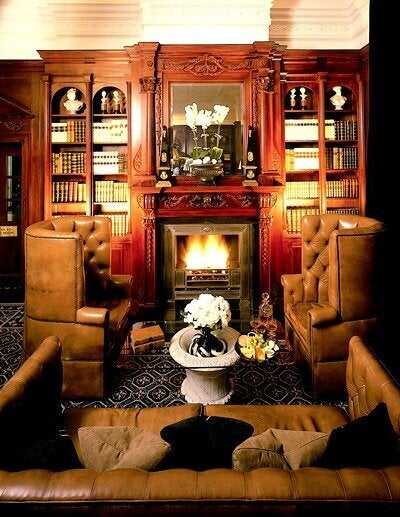 Step into the private Leopard Champagne Bar next door and sip on bubbles in a cosy safari-style lounge, with plump wild-cat print cushions and old leather armchairs keeping your comfort. The Sevruga caviar is a hot favourite on the menu, but it's the melt-in-your-mouth chocolate cake that draws regulars back time and time again.
Your view from the hotel is the Royal Mews of Buckingham Palace. The Queen's Gallery, which hosts an incredible collection from the Royal's personal portfolio, is just two minutes' away - the perfect stop off point en route to the Palace itself. Don't forget, the Queen opens up her home to the public during the summer too - which is a guaranteed royal adventure.
The Art & Culture package at Egerton House Hotel starts at £309+VAT and includes two nights' accommodation, with a pair of tickets to an exhibition of your choice. Afternoon tea for two on one day is also served, and a full English breakfast daily. To make a reservation, call 020 7589 2412
Spend a weekend at The Hoxton from around £129 per night. Check website for latest rates.
Hotel 55 rooms start at £80 per night, with a continental breakfast included.
A Westminster Weekend package at Hotel 41 includes breakfast and a bottle of champagne on arrival. Prices start at £268+VAT per night.