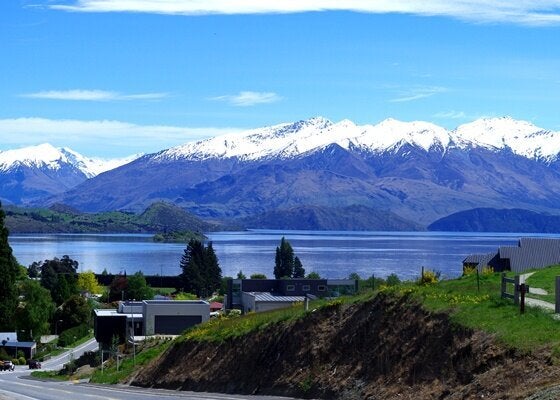 As my dusty hired Toyota RAV4 rounds the corner at the top of the hill, the sky opens up ahead of me; its enveloping blue spreading like spilt ink across my windscreen. I watch in awe as the rich, luscious, inviting colour fills up my entire view. Then I realise I'm not looking at the sky. I'm looking at water. I've arrived at New Zealand's fourth largest lake, Wanaka. An expanse of water that reaches over 192 square-kilometres, it's quite simply one of the most beautiful sights I've ever seen.
Growing up with parents who enjoy travelling, I was lucky enough to visit New Zealand as a child. So landing at Queenstown International Airport, I thought I knew what to expect. Over 15 years ago, my mum and dad had organised an Easter treat by flying us to the North Island to see my uncle, auntie and cousins. I remember being in awe of the fairytale-esq velvety-green volcanos booming above the dainty fields of Whakatane, the potent smell of sulphur filling my lungs every time I took a breath. We had delicious seafood curries at home and snacked on ice-creams and fresh papaya fruit when we were out exploring. It was a wonderfully spacious place as I recalled. The skies were always blue and the sun always bright.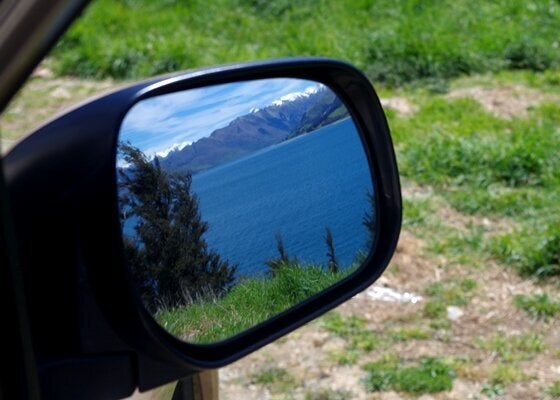 This time I'm exploring nearly 250 miles of the Otago region of New Zealand's South Island - a place known for its diverse and dramatic landscapes. Although I'd arrived with high expectations, my memories were already being blown apart by even better breath-taking scenes. Parking up in a lay-by, I grab my camera from the passenger seat and take 10, 20, then 30 photos. Below me the town of Wanaka spreads out in a mix of silver and brown roofing, before the endless blue begins its heavenly backdrop.
Watching cars snake their way through the residential streets, I notice there's a T-junction in front of the lake. That's where I'm heading. But not before I've snapped away another 20 pictures. But not one photograph seems to completely capture what my eyes are seeing. So I stop and just watch for a while. Actually, I don't ever want to stop looking at this.
This feeling pretty much sums up my entire journey through New Zealand. Here is a country that is often overshadowed by the fame and fortune of its larger next-door neighbour Australia - and as a result, its natural beauty is overlooked. But the people here don't shout or boast about their well-kept secret, instead they allow visitors to fall in love at their own pace. And fall in love, they do. With the Kiwi charm, it's not a hard task.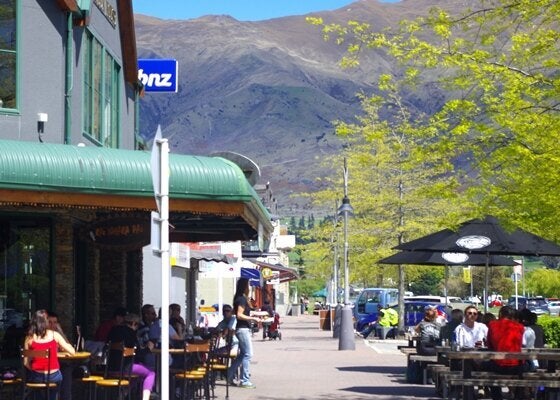 As I follow the road down towards the water, giant snow-capped dusty peaks rise up out of the blue. In front of the lake, Ardmore Street is full of inviting cafes and restaurants, each spilling out onto their own little area on the pavement. Blackboard signs promise comforting fresh penne dishes, mozzarella and beetroot salads and buttery croissants to go with the spectacular view. The distant sound of Oasis's Don't Look Back In Anger fills the afternoon air.
I grab an iced coffee and cheese toastie to go from the old wood counter at Kai Whakapai Cafe and head onto the grassy bank to soak in the sun and gaze at the view. Around me, locals are enjoying work lunches with notepads and fresh-fruit platters out. Travel buddies are guzzling fresh juice as they sunbathe next to each other. I can't help but wonder what it'd be like to wake up to this view every day.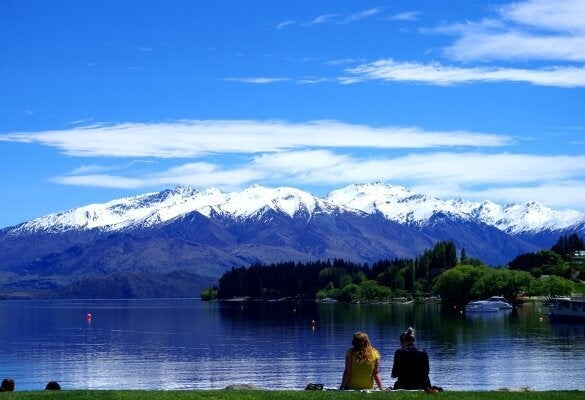 Lake Wanaka may be a bit of a tourist hotspot, but that goes unnoticed here. Out on the lake, fathers and their sons are canoeing for the afternoon, while couples splash around by the shore sealing their memories with each camera click. In the distance, I spot parked yachts and wander round to where they are. There's the aroma of food being prepared and the sound of wine corks being popped. This is a place for everyone to enjoy.
A few streets away, supermarkets, pharmacies and clothes boutiques carry on their trade, just like they would in any normal town. At the Cinema Paradiso, the latest flims are shown while you sit back on old sofas, enjoying freshly-popped popcorn and homemade ice cream. Step back outside and that gorgeous blue is still there, making your day seem so much brighter.
In actual fact, a lot of New Zealand gives off that all-encompassing-yet-completely-welcoming feeling. Lake Wanaka turned out to be my personal favourite - but there were a few close seconds thanks to the friendly Kiwis who couldn't help but share local tips and adventures.
Queenstown, surrounded by splendid deep blue lakes and towering snow-covered cliffs, is a sleepy little village - but amongst the laid-back quiet streets, you'll find a community full of hardcore adventurers and adrenaline-lovers. Skydiving, canyon-swinging, skiing, mountain climbing and white-water rafting are just a few of the incredible experiences on offer here. In fact, bungee-jumping was derived at the Kawarau Bridge in 1988 - and naturally, this has become the best place to experience New Zealand's outdoor life.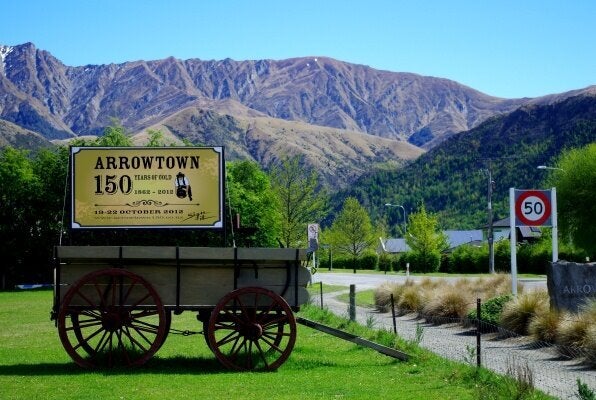 Once 'jumping off a bridge' and 'leaping out of a plane' (thank you, NZONE) are ticked off the to-do list, the scenic hike through the Mount Aspiring National Park is a must. The region is full dramatic Middle Earth-esq scenery that you might recognise from Lord of the Rings. Then, twenty minutes away, sits the tiny gold-mining district of Arrowtown where old ice cream parlours stand side-by-side next to gold shops, galleries and tea rooms. It's like stepping back into the 1860s and you can learn all about the town's inspirational history over a cream tea and bowl of strawberries.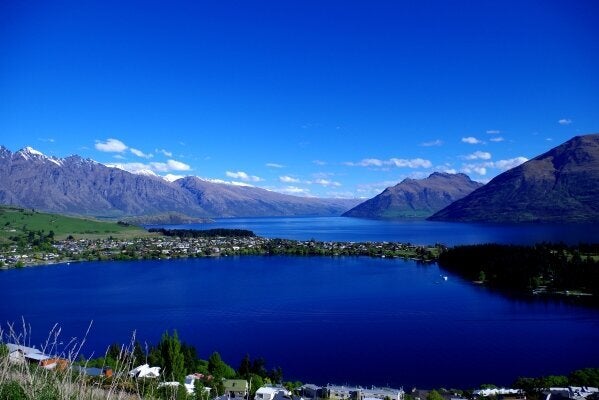 After a hard day of adventure, head back to the banks of Lake Wakatipu and the Eforea Spa at the Queenstown Hilton, where you can sip on green tea while overlooking the water. Then finish the day with a juicy treat at Fernburger - Queenstown's most-loved eatery which stays open for a remarkable 21 hours per day. Thick meaty burgers are served up in fluffy flour-dusted buns, while bean and salad versions are the perfect substitute for vegetarians. Cocktails in the square outside the Rata bar and restaurant is a must too.
Four hours away from Queenstown (or half-an-hour if you're taking a scenic flight), is New Zealand's most famous fjord, Milford Sound. Sailing these 16 kilometres of clear, gentle waters is a peaceful experience - passing 1,200 metre-high mountains and spotting snoozing sea lions and penguins. Jump on a boat at Milford Wharf and dissolve away into the sleek waters where you'll hear no other sound other than the gentle splash of the boat cutting through the water. Every so often, the thunder of a plunging waterfall will burst through the quiet, the soft mist gently landing on your face. If you're lucky, bottlenose dolphins might be playing alongside the boat. If you're very lucky, whales may be breaching in the distance. Overnight cruises allow for romantic sleeps under the stars.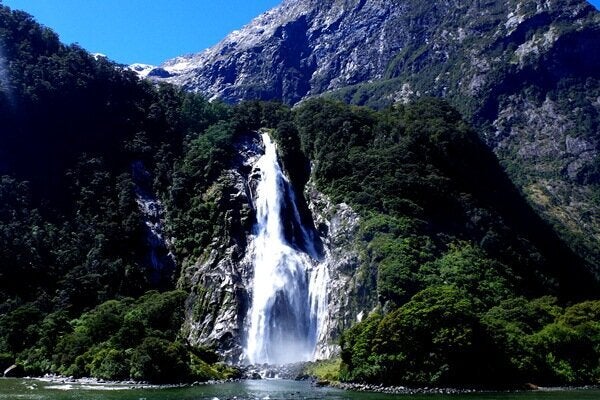 It's while taking in these spectacular waters I bump into some new friends. Some who lived just down the road on the South Island, and some who have flown from far off continents to be here. We share stories and speak of where we've been so far, bonding over the familiarity of a trip filled with adventure. A local couple, Chris and Katherine, tell me how they hike Queenstown's most famous walks almost every Sunday and it is clear their hearts are very much at home here. Once again, I find myself wondering what it'd be like to wake up to this view every day.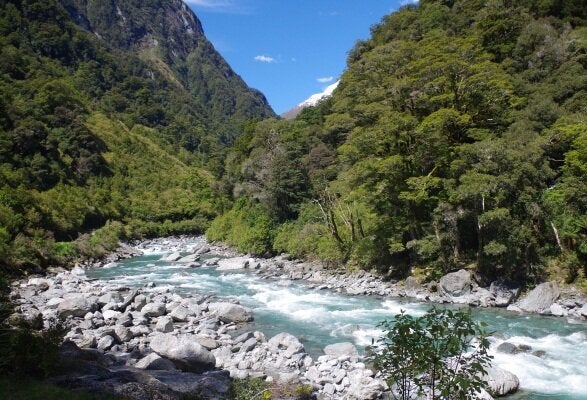 The drive from Queenstown, through Wanaka, to Franz Josef town (population: 330) should have taken five hours. Instead it took me almost eight because I couldn't pass by the endless string of lavish waters and huge ruby-red mountains without stopping for pictures. During the last 80 miles or so, I noticed a huge change in the scenery. Small trickling creeks became raging rivers and the dry red-rocks disappeared behind a coat of thick green rainforest. There was now a tropical dew in the air and eerie grey clouds created a mist over the hills. This is glacier country, home to New Zealand's two best-known icy peaks - Franz Josef and Fox. And although the town might be tiny, these two natural wonders attract hundreds of visitors to the area every day.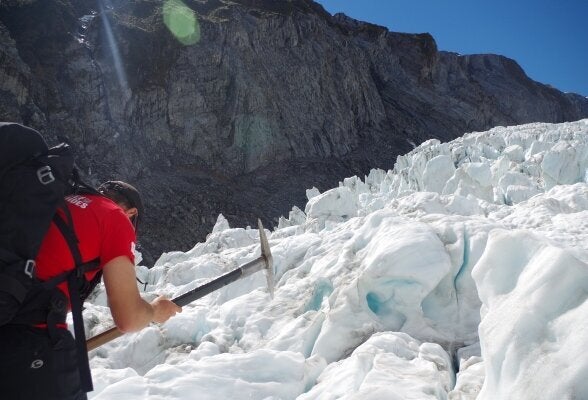 It's a 20-minute hike out to the foot of the mountain, and this best done with a guide who knows the terrain well. To experience the ice fully, it's best to take a helicopter right onto the glacier. Heli-hikes can be booked on the main street, and an hour after signing up you'll find yourself in snow boots and crampons being guided across the 7.5-miles of brilliant white ice, dragging yourself through steaming blue tunnels. It's an experience like no other.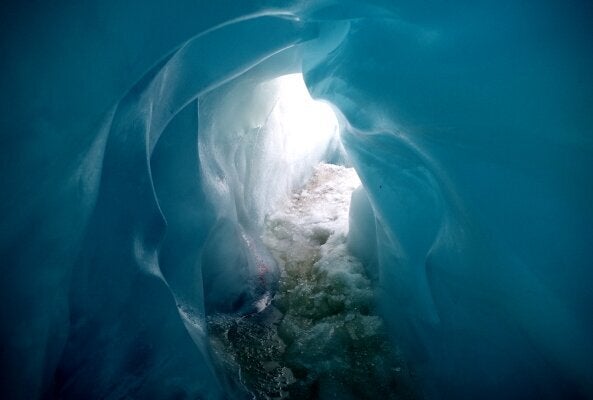 Tours generally last two hours, depending on the weather - and it's energetic work, leaping over frozen pools and hacking away at the ice to create paths. After a morning of hiking, with cold toes and a huge appetite, I return by helicopter and head straight to the Hahana Spa at my hotel, the Te Waonui Forest Retreat. Here, I slip into a robe and soak my feet in a frangipani-filled bowl of steaming water, while the therapist talks me through a range of treatments. I opt for the MiriMiri and RomiRomi massage - a traditional Maori deep tissue treatment, which incorporates massage and blessings to release tension and energy in the body. Lying on the table, I hear the spirits being asked to look after and heal me on my journey. Then a soothing herbal scent fills the room and a Kawakawa leaf remedy is used for the long-stroke rub.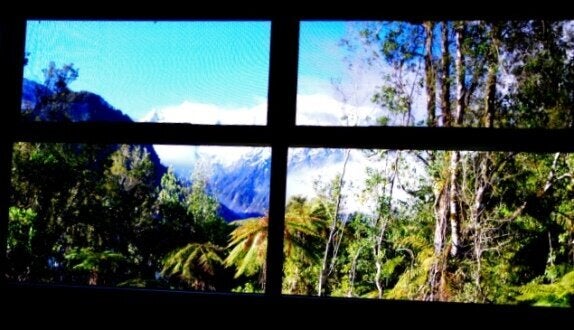 As I listen to the soothing Maori blessings bestowed over me, my mind drifts back over the last few days. West Coast vistas fill my mind and I know I've seen some of the country's most spectacular sights. It's no wonder, I think, the locals beam when they share their tales and tips with complete strangers. I recall how my heart has swelled time and time again - at both natural beauty and friendliness. I'm 11,600 miles from home and I've felt very welcome.
Yes, it's no wonder so many people fall in love with New Zealand.
For more information on planning your trip to New Zealand, go to newzealand.com
Qantas flies from London Heathrow to Auckland [via Sydney]. Return economy fares start from £1181.15. Latest fare deals available at Qantas.com.