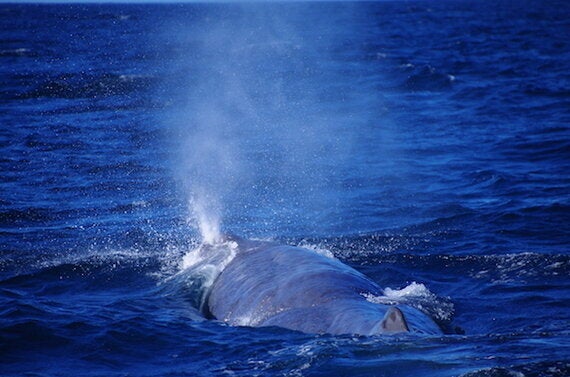 It's an incredible sight. A male sperm whale is spouting water six feet into the air; his leathery back and dorsal fin glimmering under the sun. And here I am, just watching him (we know he's male because only the fellas hang around in New Zealand's chilly waters; the females remain in the Tropics with their young). He hangs about at the water's surface for what feels like a lifetime and I imagine diving into the sea right now; seeing all 18 metres and 60 tonnes (three times the weight of our boat) of his fascinating form. What we can see - as momentous as it is - is only, quite literally, skimming the surface of one of the world's most magnificent mammals.
After ten minutes he has had enough - and following one final spout, he decides he's going diving for food. His tale slaps down onto the water and then flicks up into the air creating a mini-cascade, giving the 30 guests on board the perfect picture they came for. I am too mesmerised to even lift up my camera. Vicky, our guide, tells us how sperm whales can dive to over 2000 metres in these waters; their lungs flattening and rib cage compressing so they don't hold any air which could cause decompression sickness on the way back up. And then, he's gone.
It's not only sperm whales that are found in Kaikoura's waters. Other species include Blue, Minke, Southern Right, Beaked and Pygmy Sperm whales. Vicky tells us about their migrating cycles, the way they feed and bring up young. I'm genuinely bowled over by how much the team know.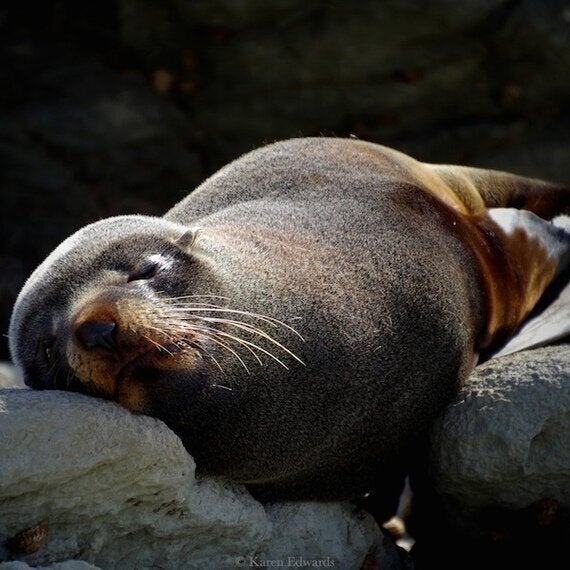 In fact, I'm bowled over by Kaikoura's general attitude to their unique environment. This small town on the South Island's east coast is one that boasts a rugged peninsula, home to not only whales but endemic fur seals and pods of dusky and common dolphins. It's refreshing to see the local community celebrating and appreciating what they have around them; encouraging its own residents to chip in and do their bit. Households are encouraged not to purchase products which can't be re-used because the council only collect recyclable refuse. If you have perishables, you need to take it to the dump yourself - and you have to pay for it. At the refuse site, there's a weekly sale of old clothes, jewellery and home-ware people no longer want. Waste has become minimal here. The work here doesn't go unnoticed.
"Change can happen in many ways and one of these ways is by creating policies that require people to think and act more responsibly," explains environmental filmmaker and Contiki Holidays' sustainable partner Céline Cousteau.
"Local governments are taking the lead on change. Another path is that we take action as citizens to influence change in our towns and cities. I would certainly encourage local participation in anything from beach clean-ups to demanding better environmental practices of your local government."
Kaikoura should be an inspiration to towns, villages and cities across the world. They may be tiny, but they are doing their bit. The question is, can the rest of us follow suit?
Whale Watch Kaikoura offer whale-watching tours from NZD$116 (approx. £60) for adults and NZD$60 (£30) for children. Find out more about their conservation policies, too.
Depending on your budget, these two fantastic local B&Bs will give you a friendly Kaikoura welcome:
Margaret and Nicky at homely Bayview Homestay offer double rooms and complimentary (and often home-grown/laid) breakfasts from NZD$125 (£62) per night.
Jane and Quentin at beautiful Nikau Lodge, Kaikoura have double rooms with a view from NZD$220 (£110) per night.
STA Travel UK currently has flight deals to Christchurch, New Zealand from £720 return with Emirates.
PHOTOGRAPHY: KAREN EDWARDS