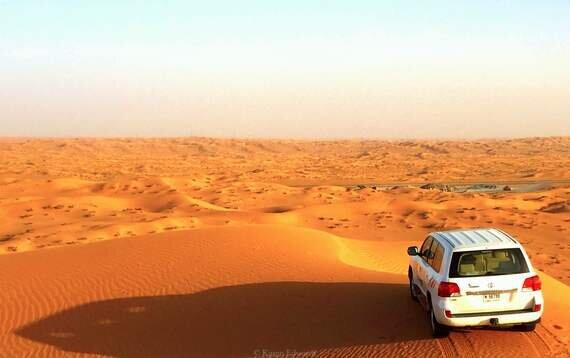 Like endless spice mountains, the deep saffrons and mustards of the Arabian desert unravel into the horizon. Deep yellow waves start and end everywhere. The steaming sun bouncing off the hills.
'Are you ready?' asks the driver.
The revs rage. The pedal goes down. And we're off. Our white Land Cruiser flying over five-metre dunes, leaving a cloud of dust in our wake. I'm pretty sure we're taking them at a 45-degree angle. I twist to look through the back windscreen, my head lolling at every bump, my seatbelt locking me into position so I can't slip too far. Our tracks snake back for miles through silky sand. Then, stillness. 'Nice view?'
We are now at, what seems, the top of the pile, looking down at the desert below us. The hues of yellow and orange unfold and fold and unfold again. A bright and brilliant contrast against the hazy afternoon sky. 'Stunning.'
As we return to base at the bottom of the dunes, a camel saunters by.
The seamless transition of nature and city, this is the real Ras Al Khaimah.
One of the seven Emirate states in the UAE, Ras Al Khaimah is relatively new to the tourist map. Just a 45-minute drive from Dubai, it's already very well known with expats - but hasn't quite found its way to traveller itineraries... yet.
Things are about to change - with Royal Brunei Airlines announcing RAK as their official stopover destination, there are flights and transfers daily; luxury hotels and residencies are springing up along 'The Cornish' sea-front. The perfect alternative stopover for anyone travelling long-haul from Europe to Asia, and wants to avoid the Dubai smog.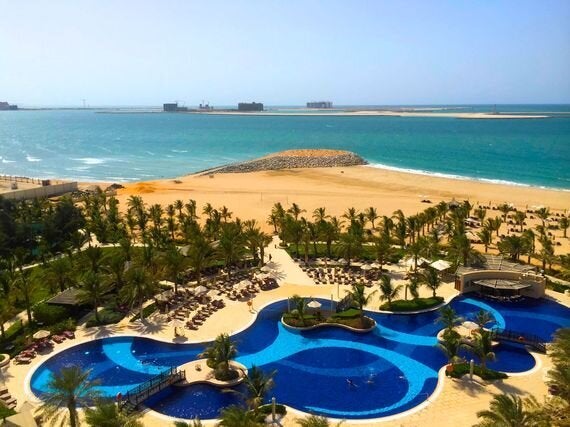 Shops like H&M and M&S dot the Manar Mall to make you feel at home. But it's the Al Quatye souk, where RAK comes alive. The crisp whites, blacks and gold embroidery of the kandoora and makhoura (traditional dress) line shop fronts. Head to the Cove Rotana on Thursdays and Fridays for a beach party you won't forget. This is Ras Al Khaimah in all its glory. A fabulous place to lose yourself among comfort, colour and culture.
I had arrived well-rested in RAK following a six-hour flight with Royal Brunei. A big thumbs up go to the always-smiling attendants, who not only didn't wake me up for breakfast, but also offered my missed meal once I'd woken up. Along with the usual services (in-seat entertainment, food and alcohol-free drinks), the bathrooms were always sparkling - suggesting they were cleaned several times during the flight. A rare sight, even in 2016. The waiting private transfer at Dubai airport was a very special touch. It's the little things!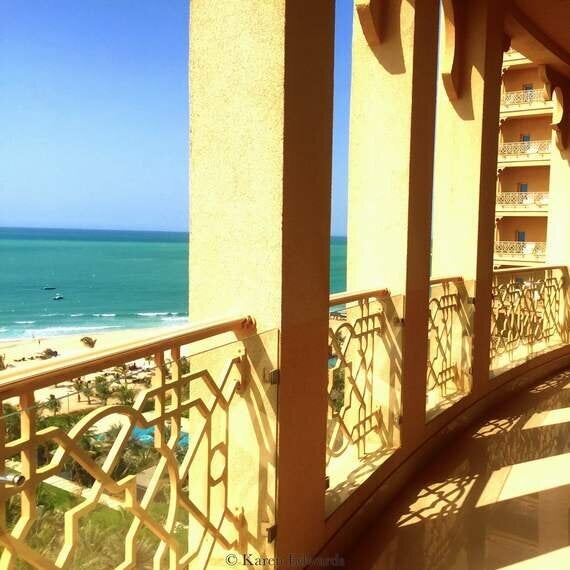 Having scoped out the local shops and exhausted the desert dunes, it's time to relax. With my tan tingling and feet dusty and ready for a soak, I head back to the glorious, palace-inspired Waldorf Astoria, where a steaming monsoon shower washes away the fatigue. While deciding on what kind of dinner I fancy (the three in-house restaurants range from Umi (top-notch sushi and sake), the Lexington Grill (fresh seafood and steaks) and Marjan (middle-eastern - go for the chicken tagine), I flit between the sinking Egyptian-cotton sheets of my king-size bed and rehydrating with a fresh berry smoothie on the balcony. Outside, the turquoise Arabian sea is ridiculously inviting and the few remaining bodies by the pool are sun-kissed, with a cocktail in-hand. Tomorrow will be a beach day.
Now is the time to visit this exciting desert city - where the desert glistens in the sun and the culture, not yet explored.
Spend three nights at the Waldorf Astoria Ras Al Khaimah, between 01 May to 21 June 2016, from £539pp. Rate includes breakfast, return Economy flights with Royal Brunei from London Heathrow to Dubai and a private transfer to RAK. Business Class flights start from £1829pp. Book by 25th Feb 2016 with travelbag.co.uk.
Royal Brunei Airlines is the only airline offering a daily, non-stop Dreamliner service between London Heathrow and Dubai, a 45 minute transfer from Ras Al Khaimah. Visit flyroyalbrunei.com or call 020 7584 6660.