Located in what scientists call 'the coral triangle', Indonesia is surrounded by some of the planet's richest marine life. It is estimated 51,090sqkm of the country's surrounding water is made up of coral reef, an area home to everything from sharks and rays to Pygmy seahorses. So where do you find the most beautiful and biodiverse dive sites?
The scuba aquariums of Raja Ampat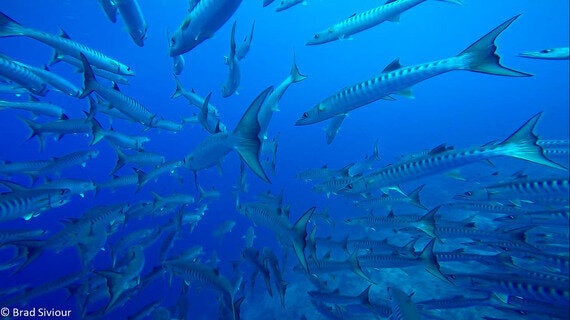 If rumours about Cape Kri are true, this is one of the best dive sites in the world. In 2012, 374 species of fish were recorded here - one of only three sites in the Coral Triangle to top the 300+ species list.
At just 10 metres, a buzzing aquarium opens out. Thousands of fish dart among the corals; Damsels, stripy Sargent Majors, large schools of blue-tailed Fusiliers. Then my dive buddy, Steve, points into the distance. A large Bumphead Parrotfish, 120 centimetres in length, pecks at the coral. Behind him, seven equally huge bodies hunt for food. I give Steve a small shake of the head to show how unbelievable this sight is and he smiles from behind his regulator.
Then another magical sighting. A school of Pickhandle Barracuda, 140 centimetres in length, followed by 40 Black-fin Barracuda. A seemingly endless stream of Spanish Mackerel zips by, too. Wow, wow, wow.
We continue winding our way through giant table corals, staghorns and anemones. Then it's my turn to spot a distinctive shape curiously wandering...
A Black-tip reef shark! He noses around us, close enough for us to see his distinct colouring and but not too near where we are in his path. Then he darts away into the blue.
I think I've just had the best dive of my life.
The deal: Explore Raja Ampat on the Silver Discover, setting sail from Darwin, Australia to Koror, Palau on 26 May 2017. Rates start from $8,145 (approx. £5,700) for an all-inclusive 14-day trip.
Meeting the turtles in Manado, Sulawesi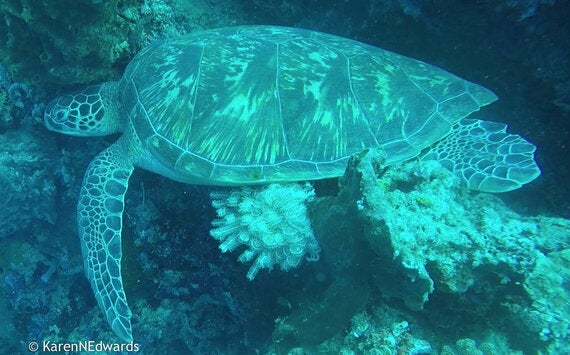 The Muka Kampung wall glistens like a shelf of treasures. Think Ariel's cave in The Little Mermaid - only a million times better. There are enclaves, ledges and caves and my buoyancy skills are tested as I delve closer to find what's hiding inside.
I spot a beady eye and come face-to-face with a Green Sea turtle. His eyes are darting around, watching the world go by from his little safe haven. He spends several minutes with me, before sailing off without a sound; his flippers softly paddling, his mustard-brown shell sparkling under the sun's hazy rays.
Incredibly, I experience several moments like this during our visit to Bunaken National Marine Park, where two or three hour-long dives a day are the norm with Eco Divers Resort. Just 30kms from the airport, Eco Divers is situated at pretty Minhasa Lagoon. Post-dive, the choice is between enjoying a cocktail on your beachfront cottage balcony, or by the glorious infinity pool. The in-house restaurant dishes up delicious Sulawesi cuisine. The perfect end to the perfect day.
The deal: A three-day dive package at Eco Divers Resort starts at EUR 650pp (approx. £510), including four nights' in a Garden View room with full board, three guided day-dives with cylinders and weights, airport transfers and free Internet access.
Sardine spotting in Lombok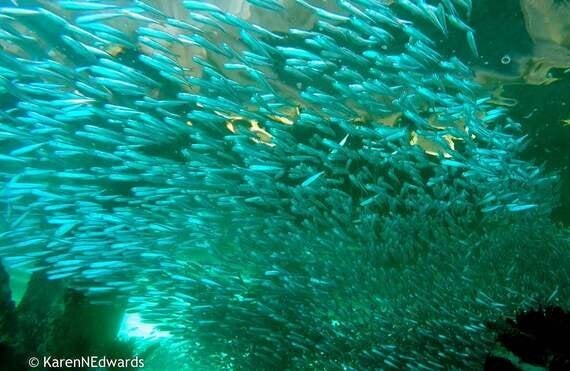 I'm dancing in the water. With a tank on back, my regulator between my lips and a wetsuit as my costume - I'm twirling around like a ballerina. Around me, more dancers take to the stage in the form of thousands of sardines. We turn and twirl together, in unison - and it's one of the most wonderful scenes to be a part of.
It's the end of an hour-long dive at Beggit Timur, Sekotong. I had glided by giant sea fans, Triggerfish, Pufferfish, Yellow-back Fusiliers and even Manta shrimps. Soon it will be time to surface. As we make our safety stop, my Dive Master points out a small man-made cavern. I investigate.
Inside, thousands of sardines are illuminated by the sunlight. The stream seems to run forever and I have never seen so many schooling fish. Being packed together makes it hard for predators to target individuals, so there is a method to their magnificent madness - and here they are, winding and swirling, to music I can't hear.
It's hard to surface from a dive like this. But the thought of a hot shower and a delicious Indonesian lunch at my Lombok home, Cocotinos Resort, helps ease the decision. My beautiful terrace villa opens out onto a secluded sandy beach and an inviting pool and spa provide the perfect finish to a day of diving with onsite Odyssea Divers. So I say goodbye to the sardines. Paradise waits on land.
The deal: A full board four-day, three-night diving package at Cocotinos Sekotong starts from $595pp (approx. £415), inc. six dives with tanks and weights, airport transfers and free wifi.
Komodo - fierce currents, big fish; experienced divers only; best explored on a liveaboard.
Lembeh Strait, Sulawesi - over 50 dive sites, ideal for macro divers
Pulau Weh, Sumatra - Eagle rays and Moray eels.