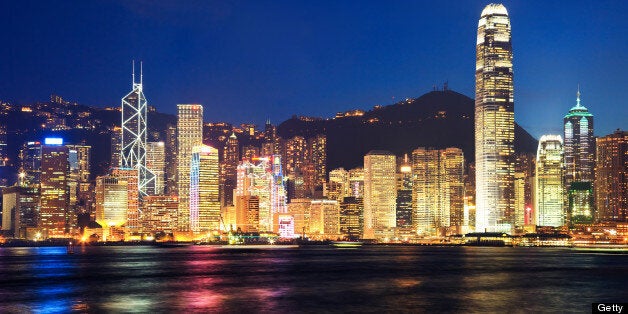 My previous experiences of Hong Kong have been somewhat fleeting. The first time I stopped here was in April 1997, while on holiday with my family. We had been visiting relatives in New Zealand and were on our way home when we made the break. My memories are of dusty roads, low-flying planes, car horns and humidity. I remember being thankful this wasn't our actual holiday.
Of course, I was a child then and hadn't taken in my surroundings as I would now. But today, as I reach Victoria Harbour, I'm greeted with something completely fresh, modern and exciting. For a start, the old Kai Tak airport had been replaced with the bright Hong Kong International, 30 kilometres to the west. This means those famous pictures of jumbos narrowly missing skyscrapers are no longer being taken and Hong Kong no longer boasts the sixth most dangerous airport in the world.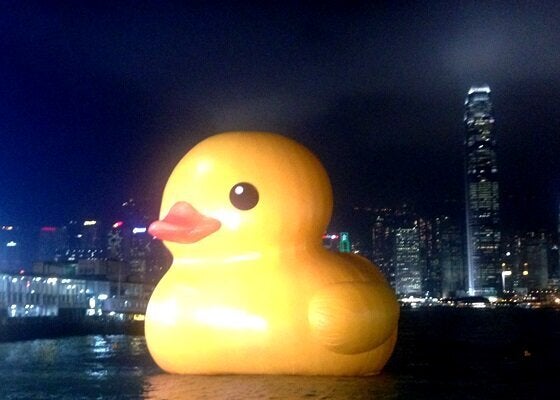 Around me, people are going about their lives; tourists snapping photos at the Florentijn Hofman-designed giant rubber duck. Trams and buses have taken over the streets and thick black power cables criss-cross above them; shoppers nip out shopping centres with huge bags of goodies. Today, this city feels diverse, manic and exotic.
Hong Kong has faced a lot of change in the last 20 years. Soon after our visit in 1997, it went from being a British Colony to a Special Administrative Region of the People's Republic. Admirably, this has made it more diverse and welcoming - and it is now one of the world's leading financial hubs.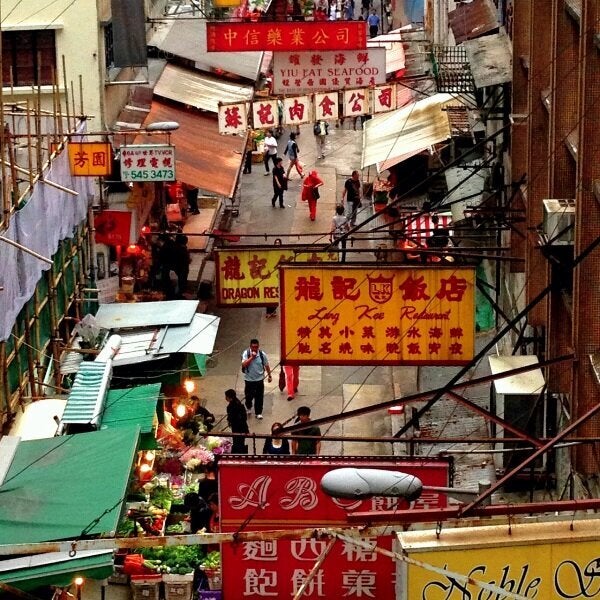 I'm on a stopover and I have just two days here. Having dropped my bags off at my hotel - the famous Peninsula - I head off on foot; my first stop being Victoria Harbour, where I take in Hong Kong's most spectacular and famous view. Skyscrapers rise fiercely into the hazy sky and speedboats fly through the water. To my right is the Star Ferry terminal, which crosses from Kowloon Peninsula to Hong Kong Island. Running every 10 minutes, this commuter boat carries over 53,000 people each day. I sit on the left side (for the view), with a creamy custard egg tart in hand (they are delicious).
Once on the island, I take in the galleries and art stores on Wellington Street before heading toward Peel to find paper fans and black-and-white photography of the old harbour. The Gage Street market is perfect for fresh fruit - or come lunchtime, a bowl of steaming noodles in broth. I then hop on the longest outdoor escalator system in the world and take in the Lan Kwai Fong and Hollywood areas with their 'Happy Hour - 4pm' signs, as we go up 135 metres.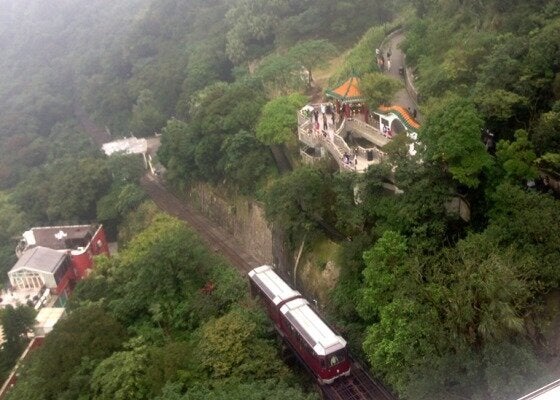 No visit is complete without taking the tram up to Victoria Peak - and memories from my childhood come flooding back as the rickety old burgundy vehicle pulls out heavily for its 300-metre ascend. A return ticket and Sky Pass is HK$75 (around £6), and allows you to spend as much time as you like on the 360˚ Sky Terrace viewing platform - where on a clear day you can see Hong Kong's magnificent skyline.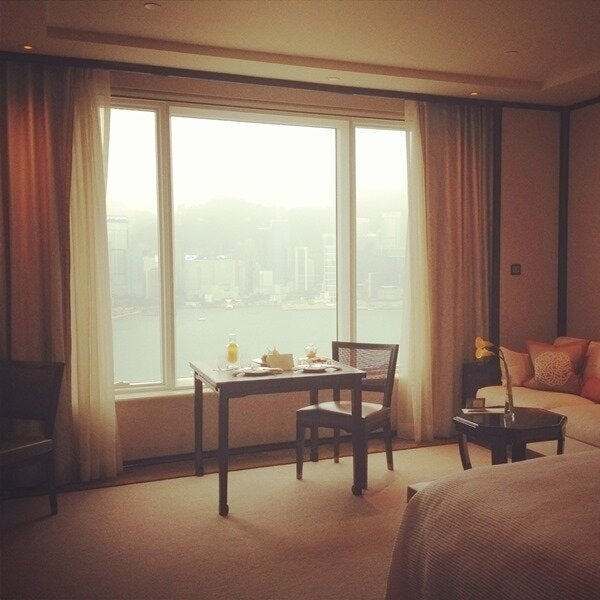 Following a busy two days, I spend my last evening exploring the wonderfully glam' Peninsula Hotel. My earlier breakfast in the Lobby was simple and elegant (with perfect poached eggs) and dinner is a choice between Cantonese, French, Swiss or Japanese food. The skyline from the swimming pool is particularly impressive and I relax with a massage and exfoliation treatment at the Spa. But it's my room on the 21st floor that really blows me away - I have a view overlooking Victoria Harbour and a pot of Chinese tea and strawberries are waiting for me. I sip my tea while watching the sail boats glide by and at 8pm, I turn the lights down to watch Hong Kong's famous 'Symphony of Lights' show from my bed.
I've barely scratched the surface during my few days in Hong Kong but I have been lucky enough to spend two days enjoying great food, exploring the highlights and being pampered at the Peninsula. As far as stopovers go, this is perfect - but there are still the offshore islands to discover, hikes through the nature reserves to be made and Lantau beaches to laze on. My short time here has actually made me desperate to go back - but next time, it won't be a stopover.
Superior Rooms at The Peninsula, Hong Kong start from HK$4,680 (approx. £386.50) per room, per night until 18th September 2013 and includes daily breakfast, complimentary local and international calls, HD movies and wireless internet. Please see peninsula.com for details and bookings.
Cathay Pacific fly direct to Hong Kong daily with fares starting from £639 (Economy) and £3,179 (Business). Visit cathaypacific.co.uk for more information.