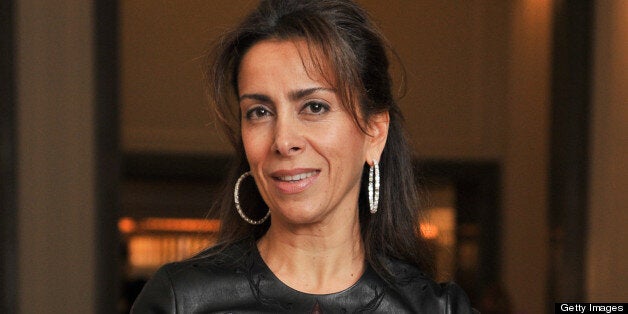 My name is Karen Ruimy. My story is one of keeping my head down for many years, never making any trouble, doing the right thing - always - but then deciding to start putting myself and my thoughts, and more importantly my feelings, above the parapet of life. However when this happened to me, I was not living the kind of life where one had "feelings" or had thoughts about the "soul". My priorities were the buying and selling of commodities. I was born in Morocco, in the city of Casablanca to Jewish parents. As you can imagine I began to look at life as an outsider from early on.
Having achieved an MBA at ESSEC in Paris, where we moved when I was still a child, I moved into the banking industry as soon as I graduated - it seemed the obvious thing to do when you are good with figures and have a head for business. But then I decided to give it all up on the search for something else, something bigger. I needed to answer all those questions that had been making their presence felt in my life and in my head for some time.
My story is solely about finding my true voice in this world. Yes I always did what I was told and what I was asked to do: school, university etc... Good job, yes. Great money, yes. And yes of course I had it all, yet funnily enough I could not find myself in any of that. I was named director of the biggest financial broker in Paris after spending many years of 7am-10pm. I was a good soldier. Always there to perform in this hard world in the quest for success finding, social ladder climbing. Always there to show a woman can have it all too! Come on! I was driven and I did it no matter what. Basically those were my goals that I imposed on myself, believing they were mine.
Until I began to feel a stifling in my throat; a strange boredom in this permanent race I was on. I couldn't wake up anymore. There was no more "juice" in me to perform those everyday acts. Well, I knew something had broken in me. I knew something was not right in what I was doing, but I was in the dark and the unknown about what was the right path for me. I decided to listen to that inner voice, to stop the rat-wheel, to get off and to look from a distance at what life was really about...
What was my voice in all that? Did I really want to become that "golden girl"? Was I accomplished because I was shouting all day long, orders to "buy" and "sell" and earning well? Certainly not! I just resigned and started my "traversee du desert" looking for my Self. Who is the woman behind this "polished" persona? I spent a few years trying to understand what happened to me. I had found myself somewhere that was giving me no profound joy nor any feeling of accomplishing or something real.
I read, I wrote... until I was finally getting glimpses of me, the inner voice, the voice of my true being. Still, I had lots of moments of doubt and feeling that I was a freak. When I quit my job I literally opened the door to the discovery of my true self. I surprised myself with how much was waiting for me there. I was passionate about my quest. I spent years finding my true voice.
Now as a song-writer and a dancer and founder of the GREAT initiative (Gender Rights Equality Action Trust) and a patron of art, I am truly passionate about everything I do, whether I am writing my lyrics, when I dance on stage, when I campaign for gender equality or visit artists and their studios. It is a constant fight, an on-going quest for "self" and that is why it is feeding me with passion. After all those years on financial desks, I eventually became a spiritual author, writing about the path of self-discovery. This work revealed "me" so much that I badly needed to express my artistic and creative self. I finally became the dancer and then the singer that I had never allowed myself to be in my earlier stages. I very literally began to allow my life to become the ground for all the dreams and desires of my inner self. And it was a tough road, maybe tougher than the one where I was acting as the financial broker!
I had to lay down my artistic capacities with no game-playing, no hiding place, yes, this time it was just me. I had to retrieve all those years spent in finance. I became a professional dancer. Yes, right I did it when was 30, but I was driven. I did it and don't regret one bit of it because finding in your "self" what is your burning desire, what is the driving force that will bypass all obstacles, this is the true gift of existence.