In the first months of 2015 Indonesia executed 14 people for non-violent, drug related offences. It's a mistake to view Indonesia's executions as the isolated actions of a president eager to solidify his position. These are part of a half-a-century-old international drug regime determined to crush anyone and everyone associated in any way with illicit drugs.
The health and safety of Indonesians is a top priority for President Widodo. He aims to do this, in part, through the war on drugs. In an interview with CNN's Christiane Amanpour, Widodo claimed the executions were justified because 50 Indonesians die every day, or 18,000 a year, because of narcotics.
However, in an open letter to The Lancet, a group of leading Indonesian health experts and academics expressed "serious concerns" about the validity of Widodo's estimates. The Lancet letter notes that the lack of transparency and questionable methods behind Widodo's data calls the rational for his punitive policies into question. According to Professor Irwanto, HIV researcher, "...we need to make sure that national policies are based on evidence that is thoroughly peer-reviewed and transparent."
The letter to The Lancet called upon the government to expand evidence-based interventions, such as opioid substitution therapy, needle-and-syringe programs, and rehabilitation programs based on science. In fact, Widodo's extreme penalties connected to drugs are more likely to be a cause of drug related deaths, as those at risk are too afraid to seek care and are thus made more vulnerable. According to Dr. Ignatius Praptoraharjo, at Gadjah Mada University, "Our limited funds are instead being used to bolster fear-based approaches, which effectively drive people in need further away from health programs."
If Widodo is truly committed to preventing premature death he should also turn his sites on the tobacco industry. According to the World Health Organization (WHO), smoking claims around 425,000 Indonesian lives a year and is responsible for nearly a quarter of all deaths annually.
Widodo's reliance on questionable data and extreme policies that fly in the face of evidence-based methods for reducing the harms of drugs calls into question his stated justification for executing non-violent drug offenders.
Even the international drug control treaties do not offer Widodo justification for his policies. In his analysis of these treaties, Dr. Rick Lines, Chair of the International Centre on Human Rights and Drug Policy, argues that the vast majority of drug crimes, by definition, are not serious enough to warrant the death penalty. In Indonesia, according to Lines, "...the types of courier offences for which the recent executions took place fall below the 'particularly serious' category under Article 3 (of the 1988 Convention against the Illicit Traffic in Narcotic Drugs and Psychotropic Substances). Executions taking place in such circumstances are violations of international law, a fact made irrefutable by the clear hierarchy of drug offences contained in Article 3."
The outrage expressed by Australia, Brazil, France, the Netherlands, Nigeria, and others against the executions is well founded and not insignificant, but it is not enough. Any government that is serious about stopping the death penalty for drug crimes needs to do much more than recall their ambassadors. For these deaths to be meaningful, all of these governments and others must revisit their own drug policies as well as their political and financial support for the international drugs regime. All of the countries that protested the executions are signatories of the outdated international drug conventions.
More telling than the condemnation was the silence. Quick to criticize Jamaica's new legislation decriminalizing marijuana for specific uses, William R Brownfield, assistant secretary of the U.S. Bureau of International Narcotics and Law Enforcement Affairs (INL), has said nothing about the executions in Indonesia.
The International Narcotics Control Board (INCB), which considers itself a guardian of drugs conventions, was also silent on the matter of the Indonesian executions. Though it has encouraged states to consider abolishing the death penalty for drug-related offences, the INCB allows that, "... the determination of specific sanctions applicable to drug-related offences remains the prerogative of the State Parties." Basically its leaves the door open to punish as you will.
Though the UN Office on Drugs and Crime (UNODC) has also publicly spoken out against the death penalty for drug offences, "the agency has been linked to funding aggressive anti-trafficking operations in several death penalty States, and a number of donor governments have publicly acknowledged the link between UNODC counter-narcotics funding and death sentences." In response, the United Kingdom, Denmark, and Ireland all resolved to end funding UNODC programs in certain countries while the death penalty is still enforced.
Of the 33 countries and territories that allow the death penalty for non-violent drug-related offences, Harm Reduction International reports that about 12, including China, Iran, Saudi Arabia, Vietnam, Malaysia and Singapore, impose this punishment routinely. Most executions are not widely publicized because they rarely involve nationals of the Global North, as was the case in Indonesia.
On May 26th, Saudi Arabia carried out its 87th and 88th beheading of the year - two men convicted, via dubious proceedings, of smuggling amphetamines. It is estimated that about half of the total executions in Saudi Arabia in 2015 were for non-violent drug crimes. There has been speculation that poverty has led to the increase in drug crimes in the kingdom.
In March, UNODC was widely criticized for agreeing to a new five-year deal and multimillion-dollar funding package to support Iran's counter-narcotics trafficking programs, despite the country's high execution rate of drug offenders. Last year, half of the 753 people who were executed in Iran were drug offenders. According to Reprieve, "European Governments have provided more than £45 million worth of aid and assistance to aggressive law enforcement operations in Iran and Pakistan which have directly led to death sentences."
None of the countries that impose the death penalty on non-violent drug offenders act alone. Indonesia, for example, has bi-lateral and regional drug control agreements and receives technical assistance, equipment, training, information sharing, and funding for its counter-narcotic activities from other countries and international agencies. The countries that support Indonesia's counter-narcotics efforts or support the agencies that fund counter-narcotics in Indonesia must share the responsibility for these murders.
When the first wave of grief has passed the #IStandForJustice movement and all of the others that stood up and spoke out so beautifully against Indonesia's killings must turn their sights on the international drug regime.
The UN is getting ready for the UN General Assembly's Special Session on drugs in 2016 when member states will review the international drug control system. If there is to be one concrete outcome of that session, let it be a moratorium on the death penalty for all drug-related crimes.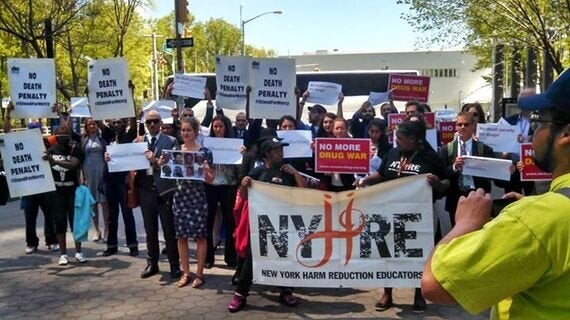 CAPTION: As the UN held a High-Level Thematic Debate on Drugs in NYC, demonstrators took to the streets to demand the UN hold countries accountable and end the use of the death penalty for drug charges. This protest was a reaction to recent use of the death penalty in Indonesia. May 2015. Photograph by Mike Selick.
Amanpour, C. "Indonesia President: 'No compromise' for drug executions." CNN. January 26, 2015. http://www.cnn.com/videos/tv/2015/01/26/intv-amanpour-joko-widodo-death-penalty-drugs.cnn
Davey, M. "Data used by Indonesia to justify drug laws is 'questionable', say experts." The Guardian. June 4, 2015. http://www.theguardian.com/world/2015/jun/05/experts-criticise-data-used-by-indonesia-to-justify-punitive-drugs-policies
Hodal, K. "Indonesia's smoking epidemic - an old problem getting younger." The Guardian. March 22, 2012. http://www.theguardian.com/world/2012/mar/22/indonesias-smoking-epidemic
Lines, Rick. "The Death Penalty for Drug Offences: What do the international drug control treaties say about 'most serious crimes'?" University of Essex, Human Rights Centre (blog). May 29, 2015. http://blogs.essex.ac.uk/hrc/2015/05/29/the-death-penalty-for-drug-offences-what-do-the-international-drug-control-treaties-say-about-most-serious-crimes/
Martin-Wilkins, A. "US official cautions Jamaica on ganja legalization." The Jamaica Observer. January 29, 2015. http://m.jamaicaobserver.com/mobile/news/Ganja-worry_18308312
"INCB encourages States to consider the abolition of the death penalty for drug-related offences." UN Information Service press release. March 5, 2014. http://www.incb.org/documents/Publications/PressRelease/PR2014/press_release_050314.pdf
Harper, A. "New UN report highlights ongoing conflicts on the death penalty for drugs." Transform. March 3, 2015. http://www.tdpf.org.uk/blog/new-un-report-highlights-ongoing-conflicts-death-penalty-drugs
T.W. "Which countries have the death penalty for drug smuggling?" The Economist. April 28, 2015. http://www.economist.com/blogs/economist-explains/2015/04/economist-explains-28
Agence France-Presse in Riyadh. "Saudi Arabia passes execution total for all of 2014 as 88th person is put to death." The Guardian. May 26, 2016. http://www.theguardian.com/world/2015/may/26/saudi-arabia-passes-execution-total-2014-88th-death
Kamali Deghan, S. "UN to fund Iran anti-drugs programme despite executions of offenders." The Guardian. March 19, 2015. http://www.theguardian.com/world/2015/mar/19/un-fund-iran-anti-drugs-programme-executions-unodc-death-penalty
Stop Aid for Executions. Reprieve, UK. November 2014. http://www.reprieve.org.uk/case-study/safe/