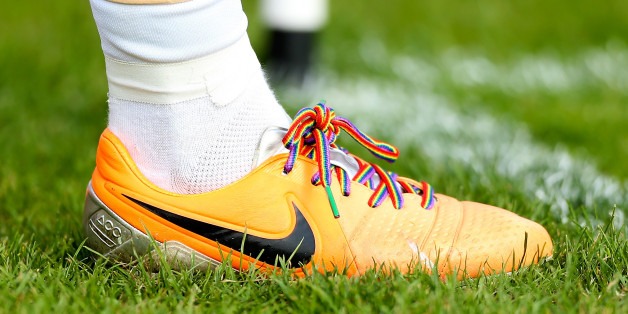 Ben Hoskins - The FA via Getty Images
If we've learnt anything from the 12 months running up to this election, it's that we can't rest on our liberal laurels. As many of us look back wistfully to the time when Trump's putative electoral prospects were little more than fodder for political cartoonists, we're forced to recognise that social change is not a given, and it's not a guaranteed linear process. From the (*ahem*) hair-raising anti-feminist rhetoric of POTUS, to the huge rise in racist incidents by Brexit-emboldened xenophobes, we can't be complacent when it comes to protecting hard-won gains towards a more inclusive society
This applies to the struggle for LGBTQI equality as much as any other. Two out of three of Britain's major party leaders who are running for PM this month have a questionable track-record on gay rights: there has been extensive speculation about the stance of both Theresa May and Tim Farron on issues such as gay age of consent, gay marriage and gay adoption. For all of us (gay, straight and everything in between) who have celebrated the advances made by LGBTQI activists and their allies in recent decades, this ambiguity towards gay rights is deeply disappointing. For those around the world whose sexuality still places them at risk of torture and death, and whose calls for help from major foreign powers remain largely unanswered, it is a much more urgent concern.
The issue, of course, is not just that May and Farron might not champion progress for the LGBTQI community. It is that current popular voting trends have exposed the growing polarisation in our society, and we are struggling to reconnect and understand the disparate elements. That polarisation impacts most negatively on those at the margins of society, so it is essential that we engage with people of different points of view. To do that, we need to host and shape conversations in less traditional fora.
Football terraces may not be the most obvious starting point for such an endeavour. Last March, newly formed US team Atlanta United's first match made headlines for all the wrong reasons, when fans joined together in a widely acknowledged homophobic slur. Indeed, in Britain our grounds have long been the bastion of homophobic chants. A report published by LGBT rights charity Stonewall shows 72 per cent of football fans have heard homophobic abuse at grounds around the country. In February, the Department for Culture, Media and Sport published a report calling for sport to do more to fight homophobia.
Green shoots are appearing in the footballing world. In March, Manchester United became the first club to partner with Stonewall, an initiative that followed the Premier League-backed rainbow laces campaign. These efforts should be acknowledged and celebrated: without a clear institutional rejection of (and associated repercussions for) homophobic behaviour, abuse will thrive. However, Premier League football clubs' CSR efforts are viewed with increasing cynicism by fans. And we should know by now that top-down diktats (even when produced by top-tier clubs) rarely generate genuine and sustainable change.
Instead, real change will come from those unfathomably talented players who lead the game, and the legions of fans that share their highs and lows. Liam Rosenior, full-back for soon-to-be promoted Brighton and Hove Albion, spoke last November about his admiration for Brighton's thriving LGBT community and the club's inclusive spirit. At Atlanta United's second home game, its fans robustly drowned out the minority's homophobic chanting with their own, rather creative repost.
These examples show that our footballing heroes can model inclusive behaviour, and reach precisely those who are most disenfranchised. They show that fans, on the terraces and in the stands, can fight prejudice with humour. Promoting positive and challenging negative behaviour in this way is the perfect springboard for a more open dialogue about diversity. This, in turn, could prove essential to a more inclusive society: recent research suggests even a short conversation really can change minds. The vast resources in the professional game, and the scope for sports brands and major sponsors to support these initiatives, mean there is potential to scale and amplify progress quickly and effectively.
Ultimately, we all stand to benefit from challenging the "lad culture" that allows homophobia to persist with relative immunity in the locker room. Not only does the prejudice around LGBTQI rights (alongside racism, misogyny and other divisive rhetoric) inevitably spill out onto our streets and into our homes; it also damages perpetrators and victims alike.
Football could become the unorthodox but fertile ground for the struggle for LGBTQI rights. The huge platforms of top players, and the mass reach of fans, have the potential to shape the views of the current and next generation, on and off the pitch. And if we've learnt anything from this year's political developments, it's that we must take everyone with us in conversations about our future if we are to make lasting progress.
Kat Craig is a human rights lawyer and CEO of Athlead, a not-for-profit which empowers athletes to lead in social change. Adam McCabe is a former professional footballer and LGBTQI campaigner.