It's new music time Super Fans! We've got some right treats in store for you...
As you make your way around Emerging Icons you'll see that there's all kinds of new music to discover- but each week we like to give you a bit of help and put a few suggestions your way. These are some of the best acts and the hottest tunes we've found on Emerging Icons in the past few days and we really want you to hear them. You NEED to.
If you find you like any of these artists we've suggested, there's a very easy way you can keep an eye on them. Visit their Emerging Icons profiles by following the links and hit the star at the top of their page. By doing this, you'll receive automatic news and updates from them straight to your inbox! Nice. Hey, while you're there how about leaving them a bit of love? By clicking the speech bubble next to your top tracks you can big them up and help create a bit of buzz. When you show your support, marvellous things can happen for your favourite artists- so they're sure to appreciate it!
So here are this week's top tips... the tunes and artists you really NEED to hear...
With a name like a Scandinavian warrior princess and a sound that seems born and bred in the heart of the US of A, it may come as quite a surprise to hear that the 'Run Baby Run' singer is actually one of our own. Echoing classic Americana and country rock in her raunchy sound, we've discovered this vivacious new London-based talent ahead of a second appearance at the Mecca of new music; SXSW. The key to her music's incredible potential lies in the fact she's simultaneously managed to tick the boxes of 'mainstream accessibility' and 'striking and edgy'; making her an act to appeal to an enviably broad fanbase. Her glamorous presence and the subtle pop infusion of commercial-friendly tunes regularly invite comparisons to the incredible Pat Benatar- so all in all, Noush is pretty much made. Her latest album is packed full of a belting blend of powerful ballads and the hard edge of rock- a must-listen for anyone who likes their guitar-driven music.
From one strong, glamorous woman to another now- as Elissa Franceschi proves that she is the sound of true pop perfection. A new addition to the ranks of our Emerging Icons Headliners, the Surrey-based singer-songwriter has a voice that would fit in perfectly to any top ten if you ask us. In fact, that's why we've popped 'Salt' into this week's Emerging Icons Chart Show- surely one of many future appearances on the airwaves to come. Much like global-dominating Adele, Elissa has reaped the creative benefits of her life's experiences of 'silly boys' as she puts them. While the emotional turmoil may be hard to bear at the time, she's unlocked the secret to channelling those feelings through her beautiful talent for songwriting- and 'Salt' is no exception. Roping in her little bro Josh (frontman of You Me At Six) guest vocal duty, it tells the story of the aftermath of the decision to let someone go. We all know it's hard to be run through the relationship mill- but if it sounds this good? Thank god for stupid men, we say.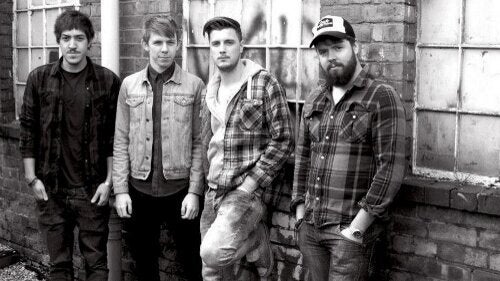 Dirty Fair- Dirty Fair EP
Northampton-based quartet Dirty Fair were brought to our attention by former Absolute Radio airplay winners and everyone's favourite new garage punk band, Lupine Bell. Playing a show together in Milton Keynes the day after Valentine's Day, we're sure there was a lot of love in the air between these two mutually noisy bands. There's definitely a similar adoration for feral guitar riffs and rocking as much melody as you can stuff into three minutes. The quality of the debut offering to come from Dirty Fair is really quite exceptional, already demonstrating killer song-writing...many being future anthems with hooks aplenty. With the style of their sound erring more on the side of spiky indie, the discovery of this record may stir the memories of when you first heard 'Is This It' by The Stokes or the self-titled debut from The Cribs. It's top drawer stuff and well worth checking out.
Yes, they're a female-fronted rock group. Yes, she's got bright hair. But please, don't instantly assume that Orestea are a wannabe Paramore. Any similarity between the two ends there- and if anything, we'd actually liken this lot's style to a more Don Broco type affair. Their fresh, original alt-rock sound has already earned them appearances at big-name festivals like Bloodstock and Download, as well as getting them signed to independent label ,Spinning, over in Japan. World domination may be almost within their grasp at this rate. Despite being a young band, there's a real sense of an experienced maturity to their sound already- just check out this video for 'The Game'. They're hard grafters too, having taken the DIY-route and building a considerable fanbase. Yep, things are looking really good for this lot.
At just nineteen years old, singer-songwriter Rushil has already been Here and There (and everywhere, actually.) Born in Bombay, he's come to England via Cyprus with a guitar in his hand and songs from his heart. Watching the video for 'Here and There' it may come as no surprise that his approach to music was deeply affected by The Fray's smash hit 'How To Save A Life'. There's something to be said for the similarities in the deep sensitivities and sincerity of emotional connection that becomes incredibly apparent in this song alone. Juggling his musical aspirations with his law studies at Oxford University, Rushil has got a great producer on board as well as the influences of a vast list of artists spanning from Counting Crows to Green Day. This is a performer who will make a great addition to our pop scene, so drop by and give him your support on his Emerging Icons profile by hitting that star.
You know, if you really like these tunes, you can add them to your Emerging Icons personal playlist. Yep, it's dead easy, just ask these guys...
Popular in the Community