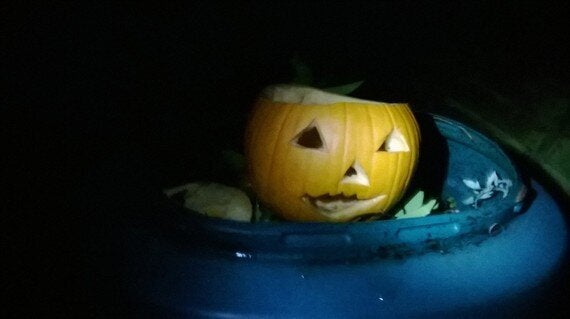 A gruesome end is nigh - every pumpkin should finish life in the compost heap
Someone save me from Halloween! I am terrified of this yearly event. Whilst I have no problem with darkness, positively love spiders and think cackling teenage witches are cute, what really strikes fear into my heart is the needless waste and disregard for the environment.
Originally, Halloween was a simple celebration, most likely linked to the Celtic harvest festival, although pagan rituals associated with 'facing and ridiculing death' are also mentioned by historians. Of course, nowadays it has been commercialised to become an industry worth more than £300 million in the UK alone.
There is orange and black product overload. It is considered normal to buy a plastic pumpkin bucket, a plastic torch or glow stick, an excess of individually packaged sweets and a synthetic skeleton or witch outfit. You may also be tempted by a crazy wig, plastic spiders, face paint and decorations. Just for a few hours of fun.
In fact, there is a more eco-friendly way to do it that certainly doesn't sacrifice any of the spooky fun. You'll need costumes of course, but instead of the potentially flammable, petro-chemical based ones you'll find in the supermarket, you can make your own.
The internet is crammed with easy, thrifty costume ideas. My favourite is the 'scary mummy' (as in Egyptian, not irate mother). For this, simply cut an old white sheet into strips and wrap them round the child and safety pin in place to their clothes. Finish by wrapping their head and adding white face paint and dark eyes.
To complete witch or wizard outfits, it is fun to make wands out of sticks decorated with ribbons or colourful pipe cleaners. It's a good way of learning about different native trees. In folklore, apple wood is magical and is a favourite with witches. Harry Potter's wand was made from holly which traditionally provides protection against evil spirits and Hagrid's was made from oak, the tree of strength.
What about the pumpkin? Make it real and local, and use all of it. I like to roast the flesh for a flavoursome soup or even pasta sauce. You can also buy cute little onion or acorn squashes and hollow out butternut squashes for a change (and tastier soup). The seeds can be roasted in olive oil and a little sea salt for a tasty snack or dried out and then painted for art and craft activities. Check out our pumpkin seed necklace below. Then don't forget to compost your pumpkin when it's finished with (and most likely a little mouldy inside).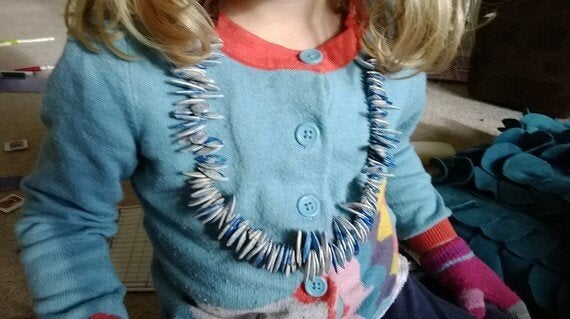 As well as collecting obscene amounts of sugar, trick or treating is a lovely time to talk about nocturnal wildlife. All the creatures associated with Halloween are fascinating and not at all scary when you learn about them. Look out for bats and spiders and listen for owls when you are out after dark.
There's no need to forgo the fun or sacrifice the planet. Forget the plastic, identikit approach - your Halloween can be crazy, spooky, magical, original and eco-friendly. Now pass me my homemade witch's hat and my solar powered torch, I've got children to scare...