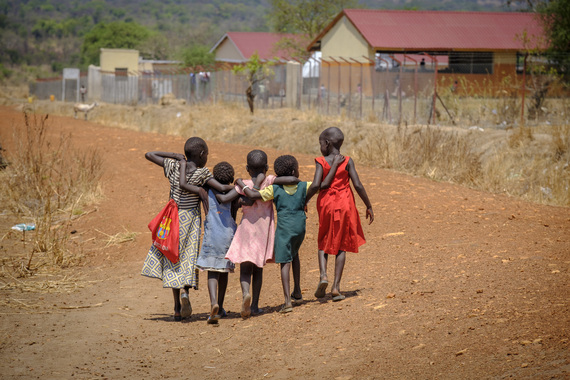 H&M has donated £1 million from plastic bag charges to support Unicef's work for children in emergencies like in South Sudan
Nyapour, from South Sudan, was only 9 when conflict came to her village. Forced to flee with her mum, she described how "I was very frightened by the war. I saw so many people wounded and men shooting guns, it was very bad."
As one of the almost 3 million children who have been displaced by the conflict in South Sudan, Nyapour, is sadly not alone in her experiences. Since the conflict began in December 2013, millions of children have been affected. The emergency in South Sudan is complex; conflict, climate change, a collapsing economy and the recent declaration of famine affect children's lives on a daily basis, and although at Unicef we are on the ground responding, we need the support of partners to enable us to carry out the lifesaving work needed.
This is why, at Unicef we are thrilled to announce that our partnership with H&M UK has raised over £1million for our emergency work. Since the 5p plastic bag charge was introduced in 2015, H&M UK has donated this money to Unicef's Children's Emergency Fund, helping children like Nyanpour caught up in humanitarian disasters from South Sudan to Yemen.
Conflict, malnutrition, disease, natural disasters, and famine are just some of the challenges that millions of children around the world face on an everyday basis. This is why at Unicef UK, we have the Children's Emergency Fund, to support the most vulnerable children wherever they may be.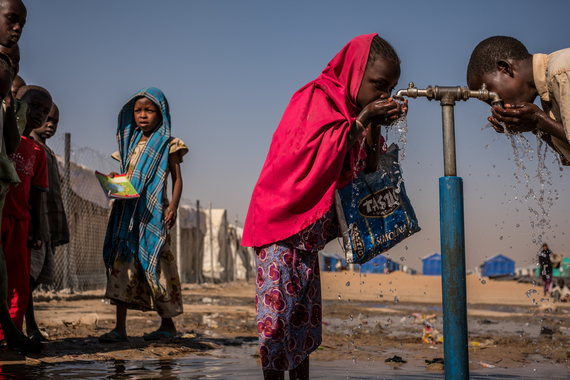 By supporting Unicef UK's Children's Emergency Fund, H&M is helping Unicef to reach some of the most vulnerable children in the world
Alongside the high profile emergencies that feature in news headlines, Unicef responds to an average 300 emergencies in 90 countries every year. It is in silent emergencies that children are especially vulnerable, and where money donated by partners such as H&M makes a vital difference.
Since 2004, we have been working with H&M on a global basis and here in the UK. As well as this latest activity raising money through the 5p carrier bag charge, they have also activated till point donations for our Nepal Earthquake and Philippines Typhoon Haiyan appeals. In addition, they have supported us in our global effort for early childhood development and education, enabling children to get the best possible start in life; their support has truly been crucial for our work.
For children like Nyapour, this has meant that she has been able to go back to school. Now attending a Unicef supported school, she told us she feels safe and that her favourite subject is maths. With the continued support of H&M and their employees and customers we will be able to reach more children like Nyapour.