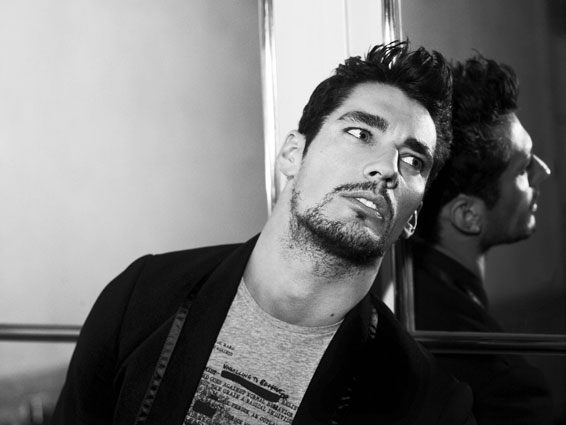 The face of Marks & Spencer's AW11 / 12 campaign, and Dolce & Gabbana's 'Light Blue' fragrance - internationally renowned male model David Gandy - has been announced as the first ambassador for the UK's Battersea Dogs & Cats Home.
Aside from travelling the world to appear in glossy fashion editorials alongside the likes of Giselle and actress Scarlett Johansson; blogging for Vogue.com; launching his Top 3 ranking "David Gandy Men's Style Guide App", in which he dishes out advice for gents on how to look as good as he does (which some might say is not possible), Gandy is also a keen animal lover (cue those Awww's now).
A frequent visitor to Battersea's iconic London site, Gandy is a passionate supporter of the home's animal welfare work, and said, "It's a real honour to be invited to be Battersea's first ambassador. The work they do to find homes for thousands of dogs and cats every year is amazing and I hope to help make a real difference. What makes Battersea so special is it cares for every type of dog and tries to help them get a second chance in a loving new home."
"From visiting the Home, I've found that these dogs - many of them Staffordshire Bull Terriers - are desperate to get close to you for some love and attention. The affection they show you is astounding. I hope my involvement will help explain that and make people think of choosing a rescue dog or cat from Battersea for their next pet."
As one of the UK's top 20 best known charities, Gandy's association will have an "immediate and tangible impact on the home", says Claire Horton, Chief Executive. "We are immensely grateful to David for being such a supporter of our work and agreeing to be our first ambassador. David has so many followers and we know his support will really go a long way in helping change attitudes, especially towards more responsible pet ownership. We really couldn't ask for a better champion."
In 2011, Battersea took in 1,869 homeless Staffie dogs, a breed which has received an enormous amount of negative attention, due to the neglect and poor training by a minority of irresponsible owners. The home launched its "Staffies. They're Softer Than You Think" campaign in 2011, calling for people to challenge the misconceptions which surround the breed. Gandy, who first visited Battersea after receiving a gift to sponsor a kennel at the London site, said, "Battersea is determined to help tackle the problem of the strays on our streets and start chipping away at people's attitudes towards more responsible pet ownership and breeds such as Staffies, and I hope to help support them as much as I can."
Watch a short video HERE, featuring David and some very cute pooches, filmed especially for Battersea. Try not to get too depressed over the fact that for most of you, having your very own David Gandy will never be for life....let alone Christmas!