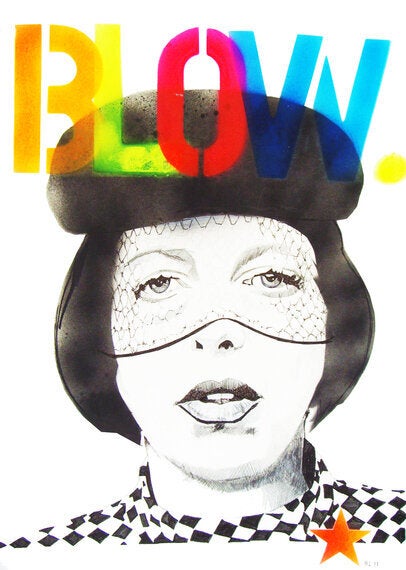 At its core, portraiture captures the personalities and sometimes boundaries, of an individual in a particular moment at a particular time, engaging the viewer to look beyond and explore the visual subject.
Taking that aesthetic and fusing it with some of the world's most celebrated and iconic celebrities from politics, music, fashion and film, is London-based artist Ben Levy - a rising talent on the commercial art scene, presenting his vision of pop culture with an urban twist.
"As I paint portraits and figures I often look for the right expression or posture that will help me bring out the character within the subject", says Levy. "Certain topics require a specific expression in order to create the correct message within the work."
Motivated by topics on the news agenda including politics, race and sex, Levy's work takes familiar faces and turns them into provocative portraits with both serious and playful undertones. "Obama NY is my favourite piece I've done to date" he says, "it pretty much sums my work up in one painting. It's sarcastic and playful yet there's a very serious message behind it."
His work has included portraits of controversial former Dior designer John Galliano, who made headlines after his drunken anti-semitic rant in a Parisian cafe in 2011, and more recently he created an homage to avant garde fashion muse, editor and style icon, Isabella Blow. The painting was showcased at directional London boutique Browns Fashion, as part of their collaboration with art collective, Maison 20. The late Blow is of course the subject of a retrospective currently on show at Somerset House, documenting her eccentric life and career.
"I find Isabella Blow very interesting" Levy remarks, "She was, and still is, a great example of artistic genius."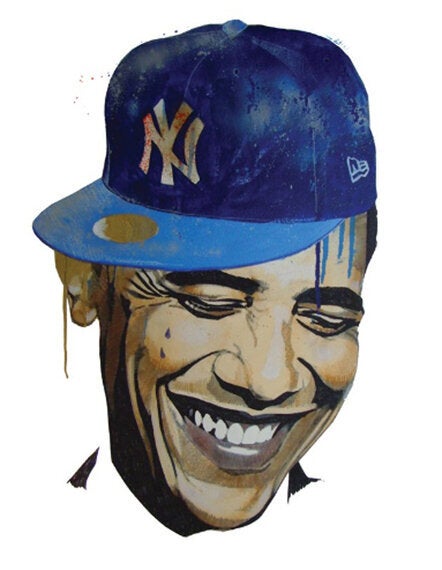 From The Krays and Alexander McQueen, to Tony Blair, Marilyn Monroe, Pharrell, Johnny Depp, Vivienne Westwood and Prince William as punk royalty with a green mohican - Levy is not afraid to push the boundaries.
"I try to convey everyday issues that have become fashionable through the press" he explains. "I usually find a story or celebrity that interests me and try to unveil the corruption involved in the subject. Celebrity and fame is a business and like most businesses it's full of corruption and falsities."
Levy was inspired to start painting after seeing the works of pop art visionary Andy Warhol, and also the music and visual style of rock legend Jimi Hendrix, often portrayed as a symbol of the 1960s rebellion movement.
Levy's creative process is un-structured, producing work freely when the mood takes him.
"I try to create as often as possible. I never really follow any particular process as such, when I start I have an idea in my head as to what my painting might look like when finished, but sometimes it turns out differently. The subject or story will always stay as intended though."
His painting signature, which blends graffiti, drawing and collage elements, has attracted brand collaborations including footwear giant, Toms, and with a passion for fashion himself, he's now about to debut his own clothing label, 'Real Artistic People' (R.A.P).
So aside from venturing into fashion design, I ask where Levy sees himself in the future?
"My overall vision for the future is recognition" he replies. "Recognition brings success and all that goes with it in life. Once you become successful you can take a bit of a back seat I guess!"