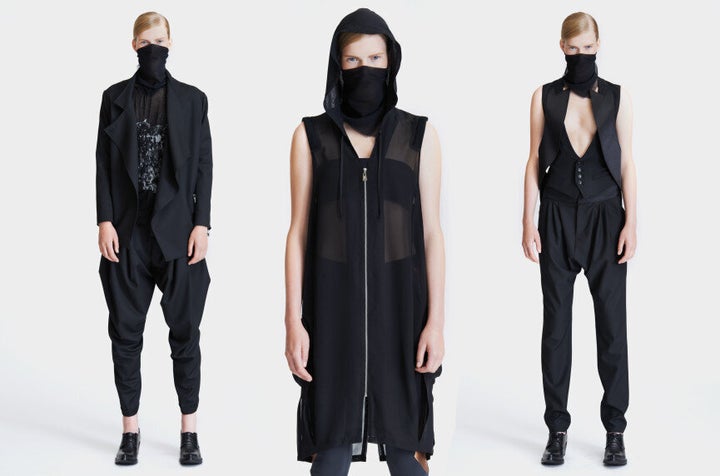 V Ave Shoe Repair Womenswear SS14 - Images © Ibeyostudio
Inspired by the craftmanship, respect and quality in the work of Fifth Avenue Shoe Repairers in London's Goodge Street - a shop which has been bespoke restoring shoes and bags for men and women since 1936 - Swedish fashion label V Ave Shoe Repair was born in Stockholm in 2004, with a vision to create clothing and accessories built around those same core values.
Founded by partners Astrid Olsson and Lee Cotter, the label is a diverse, avant garde and unique collaborative mix of men's and women's fashion, with a signature aesthetic which blends theatrical, artistic and architectural references. Like other Swedish brands, V Ave Shoe Repair are synonymous with a monochrome and minimal design attitude, but what sets them apart is the underlying extravagance and originality in the cut and attention to detail in their garments, in particular, their unique exploration of how material moves in motion with the body. The vocabulary of their collections injects an intellectual approach into clothing, examining different artistic and sculptural themes, with bold visual messages each season - the result is a visionary fusion of ready-to-wear and bespoke couture pieces with strong silhouettes. It's this on-going design philosophy which has developed a cult following for the brand and made it worthy of global attention.
I stepped into the world of V Ave Shoe Repair during Mercedes Benz Fashion Week Stockholm, visiting their atelier to talk with the design duo about upside-down coats, ballroom dancing and Michael Jackson!
So how did you both come together creatively to start the label?
We've been a couple for 16 years, and we were originally competitive dancers in ballroom dancing, travelling to places like London and Berlin, and that's how we met. We used to make dance clothes for ourselves and other dance couples, and also stage clothes for theatre shows and drag queens, and it was a lot of fun, but also a way to survive and focus on what our passion was.
Astrid went to design school after we finished dancing and studied to become a pattern maker and seamstress, and I (Lee) worked in retail as a buying director, and managing production and design. We talked about doing our own thing for ages and we decided the time was right in our lives to do it, so in the beginning it was just a womenswear project, 15 garments based around techniques of creative pattern making. We just tried it out, and it worked.
Your design aesthetic evolved into something quite dark and minimal,
a complete contrast to colourful glitzy ballroom costumes! Where does the creative inspiration for the construction of your garments come from?
(Astrid) I work on art projects with choreographers and modern dancers, so a lot of the designs I make are inspired by rotations of materials, building material around the body and how it works in motion. Art inspires us, but we also look at architectural structures and minimal modern sculptures, nothing too modern though, it has to have some intellectual quality to it.
The cuts are very unique, how does that thought process develop for each piece or collection?
Some of the garments you have to try on which sometimes creates a slight resistance for us as a brand, because they are designed for a body to be inside them. For example, the dresses are draped and if you have big boobs or a big bottom, you can try them on and see how it can work with your body and be flattering.
When we started off designing we only made ideas based on shapes, or theories, like can we make it upside down? or can we make it out of squares?, and then applied that to menswear or womenswear. When the brand grew into a full collection we had to divorce the two, and the women's became more feminine and the men's more masculine, but we both work together and talk all the time, so we have the same inspirations that just become two different things, but similar colours and patterns.
The brand has really grown with an international following, with that in mind, who is your main customer?
Men in their mid 30s, and for women it's a lot broader, mainly because of the silhouette which is airy and undefined, so it can contain any kind of body. Some of the aesthetics of the fabrics would suit a woman between 35-45 though.
Many designers have muses - people who imbue the spirit and philosophy of the brand. Do you have a muse or someone you would like to work with?
That's hard to answer, we like really cool and really strong people, but we need to know them first. We love Neneh Cherry, she's amazing and a beautiful person and extremely cool, and she's been wearing our clothes for a while.
Your designs are always contemporary but do you feel a pressure to be trend-led, or do you go by your owns moods and inspirations when creating?
Sometimes people find our designs too intellectual because we don't like to follow trends too much. We love what we do and a lot of Swedish brands tend to have the same mould, different DNA's, but they can often look the same, so it's good for us to stand out and be different. Sometimes it takes a lot for the wearer to go out there and become more about what they are, not become someone else, but wear a garment that empowers them.
Sometimes it's about designing by accident too. One of our best selling jackets for women, 'the upside down coat', started off hanging on a mannequin, and while we went for lunch it fell off, so when we came back we asked an intern to put it back up and she put it on the mannequin upside down by mistake. We both looked at it and thought 'my god that's fantastic!', so we started building it from there with the upside down arms, and it created a new shape.
So you must travel outside of Sweden then to find inspiration for the collections?
We try to do fashion in a global sense and not try to adapt to our home market, you do in a sense, but we try to free our mind and not feel so restricted. That's why we travel to the big cities like Paris, Berlin, London to be inspired and bring that back into our work. We like London in particular as it's very open-minded and has a very positive atmosphere there.
So do you think you'll eventually open a store in London?
We would love to. Retail for us is creativity. It's commercial of course but it's a way of reaching the end customer and showing them our environment. We would love to follow in the footsteps of other Swedish labels like Acne and Filippa K in how successful they've been in brand building. We would also like to open stores in Berlin and Paris too.
With SS14 hot on the fashion calendar right now, let's fast forward and can you give me a sneaky exclusive on what to expect for AW14?
(Lee) For menswear I'm looking at workwear, because I like the functional side and also looking at a blend of dark colours which give depth. We've also looked at Japanese workwear and the style of traditional Samurai trousers. I'm always inspired by my British and Swedish upbringing, so the school uniform of shorts and jacket that I do for every season will also be in there.
(Astrid) For women I'm going back to the white shirt, black trousers and black overcoat look, and a 90s silhouette on the shoulder. We've also talked about Michael Jackson coming into our world! Some of his old videos have been so inspiring, and he was such a weird creature, so I'm looking into how some of that style could work with ours.
You work on other design projects and collaborations in between the seasons too, what's coming up for this / next year?
We have a collaboration coming up with our in-house graphic designer, David Engzell. He's also an artist so we're working together on an outfit covered entirely in his art, it's very cubistic and also quite Picasso-esque.
We're also partnering with a well known graphics design school in Sweden and NEC (the IT and visual communications pioneers), on a project / competition between the students to design a virtual pop-up store. It will be made and launched in December and will be a room with screens from floor to ceiling designed as a physical online store that you can go into and touch the screens and take the garments and shop. It invites the customer to come into our world, it's going to be educational and inspiring. Eventually we would like for the room to be able to move between cities.
And just finally, as you're partners outside of the business too, how easy is it to manage your individual creative visions and not take any disagreements in the office home with you - do you have "creative tiffs"?!
(Lee) Well I'll have an idea and Astrid will say no, then two days later it will come up again and I'll say hang on, that was my idea! (they both laugh).
(Astrid) If we're in the right mood it's great and other times if you're into your own thing, we may disagree.
(Lee) You know there is a saying in Sweden, "everything has to go through the eye of a needle", which means it's not easy, we don't just do something, everything is discussed over and over and that's the way we work together. We also sort things out directly, which might be frustrating for the other people working with us (laughs), but we say what we think in the open, so we don't bring it home with us. The end result is always that we make things we're happy with, because we've discussed it so much. It sharpens you if you have someone there to critique you all the time.