On Monday 3rd March Hayley Ann Thomas, married fiance, David Clarke in front of friends and family in a very unusual setting: the intensive care unit at Ysbyty Gwynedd Hospital in Bangor, North Wales.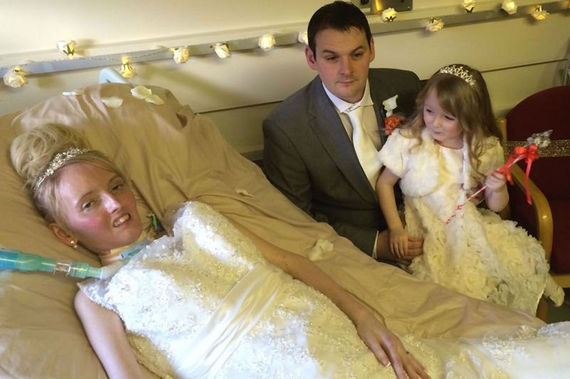 Hayley, 26, had been planning to marry the father of her young daughters, Ellie and Amelia Haf, four and two, when she was taken seriously ill last year. She was diagnosed with Crohns Disease in 2005 and then last August, suffered serious complications and has had to undergo extensive surgery. She has been in hospital for six months, putting the couple's wedding plans for this summer on hold.
The nursing staff knew Hayley had been planning her wedding and it was Jan Williams, a Senior Staff Nurse at the hospital who suggested they marry there in the intensive care unit rather than postpone their marriage ceremony.
And so, surrounded by love hearts and fairy lights, and with a local registrar they did just that. Hayley's mother, Eirian Whittingham, told me: "There was so much love and happiness which was a big change from all the sadness there had been in that room before."
Eirian is fiercely proud of her daughter for her strength, and of her new son-in-law for everything he has done for Hayley and the children. She described her daughter as 'an inspirational young lady who has battled against so many complications and yet is still smiling'.
It has been a long tough road for them all. She is seriously ill and her family have had to prepare themselves for the worst, but there is still hope that she will get well again.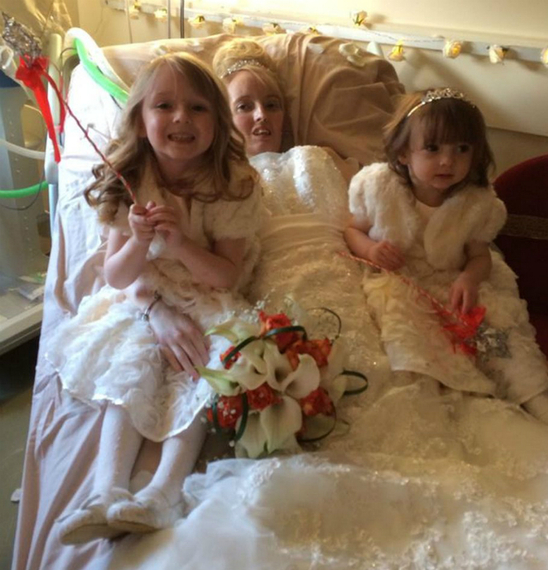 The couple's two young daughters sat next to their Mum on her bed during the ceremony, waving their little star wands and Eleanor, one of Hayley's closest friends was her maid of honour.
Eirian said the nurses who have cared for Hayley over the past six months had 'gone above and beyond' to make her day special, making invitations, taking photos; they even laid on a special wedding breakfast at the hospital for guests straight after the ceremony. The nurses truly are the unsung heroes of this story.
On the wedding day Hayley's personal health and safety was always paramount. Jan Williams explained: "Hayley is continually on a ventilator to allow her to breathe and attached to a monitor which measures vital observations. As staff we needed to be able to access the equipment at all times and at a moment's notice, so although my colleagues made the cubicle look pretty with wedding decorations, and it did look pretty, we all knew that we could help her instantly if required."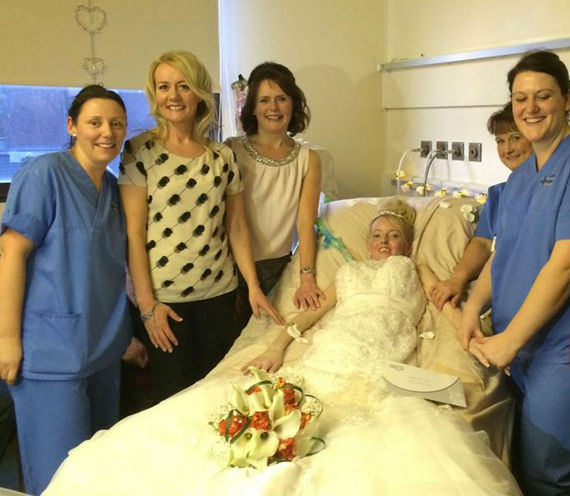 Senior Staff Nurse Jan Williams (2nd from left) with Hayley and the nursing team.
Hayley will need to move to another specialist hospital nearly two hours away for further treatment. Travelling to see her daughter each day will become harder for Eirian too. She told me: "We don't know the prognosis for her yet, currently it's day by day." When Hayley is finally well enough to leave hospital they already have big plans to hold a wedding blessing for all the friends and family and have invited Hayley's specialist nurses to come and celebrate with them. It should be an incredible event. Jan Williams said: "My single biggest joy would be to witness a healthy Hayley walking away from hospital."
Hayley and David's story gives hope to other seriously ill people, their families and friends, and puts our own lives into perspective. This is ultimately a happy love story and I wish Hayley and David and their family good health and real happiness for the future.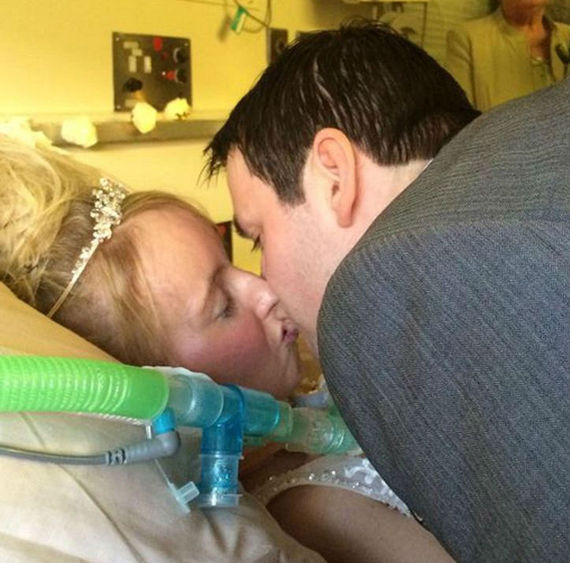 A fundraiser for the couple is now being set up. For more details please contact me at: weddingwritings@gmail.com.
You can read more by Kate Thompson at: weddingwritings.co.uk and Confetti.co.uk.