When Orange was not quite two, I remember counting in my head the number of doctors, nurses, specialist consultants, therapists and support workers that had been involved in our lives as a result of his difficulties since he was born. I was astounded when I got to 46 and was sure that I wasn't done counting.
Since then, Team Orange has grown considerably. I stopped counting some years ago but in his five years I can be sure that well over 100 and probably over 200 health and social care professionals have been involved in Orange's care to date. And that doesn't include the hundreds of administrators and officials who we speak to day in day out to coordinate appointments, medication reviews and prescriptions, equipment deliveries and repairs, blue badges, disability benefits and education, health and care plans.
That's an awful lot of people to welcome into your lives. An awful lot of people to open up to, to place your trust in and to rely on to do what's needed for your child. An awful lot of people who need to work together, in a coordinated fashion, to deliver the right support and care for your child and for you, when you have no idea what you are doing and are learning as you go.
If I have learnt anything in raising a child who has severe disabilities and complex medical issues but with no diagnosis for his condition, it is that I cannot do this alone. It is too big a job.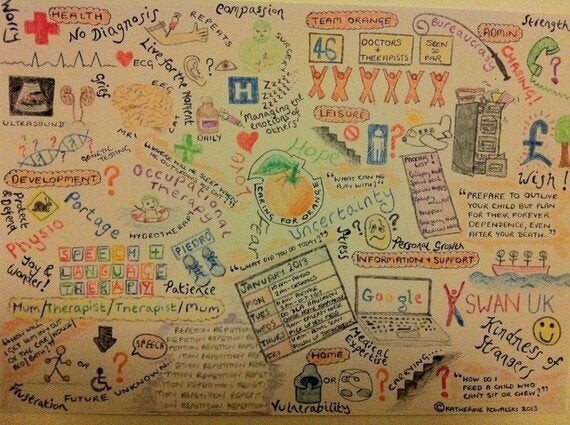 When you have a child who has complex needs but no diagnosis there is no well-trodden pathway, no yellow brick road to follow.
No-one will show you the way.
Here are some things I wish I had known, that would have given me confidence, in the early days of us discovering Orange had a syndrome without a name.
You will have to cut your own path, often in a forthright and determined fashion, even when you are at your most worn out and frightened. You will have to do this to access simple things like the right schooling, essential medical support, suitable childcare so you can work, or fit-for-purpose home adaptations for basic daily care like having a bath, or essential tasks like leaving the house. You will do it, because you are strong and because no-one else will.
Lots of people will enter your lives that you didn't expect. Some invited and some uninvited. Sometimes this is exactly what you need. Sometimes it will drive you nuts. Often at the same time. Roll with it but know that you can press pause if you need to. You are in control.
You will learn to trust people. You will also learn when not to. Your gut instinct is always right. Use it. Lean on the people who you trust and ask for a change of professional in circumstances where you feel there is a lack of trust or understanding. You will know when you need to do this.
You will learn to ask for help (sometimes unceremoniously). This is something I wish I had learned sooner. It took me four and a half years to actually open up to a professional who could help us get the respite care we needed to keep our family on an even keel. It wasn't pretty. It shouldn't be like this but often it is. Ask for help. Loud and clear. And do it now, don't wait until you are at crisis point.
You will see the best in humankind and it will make your heart swell. And sometimes you will see the worst and it will make you want to sink into the ground. But most of the time you will just see people, normal people. Some who can answer your questions, some who can't, and plenty who want to ask fountains of questions of you. Consultants, educational psychologists, social workers, parents of disabled children - these are all groups of people I had preconceived ideas about. And in the most part, I was wrong. We are all just people, for the most part trying to do our best in life and be fulfilled and happy. Remember that always.
You will find people just like you. You are not alone. There are thousands of families with children posing similar quandaries to professionals all over the world, who have complex conditions and no diagnosis, despite years of testing and the best, cleverest minds in genetic research on the job.
These people will hold you together when your child stops breathing and you are in an ambulance racing to hospital with a child in status epilepticus, not knowing if he will pull through.
These people will help you when you have to fill in 40 pages of disability living allowance forms that are not written with complicated, undiagnosed conditions in mind and you have no idea where to begin.
These people will celebrate with you when your child takes a small step that for them is a gigantic leap. Putting a spoon in their mouth for the first time, turning the page of a book, smiling in response to your smile, or squeezing your hand with affection.
These people will laugh with you, cry with you, rant with you, stand and campaign with you at Westminster, share your ups and downs, solve problems with you, hold your hand and drink wine with you.
These people are everybody who makes up the community that is SWAN UK, the small but growing charity that supports families who have children with undiagnosed syndromes.
Through SWAN UK we have found our people. Without them we would be lost.
Friday 29th April is Undiagnosed Children's Day. On this day, we celebrate the support and love of SWAN UK, raise awareness of undiagnosed genetic conditions, and reach out to other families who may be feeling lost, or alone and unsure where to turn to for help.