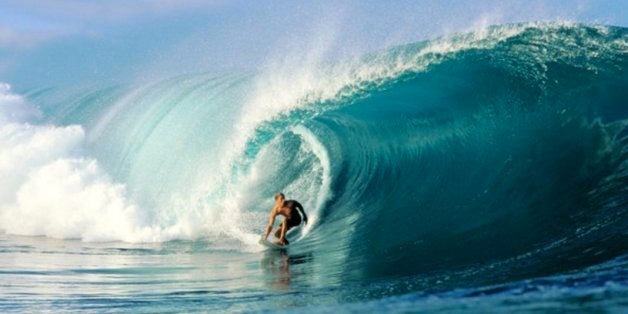 From an outside perspective, our family seems very normal - my husband, Andrew, is a plumber by trade and we live with our two children in Devon. However, despite his background, Andrew's life and job is surfing and his success has helped him become a Red Bull athlete. His infatuation with big wave surfing means that he can leave us to go and catch a wave anywhere in the world at any moment and be absent for days or even weeks on end, regardless of what is going on in our life and family. Many people may view this as a selfish act; an abandonment of those who depend on him to chase his - at times, very risky! - personal goals. To us, though, it's just a way of life and his passion is something that I feel is important to pass on to our children.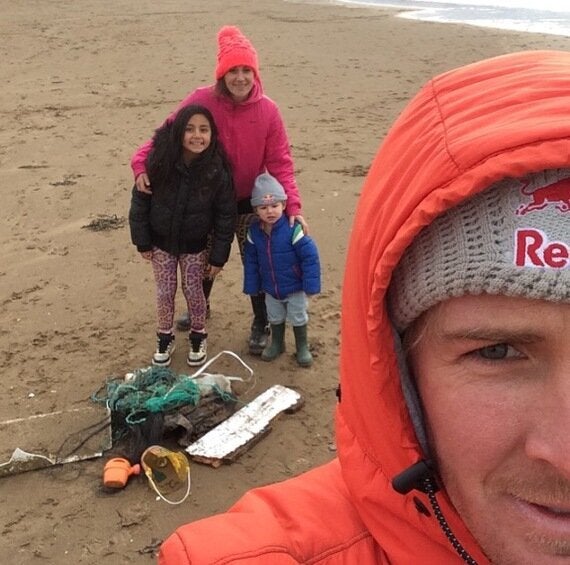 Since meeting Andrew six years ago through mutual friends, our family has blossomed into one filled with love and support. We have two children, Honey, eight, and Ace, four. Of course Andrew's job has an impact on the way we go about things, but I have such a good support network around me to help me deal with the day to day tasks, which I'm hugely grateful for. Living in Croyde, Devon has its benefits, as we live really close to my mum, sister, brother and lots of friends, so there is always someone to call on if I need a hand.
However, the unpredictable nature of his job does have a big impact on our lives. Andrew tends to go away a lot and his plans can be constantly changing right up until the very last minute. He could be absent from home for a few days to a few weeks and we never know for sure when he leaves how long it'll be until he is home, it really depends. But this is something that we have got used to and adjusted to cope with the spontaneity.
It's also something that our children have grown up with so they don't know any different. I don't believe that it has had any negative impact on either Honey or Ace because they know exactly what Andrew does and are extremely proud of him. We give them the chance to watch his documentaries so they can see what he's been up to and feel part of the journey he's been on. Andrew also regularly goes along to their school to give motivational talks and gets involved in activities with the children, which they love.
I don't personally surf, but I do pursue my own interests and, from that perspective, I completely understand his enormous passion. His drive and focus is what keeps him going and we know that whenever he goes away, whether it is for a few days or a few weeks, he'll always be back to make up for lost time. In reality, we're just like any other family where one parent has to have time away with work. It's just that ours involves a little bit more risk and adventure.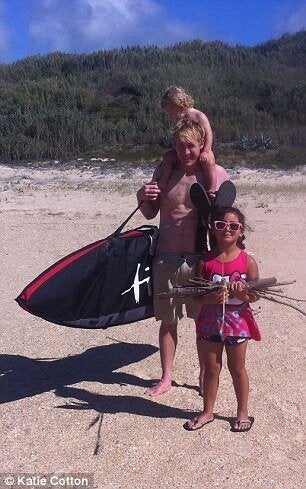 Christmas and birthdays are times that have been affected by his absence but, funnily enough, Andrew doesn't really enjoy those sorts of things anyway! For example, he wasn't around for Ace's birthday this year as he was in Mexico, but he made it up to him when he came back home. We make the most of the every day, rather than pinning family celebrations on certain days of the year which I think is a healthy approach to life.
I do worry about him, as it isn't just the surfing that involves risk, it's also the long hours of travelling and late nights of driving from place to place when he's tired. It is an incredibly high impact job from all sides, but Andrew and I are very like-minded. We both make the most of what is best for us and do the things that we love, which I think makes us good role models for our children.
We don't always get left behind either! Every October Andrew, the kids and I head off to Nazare, Portugal where we meet up with friends and get to see everything kicking off for the big wave season. Andrew and I went there on our honeymoon, so it's a placed filled with lots of great memories. We also go away as a family on surf trips at least 3 times a year and will be going to France, Portugal and Hawaii in the next six months.
Overall, Andrew and I have the same outlook in that you should never stand in the way of someone following their heart and their dreams and I think that's a powerful and inspirational message to pass onto our children. I can't imagine what it would be like to not have a passion for something or a really strong focus, and even though there are sacrifices that have to be made, they're always worth it. Our family set-up may not be conventional and our values slightly different from other parents, but we make it work and that's the most important thing.
Beneath the Surface is available now via the Red Bull TV app and website
This summer The Huffington Post UK is spearheading an initiative helping families thrive, with a focus on parent wellbeing, the challenges facing stay-at-home and working parents, friendships and navigating the landscape of modern parenting beyond the 2.4. To kickstart the campaign, Jamie Oliver guest edited the site, bringing a focus on feeding healthy families.
We'll be sharing stories and blogs with the hashtag #ThrivingFamilies and we'd like you to do the same. If you'd like to use our blogging platform to share your story, email ukblogteam@huffingtonpost.com to get involved.