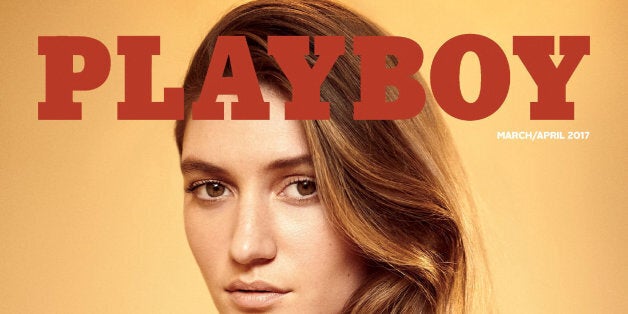 Last year, Playboy magazine made headlines when it famously announced it was to adopt a new line with regards to naked women on its pages - they would no longer feature in the publication. "Hurrah!" said feminists, "About time too" said activists for women's rights. It showed that the super-brand was getting with the times. Although the decision was partly due to the abundance of free porn online, nevertheless, for the world's most famous men's magazine - one with a nude spread (pardon the pun) on its centrefold, it marked the end of an era. An era that started in the 1950s and has become synonymous with misogyny, objectifying women and Hugh Hefner's notorious pool parties with the Playboy bunnies. Maybe, just maybe, Playboy was finally turning a new leaf.
But today, less than 18 months later, it was announced that the publication has had a change of heart and is reversing its decision, with the March 2017 issue declaring "naked is normal". Woah there - what happened? Cooper Hefner, son of Hugh and chief creative officer (since last October, after the ban was implemented) has decided he respects women so much, he wants to put naked women back in Playboy to celebrate the female body.
"This is a remarkably special moment personally and professionally that I get to share this issue of Playboy magazine with my dad, as well as with readers." He announced. How sweet. Just a 25-year-old man sharing a love of female nudity with his 90-year-old father then, "what's wrong with that?" I hear you cry.
Perhaps it could be something to do with the fact that the publication's readership was already down to 800,000 when the nudity ban was announced, and since then has continued to plummet to 700,000 at the end of last year.
It's disgusting that Playboy is using the excuse of 'female empowerment' to justify a decision to put nudity back on its pages, when the franchise itself is founded on decades of misogyny, objectification and an unequal gender balance. If naked is so normal - where are all the naked men on these pages?
Their "love your body" message says to women that it's ok to be naked in a men's magazine. The "free the nipple" feature is saying it's ok to "take back your body" as long as the woman is in control and they feel good about it. Something about Playboy adopting the "free the nipple" campaign stinks - they're hopping on the bandwagon. What is a positive message to girls has been hijacked to appeal to male readers. Of course Playboy want women to "free the nipple" - but for all the wrong reasons.
The message is getting lost. It's getting taken over by brands like Dove who want you to "love your body" (by buying their products of course) and by celebrities who see a butt selfie as a sign of female empowerment - when all it does is reinforce an age-old gender imbalance.
Playboy don't give a shit about female empowerment. They don't give a shit about respecting women's bodies, "freeing the nipple" or showing them in a positive light. They just want to see some tits and ass, and fool people into thinking they really respect women, when really they're just doing what they've always done since the 1950s. Playboy magazine might not be around for much longer, but who knows how much damage they could do in the meantime by championing this skewed message.