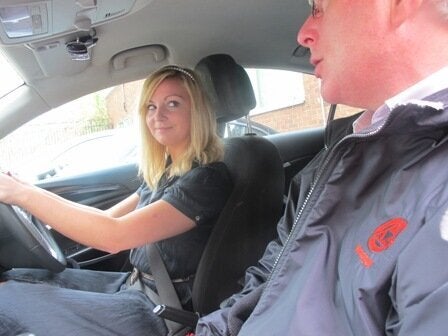 As any mother will tell you - there are times during parenthood when your children present you with certain 'challenges'. I have three children and I'm already dreading their reaching teenage years when - whether they deserve this reputation or not - they become notoriously difficult to handle.
If I'm honest, I remember having horrendous arguments with my mother. The clothes I wore, the boys I spent time with and the hour I returned home at were all common points of difference. Besides these, driving was another cause of heated debate. She would tell me to be careful and I would shrug off her concern saying there was no need to worry - I'd passed my test hadn't I?
As fate would have it, I now work in the insurance industry designing policies for young drivers. Needless to my perspective has changed a little.
Things may have moved on since I was in my late teens in terms of vehicle safety, but with car accidents now the single biggest cause of accidental death in young people aged 15-24, it's clear to see something needs to be done.
The driving test has certainly undergone a transformation - candidates now have to exhibit proficiency in hazard perception and answer questions on vehicle safety. Nevertheless it can also be criticised for the same faults as other education systems; it tutors for a test rather than the real world, leaving young drivers on the road without the experience and confidence needed to deal with the everyday dangers presented to them.
Now - having told my mum in no uncertain terms where to go - I have to admit, my children will be taking an advanced driving test.
With the help of like-minded colleagues, I'm taking this new-found evangelical attitude into the workplace, using it to inform the creation of an insurance policy that covers young drivers and puts steps in place to improve their safety. We've worked with road safety charity, the Institute of Advanced Motorists' (IAM), which has agreed to provide holders with a Drive and Survive course as a compulsory element of the policy.
Courses such as this can really help improve the confidence of young drivers by giving them the tips they need to be safer and more responsible on the roads. Advice such as 'when driving in the country and you see a church spire, you are coming into a village and should slow down' and 'a post-box up ahead often signifies a junction,' provide simple, handy tips that are not part of your normal learning. Other areas covered include defensive driving skills, improved fuel efficiency and changes in both driver culture and attitude.
When I was a teenager, I would often ask my mother, "don't you trust me?" She of course would respond that trust cannot be given, it has to be earned.
Until recently, this was not really the case. With no way of knowing how their children behaved un-chaperoned behind the wheel, parents effectively gave their trust and, as long as the first few solo journeys were completed successfully, little more was said of the matter.
Telematics technology has changed this. Telematics, often referred to as 'a little black box', is able to monitor driver behaviour, generating feedback on speed, acceleration and braking. As part of our young driver policy, telematics is installed in the young person's car and the information received fed back to parents.
Some youngsters may argue that this is invasive, but as a parent, I view it as an enabler to trust and a harmonious home. My mother and I could have avoided a monumental number of circular discussions through reference to an impartial third party, and the relief that I'll be referencing statistical data before I dispense my criticism is huge.
We are not alone in our campaign to protect Britain's young drivers; the government is also doing its bit. The Transport Minister has been concocting a green paper, due for publication later in the spring, full of recommendations on the subject. Nevertheless, with much of its proposed contents already branded ineffectual or draconian, it seems this will raise more questions than it does solutions.
Now, as a mother, I'm saying that we really need to encourage the use of all tools available, the advanced driving classes and the telematics monitoring systems, to ensure our children's prolonged safety on the roads.
Insurance firms are helping young drivers gain access to a dangerous road network. It is only right that they play their part in this.
Related