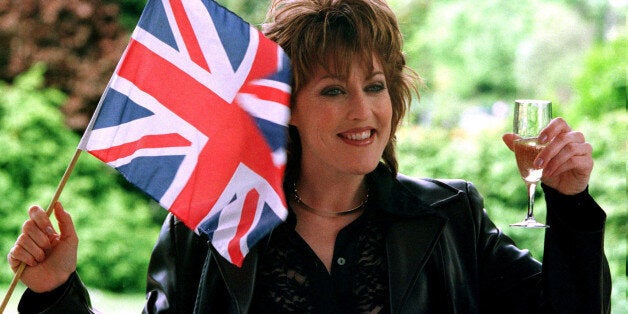 Eurovision is catching on! For the first time a TV station in the US will be broadcasting the show live in America, and it will also be shown in China, all of which sets it up nicely to be the global phenomenon it so rightly deserves to be.
But are Americans going to get it? I was born in Topeka, Kansas but I've lived in Europe since the age of 12 so my sense of humour is not archetypically American and you need either a camp sensibility or a sense of humour and a little geographical, never-mind geopolitical understanding, doesn't hurt. The political voting would need to be explained and the grannies, kettle drums and babushkas could confuse some. Gay people in America didn't want to be left out of the party - they've been watching it over the internet for years and didn't it just look like the funnest party EVER! And now they're going to invite all their straight friends over for the Eurovision Grand Final and try and explain what the hell is going on.
When I won the competition in 1997 with my band Katrina and the Waves and the song Love Shine a Light, I'd never seen the Eurovision Song Contest. I had no idea it had such a fanatical following which united the predominately male gay following in the UK with a rabble rousing horde of fans all across Europe. I thought so many of the songs associated with it were ridiculous and a far cry from 'credible' and 'worthy' pop songs, but in time the songs don't so much grow on you as lose their 'offensiveness'. As the sheer might of Eurovision breaks down your own cultural sense of cool and you find yourself muting Nick Cave/Coldplay/your new Radiohead album to dance round your living room to Verka Serduchka's Dancing Lasha Tumbai (Ukraine's 2007 entry). And then there are a few crackers like Euphoria (Sweden 2012), Waterloo (Sweden 1974) and Volare (Italy 1958) which were Top 10 around the world.
I was asked to carry the flag for the United Kingdom not just because we had a song that looked like a winner but also because I had already performed over 2,000 shows in my career and therefore shouldn't be too anxious performing in front of 60million. Hah! It was the most nerve wracking, trouser cracking two minutes and 58 seconds of my whole career.
There was a bit of consternation regarding my participation in Eurovision because contrary to a lot of rubbish written about me on the Internet, I'm American not Canadian which could have been sort of OK. It was even suggested by the BBC publicity department I 'tone down' my American accent. Cor blimey Mary Poppins, that ain't gonna happen!
Now I'm regarded as an honorary Brit. Winning Eurovision really integrated me into the British culture and 19 years later I'm still the last person to win it for the UK. For a country that produces the greatest music in the world, the Brits just don't know how to manufacture a decent enough song to win ESC. Why? Well, I think the music is great here because the weather is terrible, it keeps people indoors, makes them pick up the guitar or sit down at the piano. Name a hot country anywhere near as prolific in the hits department as The UK.
Year after year since our win in 97 the great British public had little or no say in who would represent them at the ESC. This year the BBC hosted a terrific, televised live, phone in show called You Decide or in other words 'It'll be all your fault'. Leona Lewis wrote a cracking song Shine A Little Light but passed over the singing to a good but 'no Leona Lewis' singer who turned out a mediocre performance on the night and the song was not chosen to go forward to Stockholm for the contest. Now, had Leona Lewis herself sung the song, I strongly believe not only would the song have made the journey to Stockholm but I think with Leona's profile, experience, popularity and bloody good singing, she could have won the whole competition.
Of course there's still a fear in 'credible' circles that participation in Eurovision, or even a win, could jinx your career and stigmatise an artist as being cheesy or desperate. You can call me cheesy and desperate if you like but as a working girl who needs to sing to pay the bills (I didn't write Walking on Sunshine) I'm darned happy when the phone rings every spring for shows, interviews etc... and that's all to do with Eurovision.
From 24 countries in 1997 to 42 countries in 2016, the competition just gets bigger every year. Australia is in for the second time and the Eurovision fans have welcomed them with open arms. No one really cares if they're not in Europe, because neither is Israel or Morocco. So why not America? Why not Canada? Why not Turks and Caicos? Eurovision can't be confined to a geographic location because it's a state of mind.
So get ready for the biggest Eurovision party on the planet.
Watch the video for Sun Coming Upper from Katrina's new album 'Blisland' below:
Free download of the Eurovision chapter from Katrina's forthcoming autobiography, Don't It Feel Good? here: www.katrinasweb.com/books
www.facebook.com/katrinasweb
www.twitter.com/katrinasweb