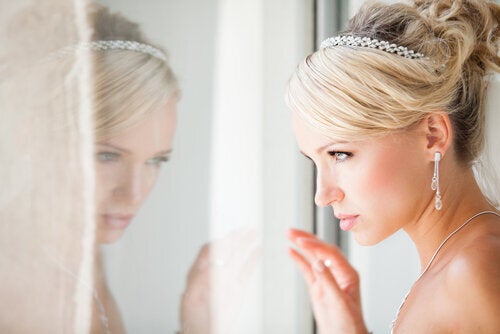 Wedding season is now in full swing. Whether you're the Bride-to-be, Mother of the Bride, Bridesmaid or Friend .... There is no doubt that, as a woman you will want to look and feel your best.
As a bride it's easy to get lost under a pile of bridal magazines and all everyday 'normal' thoughts to be taken over by thoughts of wedding dresses, hair, makeup, flowers, seating plans, food, music, something borrowed and something blue ....
But skin - probably the most important thing you'll be wearing that day .... can get easily forgotten until the day is almost upon you. The reason I say that it's probably the most important thing you'll wear that day is because, if your skin isn't in its best, most radiant state, then no matter how beautiful your dress is, or how stunning your designer shoes are - you simply won't feel your absolute best or most confident.
Confidence and being comfortable in your skin radiates its own very special glow. If your skin is clear and vibrant, you can relax and get on with enjoying the fun stuff .... instead of feeling self-conscious and running off to the ladies on a regular basis to pull out your concealer.
Don't leave it until the last minute to prepare your skin for the special day - although I do have a savvy tip or two for faking that 'lit from within' look. Really up your game when it comes to nourishing your skin, both in terms of diet and skincare.
Top tips to feel like the Belle of the Ball - Bride or guest:
Antioxidant overload - If you're not already, try including a green smoothie or vegetable juice, or any colour smoothie or juice for that matter, in your daily diet. Use more vegetables than fruit to limit sugar. Feed your skin from within. Antioxidants are essential for healthy glowing skin.
Ditch the white stuff - that includes the hidden sugars in many foods. Go as clean as possible with your diet. Focus on eating wholefoods that nourish the body and skin. Remember this, sugar damages collagen and ages the skin at a faster rate. I have to remind myself of this at times too when faced with something very tempting .... Just do your best.
Hydration is key to healthy, plumped up, juicy looking skin - Drink more water, herbal teas and homemade vegetable juices. They all contribute. Avoid or limit alcohol, tea and coffee. I know I feel the difference if I have more than one coffee a day .... Again, it's about doing your best to make positive changes.
Detox - I would suggest doing it two-three weeks beforehand. Toxins can come out through the skin in the form of spots and blemishes. Not doing it immediately before the event ensures you have time to let any spots or blemishes clear and heal.
Add Pink Himalayan Salt or Epsom Salts to your bath to help detox - Minerals will be absorbed into the skin whilst toxins are released. Dry body brushing beforehand will increase circulation in the skin and help to open up the pores for detoxification.
Exfoliation is key to glowing skin - in moderation. Too much can cause a host of other skin issues. Two - three times a week is generally ideal, but gauge your skin to see how it responds. Use cleansers and masks with AHA's and enzymes for a gentler way of exfoliating. The dead surface skin cells that dull a complexion will be loosened, lifted, then cleansed away - leaving you with brighter, smoother skin.
Invest in clean skincare - Look for products that are full of antioxidants and active ingredients to encourage cell renewal and repair. My advice is a gentle cleanser that cleanses deeply. An amazing kick-ass serum to target any skin concerns with a powerful punch. A nourishing cream or facial oil, and use an SPF daily to protect your skin from damaging UV rays.
Get skin savvy in the kitchen - If it's good enough to eat, it's good enough to put on your face! Think natural yoghurt, Manuka honey and oats mashed up together. Another good one is avocado, yoghurt and honey. You're literally feeding your skin. Mix and mash up in a bowl. Apply to clean dry skin. Sit back and relax .... Even better, sit back in your Himalayan Salt Bath whilst meditating or relaxing your stresses away.
Invest in a beautifying supplement - I recommend MSM, also known as - The Beauty Mineral. Essential for healthy skin, but not easy to get enough through diet alone as it's a mineral that is depleted through cooking and food processing. MSM is healing, detoxifying, it firms the skin, reduces lines and wrinkles and gives your skin a certain 'Lit from within' glow. This amazing supplement helped to clear some recent skin issues of mine in a matter of days. I love MSM, but now and again I fall out of routine with taking it .... then when I start again I'm always wowed and think - "Why do I forget?". Due to its detoxifying effects, I would suggest that you start taking this a few weeks before the big day rather than days. I take mine in capsule form as the powder tastes quite bitter. Look for Opti-MSM as it's the purest formavailable.
If you're a fan of the glowing skin look - the kind that looks radiant and dewy, usually seen on celebrities gracing the red carpet. Here's a top tip I swear by. After applying a hydrating serum and letting it sink into the skin. Add a drop or two of a light facial oil and mix it into your base of choice. If you're not a fan of oils a hydrating serum will also work as well. Applying your BB Cream or foundation with this little bit of moisture added in gives your skin a wonderful dewy radiance. Skin looks hydrated and healthy. Another way to fake that radiance is with a highlighter, either mixed in with your foundation or applied along the top of the cheekbones.
White teeth set off a beautiful smile - if you don't wish to go down the professional, and more expensive route then there are a couple of cheaper and effective options. Simple baking soda added to a wet toothbrush and brushed over teeth will remove stains and brighten teeth. Another tip I really love and try to implement regularly myself is oil pulling with coconut oil. Take a spoonful of the oil and swish it around your mouth for up to twenty minutes .... I usually manage about ten minutes. It really works and is a very effective and natural way forward to a whiter smile.
Now put on your beautiful dress, high heel shoes, a spritz of perfume, and a slick of lipstick. Enjoy the big day .... Bride or guest.