Confidence is a funny thing, you either have it or you don't. Except that isn't quite true- as you may have it in one area but not in another. You may excel in one area and come across as the most confident person in the world, and yet when you find yourself in another situation you can be reduced to a bag of nerves, legs turning to jelly!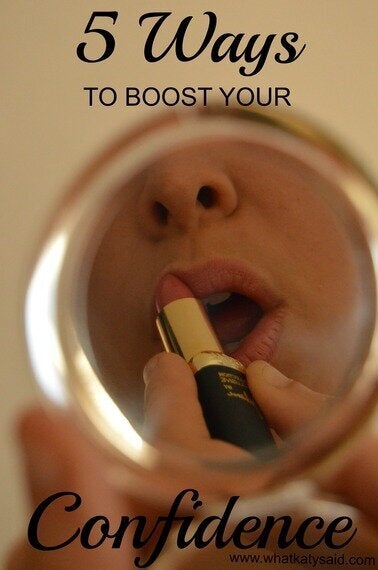 People always tell me I come across as a really confident person. I think it is because I am a little bit loud at times. I can be confident of course, put me in front of a class of five-year-olds and I am in my element! I am fine running an assembly, talking in front of a room full of teachers- I know what I am talking about and so I am comfortable putting myself out there.
However, put me in a new situation such as a mother and toddler group and I am reduced to a nervous wreck! I have no confidence in my own social skills and am no good at small talk- it takes me a long time to feel comfortable and act naturally. If I don't get welcomed immediately then I rarely go back, who would want to repeat that situation?
A few weeks ago I was on a train to London to attend a blogging event and it suddenly struck me- I was on a train to go to a blogging event!!! Me! Little old me! I hadn't felt nervous at all, I just hopped onto the train as if it were perfectly natural. I wouldn't know anyone there but it didn't matter, I was going for me.
So it got me to thinking, how can we all gain our confidence?
1. Fake It: It is only you that knows you are shy. If you pretend to be confident then you will not only convince everyone else but you will start to believe it yourself! Since starting blogging I have attended around 10 blogging related events and each one I have put on my brave face- and you know what? I enjoyed every single one!
2. Support: Having a great support network to cheer you on will do wonders for your confidence. Whenever I feel nervous I have great friends to turn to that always give me that much needed boost. Knowing other people believe in you can make all the difference.
3. Mantra: Picture those two little voices in your head, the one telling you that you cannot do it and the other championing you! What does that positive voice say? Have a little mantra that you repeat to yourself when you feel shy. When self doubt starts to creep in I remind myself of this:
4. Set Goals: People often set goals which are too high, then when they do not meet them they feel discouraged. Set mini goals that you know are within your reach- the more goals you meet the better you will feel about yourself. Write a weekly list of everything you have achieved, big or small, that way you can reflect on everything you have done and feel a huge sense of personal satisfaction.
5. Positivity: People who think positively will attract positivity- fact! When you feel those feelings of self doubt creeping in, switch it up and change those thoughts! Afraid of going into a new situation? Acknowledge your feelings but remind yourself that you are there for a reason- so hold your head up high and believe in yourself! And remember to SMILE!
So there we have it, five little reminders that I use every day- hopefully you can use them to help find your inner confidence. What are you waiting for? Whack on some lippy, stand tall and know your worth!
Katy blogs over at What Katy Said- a parenting and lifestyle blog aiming to inspire others to make the best out of every day.
Related