It's that time of the year again - cherry blossoms, the year's first barbeques and dusting off the summer wardrobe. That heady combination of fruitiness, big flaming whoppers and costume changes culminates neatly this week at the Eurovision Song Contest.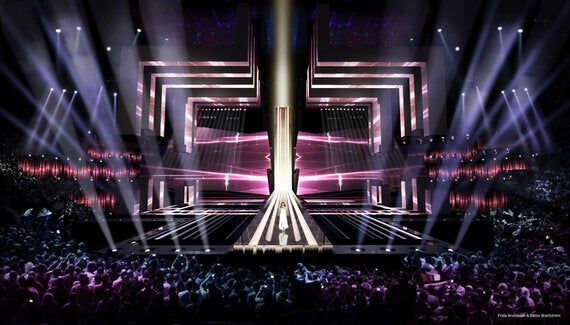 This year's impressive LED-driven set
Photo Credit: Frida Arvidsson/Victor Brattström (SVT)
It's a mixed bunch this year. A handful of standout entries, a large number of decent songs, and a whole bunch of meh. It's my job to try and winnow the wheat from the Euro-chaff for you.
The favourites can be fairly neatly split into two camps: the footballer boys vs the political girls. (There's no Conchita Wurst or Dana International this year, so we can be binary in our gender assignments.)
At the start of the season, Russia's Sergey Lazarev - like Chelsea FC - looked on paper to be a winning combination of skill and management. However, the song, "You Are the Only One" (including its key change) is cheesy but catchy ("Thunder and lightning, it's getting exciting") - a sort of mid-noughties boyband number, the fourth single from a successful album that would barely trouble the top ten. Sergey nonetheless is a handsome, charming and cheeky chappy with a great voice and presence. The staging is as innovative as last year's winner Måns Zelmerlöw's Heroes, with Sergey climbing a fabric wall using hidden acrylic blocks (believe me, it'll look great on screen!). With a couple of second place finishes in recent years, Russia is looking to win this again. It remains the favourite. Expect plenty of LGBT-related commentary in the media if they do.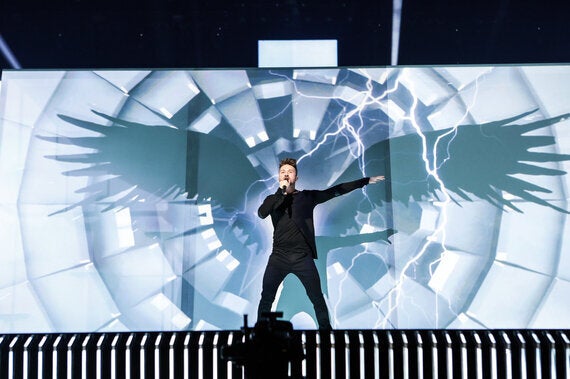 Photo Credit: Anna Velikova (EBU)
Sweden's Frans rose to fame with a song about Zlatan Ibrahimović at the tender age of 10. At 17, he has far less charm in interviews and in person than when he was a child but he possesses a Bieber-esque quality (perhaps, just youth!) that makes his song, If I Were Sorry a strong contender. It's simple, modern pop: he's the Brooklyn Beckham of this year's contest - and appeals to the same demographic.
France's representative is the multicultural and handsome Amir. The ex-dentist - with Tunisian, Moroccan, Spanish and Jewish heritage - starts singing the infectious J'ai Cherché in French before switching to a catchy English-language refrain ("You're the one that's making me strong; I'll be looking for you, like the melody of my song"). He's the Arsenal of the competition. It's a return to form for France after years keeping us company at the bottom of the table. There may not be silverware but they should settle for a decent third place.
The talented Italian Francesca Michielin sings Nessun Grado di Separazione - a song about a girl's first love (though in interviews she has said that it's about no division between peoples - clearly that's the on-brand message for this year). The melody is lovely, the lyrics lush and with a good performance, this will do well, cementing Italy's recent great form.
Ukraine is one to watch. Jamala's1944 refers to Stalin's deportation of the entire, largely Sunni Islamic Tatar population of Crimea (they were bundled off to Uzbekistan and Siberia; tens of thousands died during the deportation - many from starvation). The chorus comes from Jamala's grandmother's words about Crimea: "Yasligima toyalmadim. Men bu yerde yasalmadim". ("I couldn't spend my youth there as you took away my peace.") The song was deemed non-political by the European Broadcasting Union - it isn't about the 2014 annexation of Crimea by Russia - but with the Syrian refugee crisis and Islamophobia both current parts of the European news lexicon and Jamala's stunning vocal and heartfelt performance, this may do very well.
Australia brings the Korean-born and X Factor Australia 2013 winner Dami Im to Eurovision with the power ballad, Sound of Silence. Australia mean business and until they sort out their "AsiaVision Song Contest", it looks like they'll be a permanent guest at Eurovision. Dami brings great staging (tick), a stunning stage costume (tick), a modern song about loneliness in the age of social media (tick) and a voice to knock your socks off (tick tick tick!). Australia remains on message about its diversity (having sent the Malaysian-born Guy Sebastian last year) and its connection to Asia. It's soft power used wisely - informing us that the Australia of Kylie and Jason has moved on.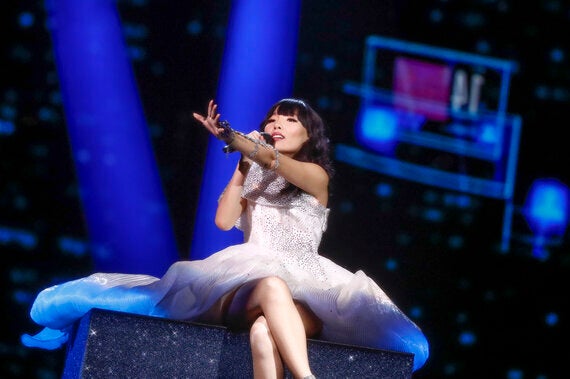 Dami Im bringing Asia-Pacific realness to Eurovision
Photo Credit: Andres Putting (EBU)
Armenia's and Azerbaijan's female contestants belt out powerful ballads - the countries will however no doubt meticulously avoid voting for each other given their ongoing dispute over the Nazorh-Karabakh region. Perhaps Armenia's Iveta can send a LoveWave and Azerbaijan's Samra can perform a Miracle to resolve one of Europe's last ongoing border conflicts - both sides have suffered a hugh number of fatalities as recently as April 2016. Eurovision's main aim was to heal a battle-scarred continent and this year's theme of "Come Together" (stop sniggering in the back) is an attempt to remind the audience of that fact.
Bulgaria's Poli Genova has a strong entry in If Love Were a Crime (together with Sweden's entry, this is a great year for the English subjunctive). This is one of the catchiest of all of the entries - it's a shame though that the hook "О, дай ми любовта" (Oh, dai mi lyubovta) is not sung in English as "Oh, give me loving". As great as it is to hear Bulgarian being sung, English is simply the language of pop music. Spain agrees and the lively Barei sings "Say Yay" without a hint of Spanish in the lyrics. I loved Say Yay on first listen but have slowly grown to dislike it ever since, though it has a nice memorable gimmick in the performance. With more televisual gimmicks, this year's Maltese entry (one of 11 songs this year with Swedish songwriters) is good but distinctly less charming and bouncy than singer Ira Losco's last entry, which came second in 2002 to Latvia. Latvia's 2016 bass-heavy entry Heartbeat is written by last year's entrant, the Latvian-Congolese singer/songwriter Aminata. Her signature style - a sort of modern pop drum and bass - proved popular last year and I expect this will do well with the male vocalist Justs. Just as easy on the eye is Austria's Zoë, who sings a sweet ballad in French, searching for a lost paradise, far far away. Other songs far, far away from the very top of the table (despite being decent songs) include Hungary, Israel, FYR Macedonia, Cyprus and Slovenia.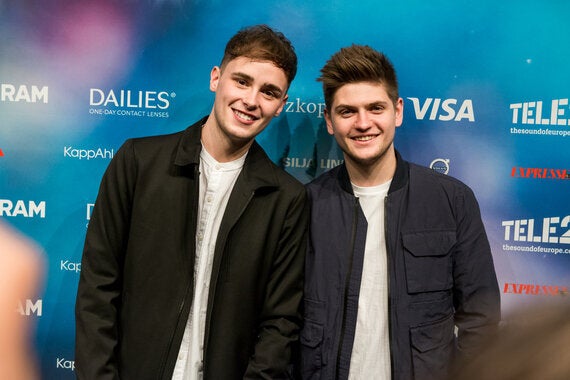 Photo Credit: Thomas Hanses (EBU)
The Voice UK contestants Joe & Jake have teamed up in the UK's strongest entry in many years. The boys have good energy on stage and the song isn't bad. We can but hope that the boys' natural performance can shine brighter than some of the other middling entries. Luckily I'm old enough to remember Eurovision when the UK used to do well (the UK finished in the top ten all but three times in its first 40 years in the contest) but the track record from 2000 onwards has been pretty shameful. This year's entry is certainly not bad - but watching and listening to the production values and songwriting of Russia, France, Italy, Sweden and Australia - we are sadly, in a different league. Still, there's always hope. We can but lie back and think of Leicester!
The grand final of the Eurovision Song Contest is on BBC1 at 8pm on Saturday 14 May 2016. The semi-finals are on BBC4 at 8pm on Tuesday 10th and Thursday 12th May.