You've had your big day, you looked and felt amazing, now what to do with that beautiful wardrobe filler?
Here are a few ideas for you:
Our inspiration for this article was spotting these fabulous trash the dress photographs: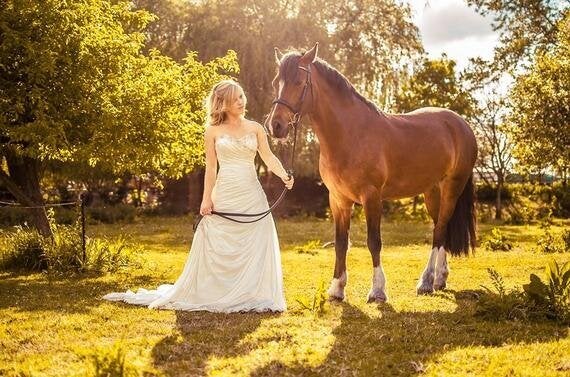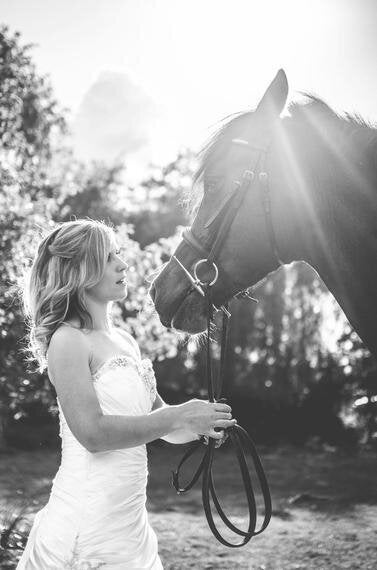 I was always under the impression a 'Trash the dress' shoot meant exactly that, trashing the dress with paint/water/mud etc. I had no idea it could be about such beauty and elegance.
These were taken from a very talented photographer called Nathalie Talka Rychetnik who has been in the photography business for over 11 years.
We asked Nathalie to let us in on her secrets:
Where does your inspiration for such beautiful images come from?
My inspiration for all shoots comes from a place between being a fashion photographer and being a huge day dreamer! I love putting little magical touch to every photoshoot I do and I always question if I wanted photo like this, before I speak about the idea with the model/bride.
What's been your favorite ever photoshoot?
It's too hard to choose my favourite ever shoot, but the trash the dress shoot with the horse and campaign for ferrero rocher when we kept throwing boxes of chocolates at models faces were definitely amongst my favourite!
How much do you charge for a 'Trash the Dress' photoshoot?
My prices for any portrait session range between £79 - £249. I wanted to make sure that everyone can afford their very own photoshoot!
Any last tips for a bride about to go before the camera?
The best advice I can give anyone who is going to stand in front of camera is - breathe and practice your poses! I know how silly this sounds but trust me, even professionals do it! Just have a look in magazines and online and then when no one is looking, stand in front of the mirror and try them all. The more you do this, the more normal it will feel when you have a photographer rather than mirror standing there!
I personally love this and would love to do something similar. If anyone read my last blog 'Why you absolutely definitely need a professional wedding photographer' you'll know that I didn't end up with a single good picture of my dress! I think this would be a great idea for anyone else in a similar position to make sure they have photos of their dress that they can treasure - or if you just want another excuse to put your dress on!
Here are few more ideas for you:
If you have a young daughter, put her in your wedding dress, depending on her age it will probably be draping across the floor but this will add to the cute factor! Let her put on your wedding shoes or a pair of your highest heels and snap a photo! Print it and keep it safe and then give this to her on the morning of her wedding, wouldn't this be a lovely gift?
If you can't wait this long, save it for her 16th of 18th birthday party and have it blown up and put at the front of the party room! I'm sure this will cause a good giggle, especially if it is being seen for the first time!
If you choose to keep your dress, you could have it framed and hung on your bedroom door, I loved this idea after I married, although the 50+ underskirts meant it would probably be a bit too difficult to get it flat enough! Still; a gorgeous way to keep your dress on display if you didn't go for a huge princess style gown!
I therefore had mine cleaned and boxed and it lives in the spare room. As happy as I am to know I can keep it and it will be kept safe, it is so tempting to just tear the box open and put it on! I'd happily wear it at home all day everyday! I'd only be tidying up and doing the washing in it - but at least I'd be a princess whilst I did so!
Turn it into the most precious gift you could ever give
There are also the generous charities that take donated wedding dresses and turn them into beautiful tiny dresses for babies who are tragically born asleep or who lose their lives shortly after birth.
On average, a single wedding dress can make 12 or more little gowns for angel babies.
I believe this idea needs it's own article entirely, I have been in touch with several charities who do this so that I can bring you a detailed article dedicated to this very soon!
What are you doing with your dress? Leave a comment and let me know! I'd love to hear how you're reusing your treasured wedding dress..
This September The Huffington Post UK Style is focusing on all things sustainable, for the second year running. Our thirst for fast fashion is dramatically impacting the environment and the lives of thousands of workers in a negative way. Our aim is to raise awareness of this zeitgeist issue and champion brands and people working to make the fashion industry a more ethical place.
We'll be sharing stories and blogs with the hashtag #SustainableFashion and we'd like you to do the same. If you'd like to use our blogging platform to share your story, email ukblogteam@huffingtonpost.com.
Popular in the Community