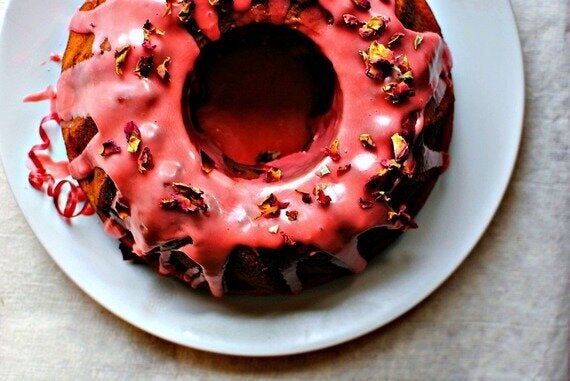 Of all the cakes one could have - Victoria sponge, cheese, chocolate, fairy, polenta, etc - I do think ones involving yogurt are up there with the best. Not only are French-style yogurt cakes always going to be soft, but they are incredibly straightforward to make. They also keep very well, so are perfectly suited to lunch boxes and unexpected guests. And Mothering Sunday or Easter.
We love the lactic tang from the yogurt and the tempered sweetness of a yogurt cake - so unlike a blowsy chiffon cake, or towering, ganache-spackled chocolate one. As nice as they are. I think of yogurt cakes as the demure but self-assured cousin to their in-your-face worldliness: Saoirse Ronan to any Kardashian.
This cake is of course made for sharing, ideally with those who will appreciate the slight tang and shocking (but natural) pink colour. Twelve slices is recommended; or even 16, cutting it thinly and catching it on a fork so it doesn't topple and break.
The floral-citrus note of bergamot -the distinguishing aroma in Earl Grey tea - is not absolutely essential here but if you can get hold of a bergamot it would be a bonus. The size of an orange and the colour of a lemon, the flesh and fragrant skin of these winter fruits are like a sweet lemon, but not as sweet as a grapefruit or indeed an orange. They are also quite perfumed so are not quite an eating citrus. More a distinctive complement to other dishes, such as Japanese-style marinades, roasted pork or salmon, marmalade and in cocktails. Otherwise, a teaspoon each of orange zest and lemon zest will provide some of the taste, if not the scent. If you have orange blossom water, a dod of that will add to the aroma - but just a few drops as it is usually strong stuff.
As for the stipulated rose water, well it is essential. Most large supermarkets and all Middle Eastern shops will have at least one or two brands from which to choose. When purchasing, twist open the top of the bottle (if you dare) and have a sniff. You want a pure and light rose scent rather than anything sickly or alcoholic. Think Turkish Delight.
And, as with most of my recipes, adjust to your own particular diet - unless it is sugar-free. Because this ain't, I'm afraid.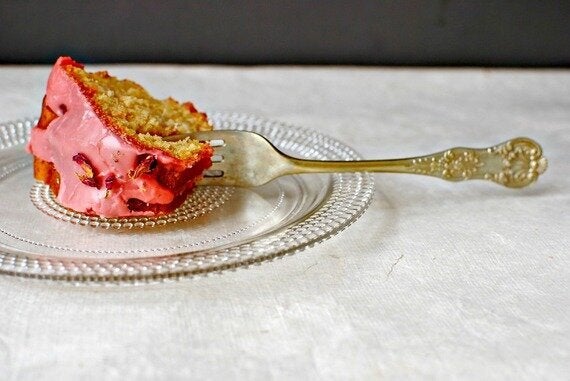 Rhubarb, Bergamot and Rose Cake
150ml Greek yogurt or thickened plain yogurt (vegan is fine)
150ml light olive oil or rapeseed oil
150g unrefined caster sugar
240g spelt flour or unrefined plain flour (or gluten free flour mix for cakes)
2 tbsp bergamot juice OR 2 tbsp fresh clementine juice and 1 tbsp lemon juice
1 tsp finely zested bergamot peel or lemon zest
100g pink rhubarb, diced not bigger than 1 cm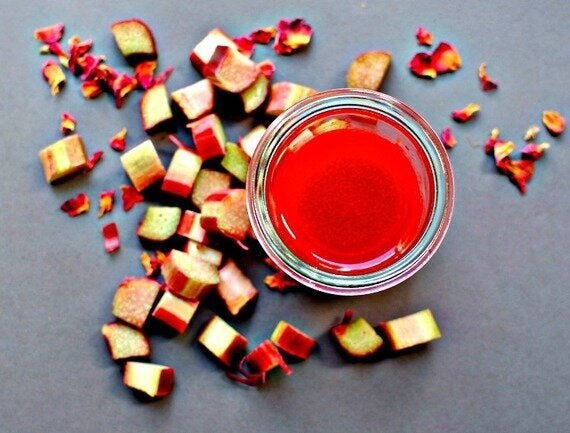 50ml rhubarb juice - made from juicing about ½ a stalk of rhubarb OR 50ml lemon juice
4-5 drops rose water (or more, depends on the strength - start with the least amount and add more if required after icing is made up)
200g unrefined icing sugar
1 drop of natural food colour OR a little beetroot juice - just if you wish a colour boost (I used the latter)
Dried culinary rose petals, to decorate
1. Preheat the oven to 170C/150C fan/340F.
2. Use oil spray or paint oil in a bundt or savarin tin. You may also use a loaf tin.
3. Sift together the flour and baking powder; set aside.
4. In a large mixing bowl whisk the yogurt, oil, sugar, eggs and citrus juice. Add the flour and zest, and mix until no flour is visible.
5. Pour half of the mixture into the tin, top with the rhubarb, pushing some into the batter. Pour over the rest of the batter, smooth it a little then pop the tin into the preheated oven. Bake the bundt or savarin tin/cake for 35-40 minutes, or the loaf tin for about 50-60 minutes. Cover with foil if necessary towards the end to prevent over-browning. Test for doneness with a skewer - it should come out clean. If not, pop it back in to the oven for a further five minutes.
6. Cool in the tin for 10 minutes then carefully upend the cake onto a wire cooling rack and leave to cool completely.
7. While the cake is cooling, make the icing. Add the icing sugar to a bowl, followed by the rose essence and drop of red colour. Gradually add the rhubarb or lemon juice until you have a thickish glaze (you may not use it all). Pour it liberally over the top, letting it spill voluptuously down the sides - a sexy, pink volcano.
Note: My icing was thick enough but I was in a hurry to glaze the cake and much of it initially absorbed. Take the time to let the cake cool. Also, I should have trimmed the cake's top to flatten it before leaving it to cool upside down. Not a very good icing job but please believe me when I say that this is one delicious cake!
This cake - like most yogurt-based cakes - keeps well for a few days at a cool kitchen temperature in a cake tin. Serves 12-16