It's that time of year again when we wake up and just don't know what to wear, the sun is shining but it has just poured like a monsoon. Winter is around the corner but summer just can't quite let go...
We need something that can instantly warm us yet can be whipped off in a flash and placed discretely into our arm candy. You've got it - Wonderful fashion neckwear can be seen everywhere we gaze. From fine silks to faux fur, the choice is endless! Wrap it, bow it, toggle it - however you wear yours, be sure to make a statement.
Look for inspiration from the 50's and tie your cute neckerchief at the side and even take a leaf out of Audrey Hepburn's book in Roman Holiday and go for stripes. Blue and white would look amazing with a navy knit, skinny jeans and kitten heels. I wear a spotty pink and black neckerchief with my own black leather jeans and cap sleeve t shirt - Very Beat generation You could go all out 70's hippie and wear a long and lean paisley silk with your bootleg suede trousers and bell sleeve shirt. Now that's a great look! For something heavier try a college boy scarf in your favourite coloured stripes or maybe a vintage school piece! Get your granny to knit you a colourful treat!
Even better head out to buy some of the amazing fancies that I've spotted for you...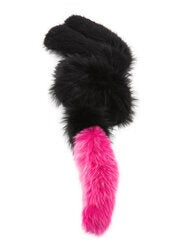 Feel super cosy with a Charlotte Simone fur Popsicle at £298 or if you prefer the faux version for £195. Available in beautiful candy coated colours.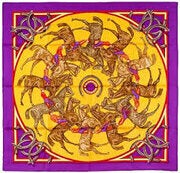 Or be a little wiser with your cash and go for silk that can be taken right through the year! Stick to classic Hermes and bring your silk out year after year, Jockey Vintage Silk Scarf 70cm x70cm £220.
On the High Street, Accessorize have some tempting florals; a couple of which I have picked out here: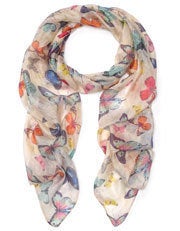 Multi Butterfly Silk Classic Scarf £12.00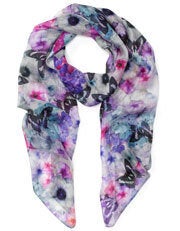 Anemone & Butterfly Digital Silk Classic Scarf £12.00
For any of us girls that are lucky enough to be heading off to sunny shores this winter, double your silk scarf as a sarong! It will be fabulously stylish on the beach tied around your bikini, sea lapping at your feet and warm rays beaming down... Ah if only ...
Watch this space for my own limited edition scarf for She Wears A Crown. I've designed a fun scarf with a repetitive pattern that will be sure to brighten any outfit and stand out. Wear my scarf just about anyway that you like, be it as it should be and around your neck or why not go a little more daring and try it around your head, waist, wrist or ankle!! This limited edition item is available soon on www.shewearsacrown.com