Imagine of the kind of big wilderness only the USA can deliver and you'll most likely be picturing Utah. With mighty rivers thrashing their way through colossal red-rock canyons and sandstone buttes rising above seemingly never-ending desert, it's every bit as spectacular as neighbouring Arizona and Colorado but with far fewer crowds.
While you can admire the scenery from road-trip lookouts, Utah rewards those who strike out into its five national parks. Each has a slightly different take on the rock that makes this corner of the Southwest so darned spectacular - from slot canyons to hoodoos, natural arches to petroglyphs etched into cliff walls.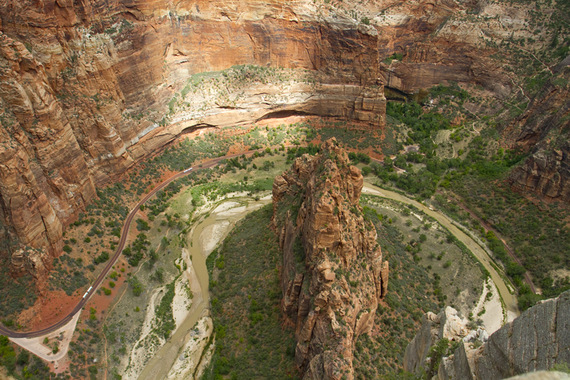 Zion National Park
Founded in 1919, Zion is something else. Over millennia the Virgin River has carved out a wonderland of slot canyons, monoliths and boulders, rippled with ever-changing shades of rust-red, pink and ochre. A free shuttle keeps the park blissfully traffic free, giving cyclists and hikers priority.
Heading into the cool heart of a slot canyon, The Narrows is an unmissable half-day hike - doable even in the height of summer. You'll wade through deliciously cold water reaching up to waist-deep, with towering sandstone walls offering shade. Zion Outfitter can kit you out with waterproof shoes, bags and neoprene socks. More challenging and beautiful still is Angels Landing, a four-hour trek that swings precariously up 27 switchbacks known as Walter's Wiggles. You'll emerge at an exposed ridge that teeters up to a sheer, rocky crest - there are safety cables in place but a head for heights is essential. The eyrie-like peak affords 360-degree views of Zion Canyon far below.
Stay Close to the park entrance, the lodge-style Hampton Inn & Suites in Springdale has spacious, contemporary rooms, a striking backdrop and an outdoor pool for cooling off after a day on the trail.
Canyonlands National Park
The Grand Canyon rightfully gets a lot of hype, but just as stunning - and certainly less crowded - is Utah's Canyonlands, some 300 miles northeast. The Colorado and Green rivers have buckled and contorted the land to create a jigsaw of canyons, buttes, spires and cottonwood groves. Perched on sheer sandstone cliffs, the Island in the Sky mesa is the go-to area for short hikes with staggering canyon views. Try the easy walks to Mesa Arch or Grand View Point. Or tiptoe off the beaten track to the little-explored Maze in the park's remotest corner.
Stay Canyonlands has two campgrounds: Squaw Flat at The Needles and Willow Flat at Island in the Sky. Moab, 30 miles north, has more options.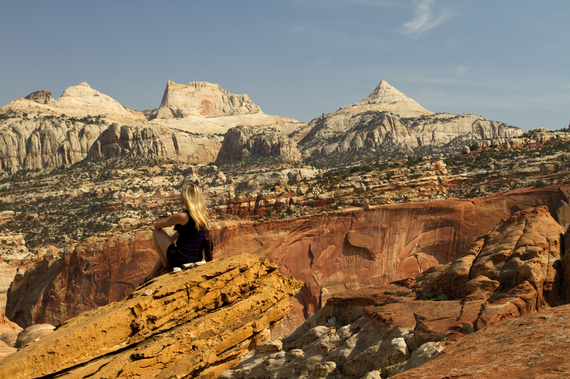 Capitol Reef National Park
Out of all Utah's national parks, out-on-its-lonesome Capitol Reef feels the most peaceful. You'll be practically alone on its trails even in summer - with nothing but colourful domes, cliffs and canyons, ringing silence and the odd desert bighorn sheep to keep you company. The park's centrepiece is a geological marvel known as the Waterpocket Fold, a 100-mile fold formed by the same forces that lifted the Colorado Plateau 65 million years ago.
With a day on your hands, you could trek the Grand Wash, a dry streambed weaving through a rugged gorge, tag on a steepish detour to the Cassidy Arch, and still make it back to the Goosenecks for views of Sulphur Creek canyon as sunset pinkens the sky. Besides hiking, factor in time to see the park's Fremont Culture petroglyphs and the Fruita orchards, established by Mormon pioneers in the 1880s. Keep an eye on the starry night skies too - the park finally received Dark Sky status in 2015.
Stay Near the park entrance in Torrey, the Red Sands Hotel is a friendly base, with a serene setting, tidy rooms and an indoor pool. The owner is a mine of information about local hikes.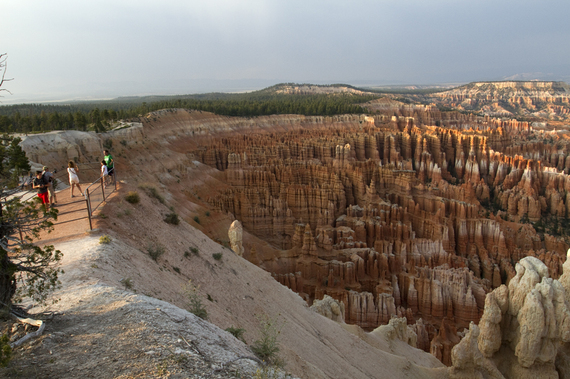 Bryce Canyon National Park
So if you thought the rest of Utah was impressive, wait until you see Bryce. This mind-blowing canyon is a delicate fretwork of thousands of spires, stupas and turrets - better known as hoodoos - which have been artistically eroded by wind and water over millennia. Catch a sunrise or sunset from the lookouts for the best light and photo-ops.
Besides gawping at extraordinary views from the easy-going Rim Trail, you can head off on a number of longer hikes that penetrate the canyon and take you down among the hoodoos. On the half-day Peek-A-Boo Loop, you'll give the crowds the slip to find yourself in a forest of rock formations, perhaps sharing the trail with nimble-footed golden-mantled ground squirrels and mule deer. Or you could saddle up with Ruby's Horseback Adventures.
Stay Right in the thick of things, Bryce Canyon Grand Hotel has generously sized rooms, an outdoor pool and a hot tub.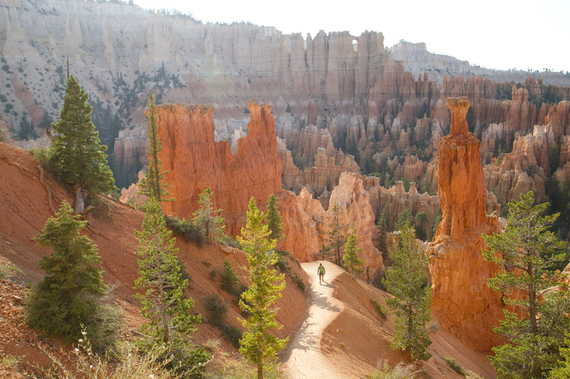 Arches National Park
When it comes to arches, this park knows no rival - it's home to some 2000 of them. Just north of Moab and sidling up to the Colorado border, the park's red-rock wonders include one of the world's largest arches - 93m-long Landscape Arch. At sundown, the formations glow like the embers of a dying fire.
While the scenic drive gives a decent overview, you need to hike to even get an inkling of the scale of these arches. A 45-minute walk leads to the Windows section for close-ups of a three huge arches, while a more strenuous two-and-a-half-hour hike takes you to the photogenic Delicate Arch. More demanding still is a ramble in the Fiery Furnace, a maze of narrow passages squeezed between sandstone fins - you'll need to hook onto a ranger-led tour or get a hiking permit for this one.
Stay Pitch a tent at Devil's Garden Campground in the park's heart. Or up the comfort with a stay at the riverside Red Cliffs Lodge, with wood-trimmed rooms, horseback riding and daily wine tastings.
Need to Know
For maps, trail details and more, check out the Visit Utah and National Park Service websites. Park visitor centres can advise you on trails, arrange permits for backcountry hikes and tell you the latest weather conditions. Most trails are marked with cairns and signed at intersections. Advance reservation for campgrounds are essential in season (generally March to October). Hiking is still possible in summer, when temps can reach 100°F (38°C), but it's wise to avoid the midday heat and carry ample water.