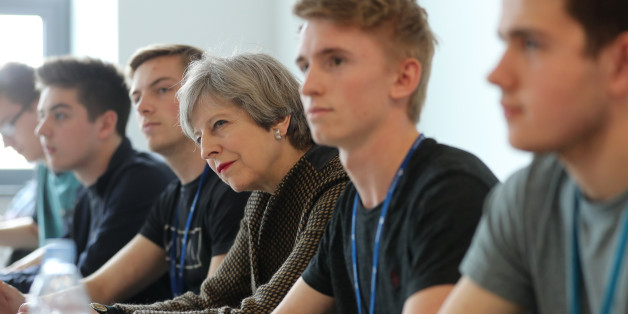 WPA Pool via Getty Images
Theresa May needs to understand that the cap on public sector pay is unacceptable and unsustainable. The fact that teachers' pay has either gone up by a pitiful £2.30 in secondary schools or actually decreased by £12.70 in primary schools in cash terms over the past six years is shocking. Measured against inflation these figures are even worse.
We are in the middle of a teachers and recruitment crisis. Workload and trust in teachers is central to this but unless the issue of pay and the funding of our schools is addressed it will only get worse. The Government presented its announcement on teachers' pay yesterday as meaning that its 1% pay limit is still in place for teachers. Actually, the School Teachers' Review Body recommendations involve an increase of 2% for the Main Pay Range, occupied by mainly younger or newer teachers, with a 1% increase on other pay ranges. So, arguably, the announcement represents another breach of the 1% public sector pay limit. But that said even a 2% pay rise given the losses already felt by teachers is unlikely to do anything to help schools recruit, retain and deliver better education for children.
Alongside the perennial but growing problem of teacher workload, teachers' pay has been a significant factor in the growing teacher supply crisis. Government targets for recruitment into teaching have been missed for five consecutive years. Meanwhile, retention has become an increasing problem, with many more teachers in later career deciding to leave teaching well before retirement age.
While the Government has just about managed to recruit the required number of new primary teachers, the number of primary classes over 30 has still risen substantially. Recruitment of new secondary teachers, however, has been well below target. Secondary school teacher numbers actually fell last year, pushing up the pupil teacher ratio, while the number of lessons taught by non-specialists in key subjects like maths rose. Failing to recruit the target number of teachers in maths and other key subjects ranging from physics to ICT to French will make the problem worse in the coming years as student numbers increase dramatically.
Teachers' pay increases have been 13% below the level of inflation since 2010 under the Government's public sector pay policy. With inflation forecast to be almost 4% this September, this latest pay announcement will push that figure over 15%. The pay rate for newly qualified teachers would be over £3500 higher if this pay cap had never been applied.
Structural changes promoted by Michael Gove as giving schools "flexibility" on teachers' pay have resulted only in downwards pressure on pay. Removing national pay scales and imposing "performance related" pay decisions at a time of funding cuts means that teachers are increasingly unlikely to get pay progression either. New graduates are increasingly aware that previously-guaranteed pay progression in early career is increasingly dependent on the whims of school managers and the state of the school budget.
The School Teachers' Review Body is aware of the scale of the problem. For two years, it has been warning the Government that teachers are paid less than other graduate professionals throughout their careers and that schools are facing problems in attracting high quality teachers. Last year, it said that a significant pay uplift would soon be required.
But it has failed to live up to its own advance publicity. It has delivered a report which recommends a further real terms pay cut of almost 3% for some and 2% for others. And yet it continues to say that "there needs to be a longer-term investment in an effective teaching workforce".
The NUT will certainly be pressing schools to ensure that all teachers on the Main Pay Range receive a 2% increase, not just newly qualified teachers, and will also support members to receive the pay progression that they are due. We believe, however, that this year's pay announcement is a missed opportunity which both the STRB and the Government will come to regret as the teacher recruitment and retention crisis becomes still worse.
Kevin Courtney is general sectretary of the National Union of Teachers