Filmography/PixelPoint London
On Friday 12th August 2016 the World Youth Organization set out to London Waterloo Station to perform a flash mob, in aid of International Youth Day. And what a success we made it!
After months of planning, we successfully completed the performance. Something which surprised me the most was the amount of on-lookers we had. A crowd gathered around the performance space while members of the public took pictures and filmed the occasion. My heart was racing so fast, my lips were bone dry, but wow what a feeling, to be performing at Britain's biggest and busiest train station, it was breathtaking.
Without the dedication of our dancers we wouldn't have made it such a success. We had a total of 14 dancers taking part from across London. While rehearsals for the performance were intense, looking back on them, I believe we nailed it on that aspect. To organise something on this scale was a first for me, but I am so happy that I never gave up on it.
I caught up with Chinelo Chizea (who performed in the flash mob) to see how she found the experience,
"Working with the World Youth Organization was an absolute privilege because I was given the opportunity to work with some very inspiring people and the environment was very welcoming and exciting!"
"I enjoyed the end result because all our Hard Work and endless rehearsals paid off! The choreography was brilliant and after the actual performance at Waterloo Station, I felt a very strong urge to do it over and over again."
"International Youth Day is considered to be an important event because as youths we deserve to be celebrated for our hard work and for simply being youths. As a young person, we should be encouraged to do better and achieve greater things in life because we are worth it!"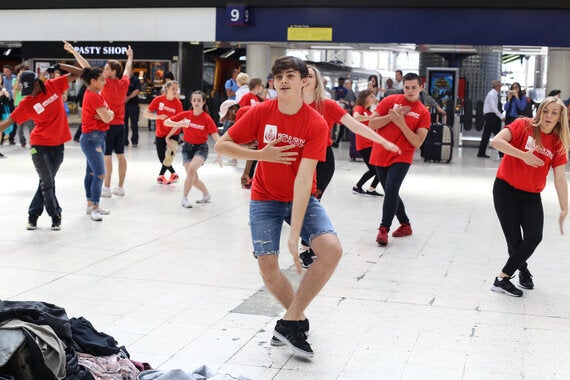 After briefly speaking with dancer, Rebecca Letchford ex-student at Abbs Cross Academy and Art's College she said,
"I thought it was a great experience! I loved meeting new people and creating new friends. It was especially social during rehearsals because everyone got on so well! The World Youth Organization really does give young people a voice."
The backing track for the performance was named 'Wild Things' [by Alessia Cara], to signify freedom, youth and energy.
International Youth Day (IYD) is one of biggest dates in our calendar as a youth charity. IYD was commissioned by the UN in 1999 to give governments the opportunity to draw attention and take steps to deal with youth issues worldwide such as poverty and education.