Let's get one thing straight, veggie burgers are delicious...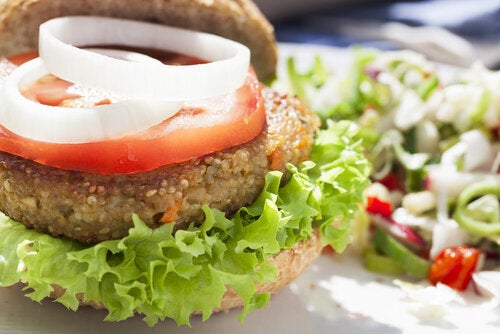 I would even go as far as to say that they are just as tasty as meat burgers. Yup.
I am not just saying this because I haven't eaten meat in over 10 years - trust me, before I became a veggie, I had my fair share of bacon double cheese burgers (just ask my thighs).
No, this is because what was once treated as an afterthought, a sad tasteless thing shoved between two buns to placate annoying veggie diners, is now de rigeur.
Across London, the veggie burger is being given a delicious new lease of life and there are a few eateries who are leading the way in this resurrection. So, for the last few weeks I have been eating my way around town, searching for the very best veggie burgers London has to offer.
Here are a few top picks:
I have eaten a lot of veggie burgers over the years, but there is just something about the veggie burger at Buckowski Grill that keeps pulling me back. Apart from the tremendous flavour, the best thing about the Buckowski veggie burger is its consistency - it's dense enough to feel like a 'real' burger rather than a veg mush, which can often be the case. The veg patty is made with organic black beans, roast butternut squash and fresh herbs and spices. The burger comes served with; tomato, lettuce, red onion chutney and mayo in a toasted brioche. Non-vegans should opt for the blue cheese topping, which is just mind blowing. Stay away from the fries which are twice cooked in beef dripping. At £6.50 this is a great choice for quashing burger cravings.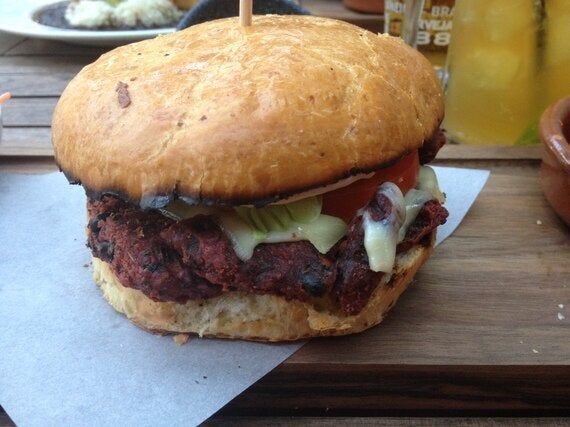 If you are big on flavour, you will love the black bean and beet burger at Las Iguanas. I was pleasantly surprised by the rich, smoky taste of the burger (considering there was no meat to be smoked) which came with a warm toasted bun. Toppings and fillings include melted emmental, sliced beef tomato, gherkin sauce and baby gem. This really was a well-seasoned burger and at £8.50 with coleslaw and a choice of fries or salad, it was probably one of the best value burger meals I have ever had.
Sweet potato and goat's cheese is an unusual taste combination for a burger. This is not a bad thing. The veggie burger at All Star Lanes is pretty different in that it is not pretending to be a beef / meat burger at all. Containing nacho fried goat's cheese, a slice of sweet potato, tomato relish and a brioche bun, this is a burger for those who want to experiment a bit. If you are not overly keen on goat's cheese then this is not the burger for you. I found it to be delicious! £8.50.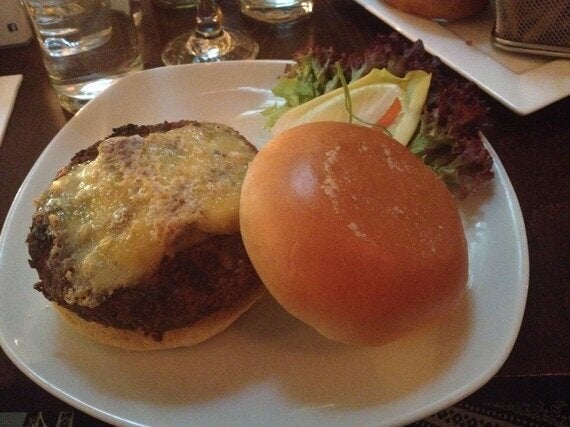 Haché is way too pretty to be a burger joint. What's more, Hache do three types of veggie burger as oppose to one! This scores them major points in my book. I chose the falafel blue cheese burger which was deliciously tasty, without being overwhelmingly cheesy. You can really taste the freshness of the ingredients in this burger, each one is made daily and includes chick peas, onions, parsley, chilli, coriander and garlic. A great taste combination and not too pricey at £8.45.
I heard it said once that the best burgers are the ones that you can't pick up. Well, the size of the burgers at Meat and Shake make it almost impossible to pick them up. Out of the two veggie burger options available, I opted for the Rosti Potsie, a mammoth of a burger containing harrisa mayo, tomato, lettuce, sweet potato rostie, goats cheese, beetroot, red onion and aioli. The variety of flavours coupled with the sheer size of the burger make for a very satisfying meal, even for the most hungry. I ate the Rostie Potsie with a knife and fork as the consistency was quite soft and the filling was emmense. There was no room for dessert, or even breakfast the next day - not for the feint hearted, elasticated waist recommended. £8.20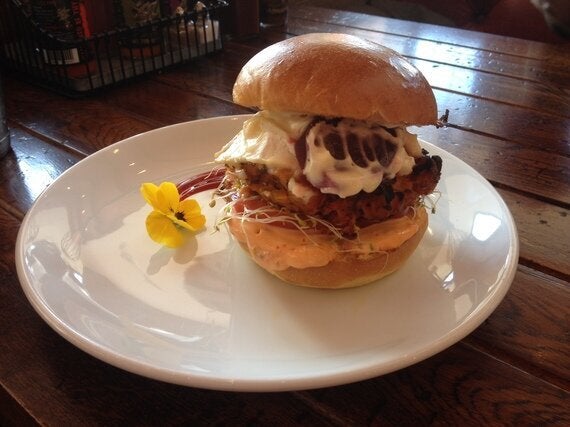 Ah, Mildreds! A vegetarian's dream. It would be remiss of me to leave Mildreds off of the list, despite the fact that I was unable to get a table there (they do not take reservations). The veggie burger at Mildreds is phenomenal - this is not surprising considering Mildreds is a vegetarian restaurant. I almost wept when I first tried Mildreds halloumi burger, this is a veggie burger which has been taken very seriously indeed - what a delight. The halloumi burger comes with chargrilled aubergine, red onion, rocket, harissa and tahini sauce. They serve their burgers in a sour dough bun with relish, red onion, rocket and tomato. The burgers come with fries and basil mayo and the meal costs £9.10. If you are in Covent Garden, Mildreds is a must visit, just be prepared to queue.
The veggie 'burger' at The Joint is not actually a burger in the traditional sense, it is a selection of vegetables in a bun. Their seasonal vegetables are BBQ'd and come with a topping of salsa and guacamole, all in a homemade bun. Don't get me wrong, it is all pretty tasty, but not a great choice for those die hard burger fans who prefer something a bit more traditional. There is a homemade quality to the burgers at The Joint, they come parcelled up in paper tied with string and are messy enough to feel like comfort food. Completely bizarrely The Joint does not serve fries, but their onion rings with BBQ sauce are pretty good as a side. £7.00.
Top picture from Shutterstock
Other pictures by Kiesha Meikle
Related