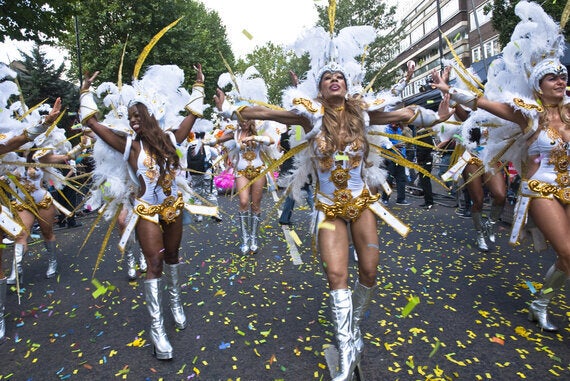 It is no exaggeration when I say, that the Notting Hill Carnival was as constant and as noteworthy to me as Christmas and even my birthday throughout my early life.
My very first memory of the Notting Hill Carnival is of being dragged through the crowds by my parents. As I struggled to keep up, the base from various sound systems would beat through my body and the smell of West Indian food, like jerk chicken and BBQ corn would attack my senses. Throughout my teens, I would go to the carnival every year to meet boys. I would hang out with my friends wearing brightly coloured leggings, reggae boots and fake gold jewellery (yes, I was that girl). Recently, I have taken a more relaxed approach to the carnival. I now only go if the mood takes me and to be honest, I haven't really been paying it much attention.
The carnival has changed. For my parents, it was a place where they could assert their duality - as Jamaicans living in England. For me and my sibling, it was an opportunity to wave a Jamaican flag alongside others, whilst pretending we were in the Caribbean. Now, the carnival feels like a great big raucous party, a place to get drunk, shuffle through crowds, get trapped against barriers and (if there is space), dance in the street with a policeman.
That said, I will be going again this year.
Why? Because what the Notting Hill Carnival has maintained over the years, is a commitment to fantastic music and amazing performances. As a blogger I cannot afford to miss out. I will be capturing the colour and movement of the processions, recording the sounds of the live performances and of course getting a few snaps of the debauchery (which is inevitable). In many ways, I am looking forward to capturing the best of what the Notting Hill Carnival has to offer.
One procession in particular will be my focus, the samba dancers of the Paraiso School of Samba.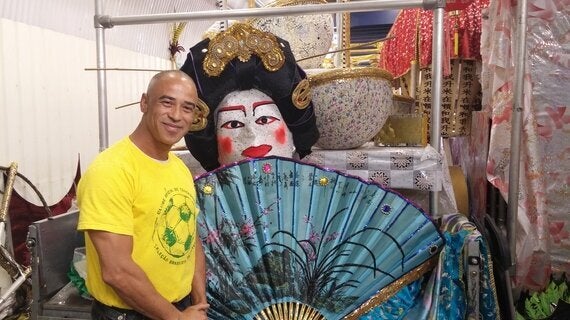 I met with the school to get a sneak peak of what we can expect this year - surprisingly, the theme is tea. Henrique Da Silva, President of the Paraiso School of Samba told me why they have chosen this theme.
"More tea is drunk in the world than any other beverage, apart from water - and yes, we drink tea in Brazil! Our theme celebrates tea and the images, ceremonies and events connected with it. Our talented dancers will be dressed in the most beautiful outfits and our procession will include references to different cultures and of course tea - even tea cups!"
Henrique acknowledges the value of the Notting Hill Carnival to those who want to celebrate their identity. He says, "I am from the samba world and everything I do, everything I know, is about carnival. In Brazil I Iearnt that the carnival is connected with art, folklore and the habits of a people - that's where I came from. When I came to the UK, I was pleased to find the Notting Hill Carnival. It was one of the best things that Caribbean people had brought to the UK and it gave me the chance to show how we do carnival in Brazil. It is special, it is a chance to show who you are and be proud of your roots and your identity."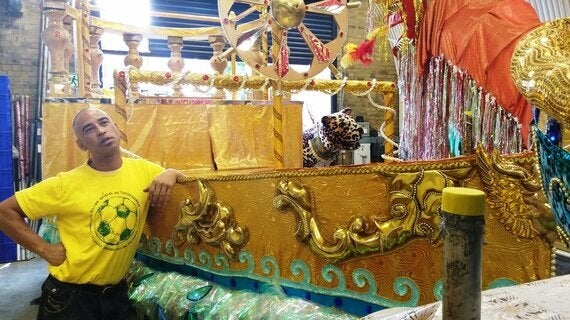 This year, the Paraiso School of Samba have chosen Bibi Badejo as the Samba Queen. She is looking forward to giving a passionate performance in the carnival. She says, "On the day of the carnival I will be leading the bateria, but I will also be led by them too. It is a partnership where we will be perfectly aligned. There is a point in every carnival where I feel like I am part of the music, the beat, the rhythm, everything - I feel like the bateria are mine! It feels electric and my aim is to externalise all of that for the people watching at Notting Hill!"
So, how can I not go? This Bank Holiday weekend I will be at the carnival, front and centre with my #bloggertools in tow.
Are you going to the Notting Hill Carnival this year?
Other photos: Kiesha Meikle
Related