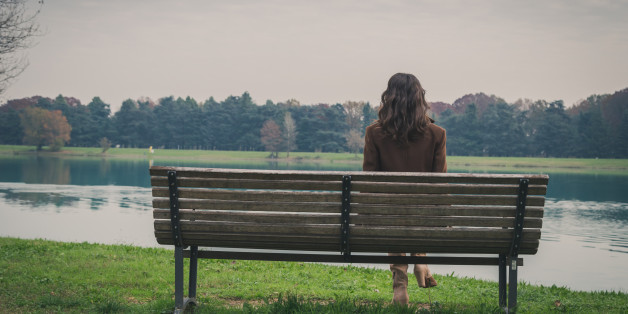 tixti via Getty Images
The queue for the check-in desk to Split, with big suitcases and relaxed-looking passengers, indicates clearly that the holiday season to Croatia has already started. My suitcase though is rather small and I'm not stopping in Split.
My trip is not a holiday, nor it is a business trip. I feel tense, nervous and everything around me irritates me and not only because I couldn't check in online for the second leg of my flight, the one to Zagreb.
I am on my way to see a friend recently diagnosed with cancer.
My visit to the city will be the first time I have been there without visiting another very close friend. She too was recently diagnosed with cancer and has since lost her battle to this beast.
I'm worried I might look too sad. I'm worried I might say something wrong.
I'm scared I might be the next one.
It all started that ordinary if not boring November day. I was on a language assignment which as a freelance journalist and writer I do when possible as a top-up career, but I always feel an outsider in that field. Especially if, like that day, I'm not even the main examiner. No wonder then on the break I could not wait to go online, even if I had no time to do more than wander through the Facebook newsfeeds.
My friend Tanja had become a regular user on Facebook and had a day before posted two updates, one of which had slightly puzzled me, but, in a rush, I had no time to read it through before losing Wi-Fi on the underground. She was waiting for something, while some ladies next to her were watching some soap opera and reading gossip magazines. Where was she and what was she doing in a place like that?
As I entered the page, a post by her husband caught my eye. It started with "dear friends", it had Tanja's name in the first line and it was longish. I stopped to read it and was left numbed. Tanja was rather ill, he said, but they were hoping for the best. He didn't say what it was but it was clear it was serious. She had not been ill before, had no medical condition and for as long as I knew her, she was a healthy woman. There was no mention of any accident, any fall or similar.
It could only be cancer.
I went to the messenger, hers, his, a mutual friend's, and spent the rest of the day trying to reassure myself it wasn't as bad as it sounded.
She was in hospital doing further tests but it looked pretty bad. She had had no warning signs, she said. Only a headache the day before which she at first tried to ignore. It didn't stop. It wouldn't stop, instead it was getting worse and she decided to see a doctor. As it was Sunday she went to the emergency unit. They did a Ct and was told she had two cancers, head and lung.
She was going to fight, she said, and stayed true to her word, never losing her hope nor her sense of humour.
After her head operation, she was "advertising" her "new hairstyle" and "feeling bad" for giving a shock to the postman. And she was "knocking on heavens door" but her voice didn't qualify for the 2016 stars only entry.
In her private messages, too, she was strong and a determined fighter. She had no intention of giving up and reminded me how strange a concept that would be for people like us and agreed that "our boys need us". Her son might be a teenager now, but he was still a child, she said, and he got pretty scared by the news. She had just married her second husband and there was a lot to look forward to. We joked and laughed, I sent her Spitting Image clips, she sent funny stickers to describe her mood. But her messages became shorter and shorter, the stickers replacing altogether words as she would have just taken a "ton of painkillers" and was now going to sleep.
Her public posts too became less frequent and she was getting irritated with some people offering too much unwanted advice.
Then there were days of total silence. She was waiting for her second operation, which had "gotten complicated". I wanted to give her space, but deep inside I was scared to ask. I had meantime heard from another close friend, the one I am on the way to visit, about her cancer and was now "fighting two battles". Then, on the last day of March, the fear became reality. After eight days in a coma, she had peacefully gone only three months after being diagnosed.
It has always struck me as odd that people don't talk about their feelings of loss where friends are concerned. Not in the way we do about family members whom we hardly know. Yet we become friends with people because we like them. We have something in common. Because we understand each other. We enjoy each other's company. We share with them our joy and irritations. Our experiences, hopes and dreams. Tanja and I never lived in the same city but we felt we knew each other better than some of our family members. Both children of divorced parents, we were both as kids looked after by grandparents and hardly knew at least one of our parents, if not both.
We used to write long letters and share our experiences and opinions on anything and everything. We had a very similar view on the world and, when the war in the former Yugoslavia broke out, we (she in Zagreb, me at first still in Belgrade and then in London) shared our disgust and refused to call it "my" or "your" side. They were "all human garbage", a term she coined in one of her letters. The long letters we wrote to each other during the Balkan war were full of human feelings and emotions and I decided to keep them as part of my Balkan war memoir still to be published.
As I am looking at the skies from the aeroplane, all those memories are flying with me and I am worried that they will show on my face when talking to the friend I'm visiting. Her cancer is less advanced and we are hoping the chemo she is receiving is working.
Both my friends are "our age" as another friend described our '60s/'70s generation. The one I'm visiting is the slightly older one, now in her early 50s.
I have tried to remain positive and hopeful but during these six months my mind has gone through all sorts of journeys, often without any warning. I have been moody, tense, nervous, angry and scared.
I have thought a lot about life and death, often without wanting to. I used to see life as "a gift you should enjoy while you have it". There are no feelings after death, so what's there to be frightened of? People continue to live in our memories and no one can take them away.
Now I feel that's not enough. My husband has been a great support during this time and has been the first to warn me to "take it easy". As I think of him picking up our boy from school right now, I feel I don't want to live only in their memories. Our son is only 8 years old and, with time, he would probably hardly remember me. I want to be there for him. To watch him grow up. Become a teenager, a young man... I want to hang on this boat for as long as I can.
Since Tanja's death, I have been speaking regularly to her son on the phone. He has only seen me a few times but has always been aware of "auntie Keti" and has made it clear he is always happy to hear from me and that makes me happy. Every time we talk, it feels as if Tanja is still there in the background, making his supper, tidying his room or getting ready for next day at work.
During my stay in Zagreb I met with an old mutual friend who had recently returned from Canada. We went to an open-air concert near the main square. We recalled how it was there that we had met as teenagers for the first time some 30 years ago and attended a similar open-air event with Tanja. We didn't talk much about Tanja but it felt as if Tanja was there enjoying the music and drinking the beer.
It feels as if her spirit is still alive!