As the Flower of Scotland bellowed out across the Sparta Stadion in Rotterdam, a lightning bolt of emotion shot through me. It's that complex mix you get as your team is about to kick off in a must win game; indescribable in a way. With many key players missing due to injury, world-class playmaker Kim Little for a start, the tie against Portugal was by no means straightforward. Nevertheless, I believe adversity in situations like this can allow talented but less experienced players to shine. Call me naive, I felt certain that Scotland could make the quarter-finals of Euro 2017.
When Erin Cuthbert came on in the second half and slotted home Scotland's first goal at a European Championship Finals, I was elated. Ultimately, defensive errors and missed chances cost us the game but that goal! Erin you gem, you absolute superstar!! The next tie against higher ranked Spain seemed a tad ambitious but still, I had faith. Scotland played their hearts out, knowing this was it. This was the culmination of years of hard graft. For many of these players, including skipper Gemma Fay, this would likely be their last chance to play in a major tournament.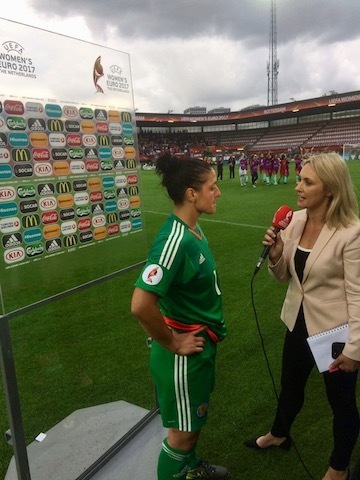 No-one expected Scotland to win. They played well defensively (they had to, they were under Spanish attack for 90+ minutes) and fellow Dunfermline lass Caroline Weir scored the only goal in the game; a professional well taken shot. The maths didn't add up though. Needing to win by two clear goals, the girls were sent packing. However, the mark these powerful players have made is a firm triumph. Women's football has arrived. Not only is it exhilarating to be a part of this, however peripheral my role as a journalist may be, but these skilful footballers are inspirational.
Now, let's talk about those fierce Lionesses. Fran Kirby's Messi-esque wizardry on the ball should induce fear in any side (Netherlands back four take note), while it is ill advised to give Jodie Taylor a sniff of a chance in front of goal; well, she isn't the championships top scorer for nothing! Jodie started playing with the boys during break times at primary school. There was no girls team. Now she's a Golden Boot contender. These Lionesses are role models for a new generation. Their performances as a team have been nothing short of outstanding and they are now the side to beat.
After women being banned from the sport for decades, we're currently witnessing a tidal shift here in the UK. This shift is reflected in viewing figures. At its peak, a record breaking 3.3 million people tuned in to watch England beat France on Channel 4. That's a revolution. That is biggest ever UK TV audience for a women's football match. The average televised Premier League match attracts around a million, give or take. This is huge! I'm interested to see what impact this will have on football as a game. As a broadcaster, I think it will change the way we talk about it. It will change the way we report on it. It's not a gender issue anymore. Football is for everyone.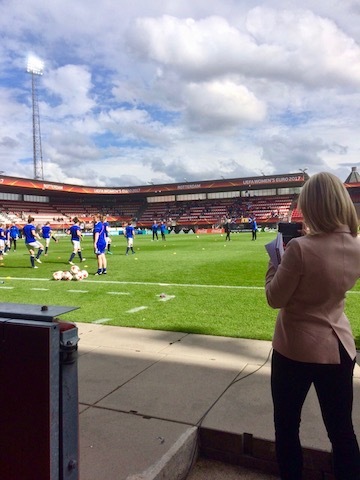 There's a voracious appetite for women's football from both player and spectator perspective. Investment needs to follow. The FA and the SFA are making it a priority to engage girls in football from a young age at grassroots and thankfully aspiring footballers now have plenty of positive role models. There was a time, not that long ago that women's football was ridiculed and dismissed by the mainstream media. I'm so grateful that this is a thing of the past. We owe a great deal to the performance of our current England and Scotland squads. They are achieving more than our men's teams could muster over two decades. Thursdays match is not just a momentous night for our Lionesses. It's a significant landmark in football.
All images copyright of Kirsteen O'Sullivan