As a broadcaster I'll admit, I've had some pretty interesting jobs to date. I hosted the Gymnastics at London 2012, which was incredible (having to dance to Girls Aloud with Wenlock in front of thousands at the O2 is something I'll never live down though). Working for the Premier League, I've occupied the best seats and seen some cracking games up close. In Chelsea's case I've tasted the best food in football. I've filmed for Tommy Hilfiger backstage in NYC, covered new car launches in exotic locations and hung out behind the scenes at the Olivier Awards. I've interviewed A-listers, Z-listers and even a dog or two in my time (Britain's Got Talent has A LOT to answer for).
It's true that I'm extremely lucky to have had such a varied career with a plethora of unforgettable experiences. I'm often asked for my big highlight, the one job that I look back on fondly, above all others. Honestly? I don't even need to think about it, you'll never see me so much as pause! The gig that I've hands down loved the most, was working across the Invictus Games; it changed me forever.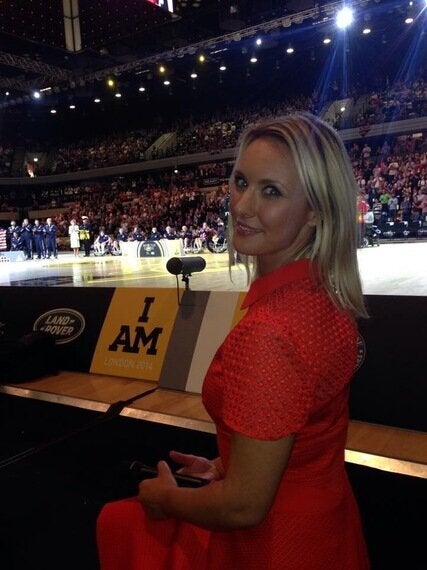 There are certain moments that will never leave me. I interviewed Israel Del Toro from the US Air Force, in front of a crowd that was silenced, with awe and admiration. DT, as he likes to be called, sustained life changing burns in an IED blast in Afghanistan and admits, he thought he was a goner. He described his near death experience for us, as his wife and son sat close by. He explained how his family inspired him to keep going, to push through. The building erupted with thunderous applause. That's what humanity is all about, right?
I've never had a difficulty controlling my emotions on camera - until this point in my life. I cried alongside everyone else, tears of empathy and of joy. Not only did DT survive 80% burns, he is thriving. As difficult as it's been for him, he has refused to let his injuries hold him back. There is no stopping this man! His spirit, spark and passion for life are beyond inspiring. I follow him on social media and get such a kick out of his updates (he's nearly always on some adventure with his gorgeous boy by his side). DT came close to losing everything but his tenacity and courage sends a message to us all.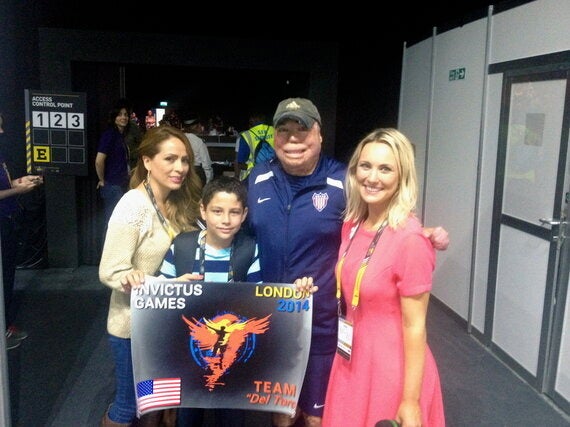 Israel Del Toro with his family at the Invictus Games in London last year
I've never moved in military circles. I'm from a family of civvies, which has made my learning curve all the steeper. There is much to understand. Since my baptism of fire at the Invictus Games, Help for Heroes have welcomed me into the fold. I've seen first hand the work this amazing charity carries out on a day-to-day basis and it's quite something. I think it's rare to meet such determined, caring, giving people; from nothing, they have created a support system aimed at bringing our wounded service personnel back from the brink. In some cases, when everyone else has given up on them.
I often think of the challenges I've personally endured as an able bodied woman. Then I imagine how it must be to carve out an entirely new life while learning to walk on stumps or using one arm. Perhaps worse still are the mental scars of war, which no one else can see but these must be terrifying and haunting. This must make the transition to some semblance of normality a colossal struggle. Most of us don't have these obstacles to overcome and life is hard enough.
Prince Harry is preparing to jet out to Washington to launch the next Invictus Games, which will be held in Florida in May 2016. Many are already in training, aiming to bring home medals. This truly is the power of sport in action! Yet the Invictus Games is not only hugely beneficial for those taking part, it is also instructive for those of us watching from the sidelines. These individuals are true heroes. I have learned so much from their strength and their courage. I'm very proud to call some of them my friends. I don't know about you but I will be rallying behind them every step of the way.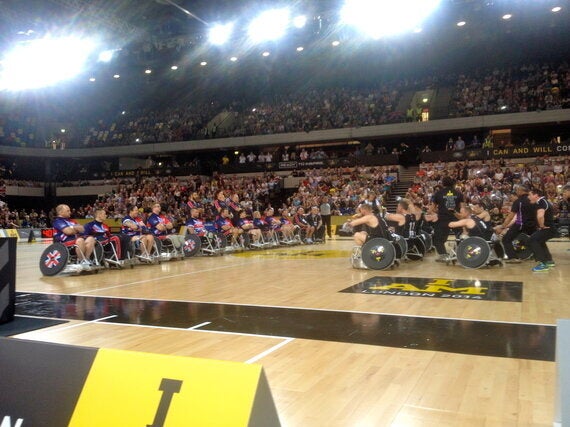 Support our Heroes and get tickets for cricket's end of season party at the Kia Oval this September www.cricketforheroes.com
Popular in the Community