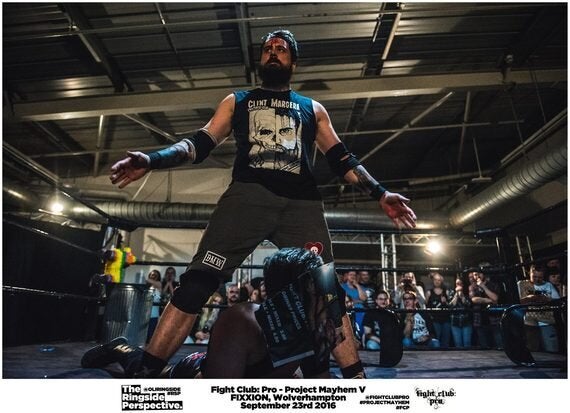 Death matches are the Marmite of the wrestling world - you either love them, or they make you sick in your own mouth. They make up a small, bloody staple on the "sports entertainment" landscape, and that's just the way it is.
Regardless of how you feel about them, there's something that can't be underestimated when it comes to this craft, and that's the amount of sheer grit and determination that the wrestlers involved in these bouts put in, all in the name of entertainment.
One such competitor is Wolverhampton death match worker Clint Margera. The 31-year-old has been giving blood, sweat and tears to his stomach-turning brand of storytelling for the past seven years.
And now he's stepping things up a notch, making his ICW debut on October 29 on their Road To Fear & Loathing tour in Southampton. It's against Chris Renfrew, so it's unlikely to be a cake walk.
Before I get to the bit where I talk to Clint about what debuting on the UK's biggest wrestling promotion means to him, I should get some of his credentials out of the way, so we know who we're dealing with.
Clint is a fan favourite at home promotion Fight Club: PRO, the current reigning champion at Kamikaze Pro and a regular face at IPW:UK to boot. With Big Japan Pro Wrestling, wXw, Attack!, EWA, MAW and CZW on his CV too (that's a lot of initialisms), things have been going pretty well for a wrestler that may be easily dismissed because of his penchant for a barbed wire-laced baseball bat.
So I start by finding out how Clint came to find himself preparing for a battering from Chris Renfrew. Where did it all begin? It's no surprise to discover that, being the little brother of the founding father of British Strong Style, Trent Seven, it started in the back garden.
"My earliest memory is watching WrestleMania 8, when I would have been six years old. I was hooked from the moment the VHS started playing. From their my love for wrestling just grew.
"It wasn't until I was about 15 that I joined my older brother and his mates who would wrestle in a friends back garden. By then I had been exposed to watching more hardcore wrestling like ECW, when TV channel Bravo used to show it, and the first King of The Deathmatch tournament from 1995, featuring Cactus Jack and Terry Funk. After seeing that, plus WWE running the Attitude Era, I just wanted to go through tables."
And it wasn't long until the dream became a reality. Trent and his friends chipped in for a wrestling ring, and they set it up at Penn Cricket Club in Wolverhampton. Fight Club: PRO was born, and Clint became one of their original fighters. He took his influences from all over the world.
"My biggest influence is definitely Mick Foley. He's the King. To name a few others, there's Masato Tanaka, Tommy Dreamer, Raven, Jeff Hardy, Sabu, Jun Kasai and of course, being from the UK, Jimmy Havoc. He's been flying the flag for hardcore wrestling over here for years, so it goes without saying the influence he's had on me."
So how does Clint describe his brand of wrestling?
"It's pretty crazy. I have left a few rooms looking quite untidy... I love it though. We often brawl into the fans. I love getting in the crowd and them getting close as they can without getting hurt.
"I'm a big hardcore punk fan and it's like being in a moshpit with the lead singer. It's something different for people to enjoy when they come to watch a wrestling show. There's usually steel chairs, broken tables and, if we step it up a notch, then there's drawing pins, barbed wire, blood.
"There is no adrenaline rush quite like it. It's not everybody's cup of tea I know, but that is what's great about art, which wrestling is. It's all subjective."
The adrenaline will really be flowing in Southampton - how does Clint feel about making his ICW debut?
"I'm really pumped about it," he says. "ICW has been on my list of places to work for a while and to get the opportunity is huge! It's a company that has grown so much over the past few years and they are about to have their biggest show to date at the SSE Hydro in Glasgow. I can't wait to work for them on the Fear and Loathing Tour.
"I think it's going to get pretty wild. Chris Renfrew isn't going to be a walk in the park that's for sure. Southampton might be a bit of mess after, so dear Engine Rooms, in advance, I'm sorry."
For tickets to see Clint at the ICW That's a Paddlin' - The Road to Fear & Loathing Tour 2016, click here.
Popular in the Community