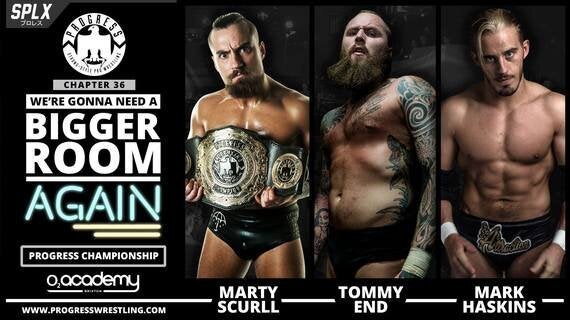 You know what they say about tiny acorns, don't you? That one day they'll grow so big that they'll very nearly sell out the O2 Academy Brixton with the promise of wrestlers relentlessly wailing on each other. No, wait...
As I type this, the hype for Progress Wrestling Chapter 36: We're Gonna Need A Bigger Room... Again is very real. Like a snowball rolling downhill, Progress has grown exponentially from what it was when things kicked off in 2012. Everything is now bigger: the crowd, the number of people wearing merch, the On Demand subscribers, the number of cities that get to experience shows, Marty Scurll's sense of entitlement... And now, the venue.
"I don't think I've ever been more excited about anything in my life," co-owner Jim Smallman tells me, ahead of the show on Sunday. "To see 2,400 of our fans in Brixton Academy is going to be something really special. We've got an awesome show planned, so people can expect to see the very best that British wrestling has to offer. I can't wait."
And he's right - it's a super stacked card. Joe Coffey and Rampage Brown will clash in what is set to be a thunderous climax of the Atlas Tournament. The London Riots will come face-to-face with potentially their biggest challenge yet in British-strong-style-made-flesh Trent Seven and the terrifyingly talented Pete Dunne. And my favourite wrestler on the planet, Zack Sabre Jr, is set to tie Tommaso Ciampa in knots to end their 15-month rivalry.
Most notably though, of course, we'll see Marty Scurll defend his Progress Wrestling championship against a hungry Mark Haskins and the inimitable Tommy End. Never one to settle simply for wondering how the three men were getting on ahead of the biggest match of their Progress careers, I caught up with them all to ask.
My first port of call is with Mark Haskins. While there's no doubt that winning matters to each of these competitors, it seems that Haskins feels he has more to prove.
"I'm tired, beat up, sore, over trained and ready to take on the world," he says. "It's not every day that you get to main event the biggest show in a company's history, especially a company that I hold so close to my heart like Progress. In the main event I step into the ring with two of the hottest prospects in the world today. I've never been more pumped for a match in my entire career."
I ask how confident he is that this is his time. He tells me: "I've been slaving away at my dream for the past 13 years of my life and it feels like I've been overlooked and written off. I see guys who haven't had it half as hard as I have go on to bigger and better things and I'm fed up of waiting for mine. That changes this Sunday.
"Winning this means everything to me. Among which, a sense of retribution. I'm not someone you can stick a crappy knock-off gimmick on tell to be your 'answer to John Morrison'. It's time the world know's my name as one of the most intense wrestlers alive. Progress is the future of pro wrestling and I want to be stood at the helm of the ship leading the way."
It'll come as no surprise to those familiar with his work that Tommy End had much less to say on the matter - he doesn't have time to convince a Huff Post blogger like me that he's ready, when he can say everything he needs to in the ring. He states, simply: "Win or lose, this is destiny. Both of them I will take with my head held high".
And so what of Marty Scurll? The Villain is, as expected, painfully confident, with plenty to say ahead of the show.
"I'm excited going in to Brixton - I've been with Progress since day one and am personally responsible for the heights and success the company has reached today. I'm the greatest Progress champ ever, the first ever two-time champ, the man to make it a world title, and now I'll be headlining Progress's biggest show ever.
"Being in a room with 2,400 progress fans is slightly sickening... but I'm going to look at it positively in that it's more people to spite when I retain my beautiful belt. It's more people to upset.
"I know both Tommy End and Mark Haskins very well, they're both tough, and very well experienced. In any other universe, the could both be champion. But this is 2016 - the year of the Villain. Look at my year, the proof's in the pudding. I just won the biggest independent wrestling tournament in the world, BOLA 16, which Tommy and Haskins were both part of, I may add.
"Nobody can touch me. Not a single person in that building will stop me. Not Tommy, not Haskins, and certainly not the idiotic Progress fans! Long live the Villain."
There's one thing I do agree with Marty on: the proof will be in the pudding.
If you don't have a ticket to the show (or, indeed if you're reading this after the fact) then don't worry, you can see all the action on Demand Progress afterwards!
And if you see me at the show, get the beers in!