International Women's Day 2015
However, I have always found that stories are more powerful than numbers. This International Women's Day, I would like to shine a spotlight on one incredible woman. I first met Mme Amenan Constantine Kouadio seven years ago, when she arrived on the doorstep of Olam's regional office in Dimbokro, central Côte d'Ivoire, armed with an idea and solid determination.
The story of Mme Amenan Constantine Kouadio
Born in the small town of Djekanou, Constantine comes from a long line of family farmers. Against the odds, she completed primary school and moved to Côte d'Ivoire's second largest town, Bouaké, to become secretary to a local pharmacy and learn business administration. However, the civil war soon drove her and her young family back to her hometown. Without a job, and with little prospect of employment, Constantine returned to the family trade.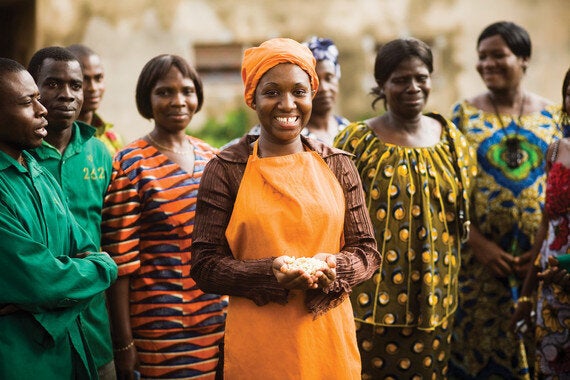 Two years later, Constantine and seven female friends with nearby farms decided to form a co-operative. Explaining their motivation, she told me: "Because of the unrest, the local school could only provide lunches two days a week. This was a way to raise money and grow maize for the school so that they could feed pupils every day - you can't learn on an empty stomach!"
From modest beginnings - just three hectares between them - they reinvested their profits and expanded to produce honey, herbal tea and a small plantation of teak trees. However, they were still facing the annual cycle of peaks and troughs that come with agricultural seasons.
At this time, Olam was six years into operations exporting raw cashew nut from Côte d'Ivoire and we'd spotted an opportunity: raw cashew nut is made up of 25% edible product and 75% waste, yet huge volumes were being transported for processing many thousands of miles away. By opening processing units near to farms, we could greatly reduce both freight costs and emissions while strengthening the traceability of our cashew supply chains.
Constantine knew of Olam from her time in Bouaké, where the agribusiness is the city's largest employer, and had heard that we were establishing manual peeling units about 100km away. With the seed of an idea growing, she approached our team with a proposal: to set up a satellite unit in Djekanou, staffed by the women in her co-operative. With flexible working hours, they would be able to earn a living in the quiet season, while still being able to work in the fields when necessary.
Constantine had her work cut out convincing many in our office of the opportunity - Djekanou is small and we doubted if there could be enough workers to make it viable, or if we could even find a suitable premises. However, Constantine persisted and proved us wrong, demonstrating the co-operative's commitment to staff and invest in the unit. Eventually, Olam agreed to outsource first stage processing of raw cashew nuts from Ivorian farmers to Constantine's co-operative.
Olam provided training, loan support, furniture and peeling equipment to help establish the factory, and it opened its doors in December 2008 with 50 local workers. The workforce soon grew to 120 workers, who Olam continued to support through literacy classes, health awareness programmes and professional development initiatives to help women progress to supervisors.
Four years later, we identified the unit as a potential site for mechanisation - peeling cashew nuts is extremely labour intensive, and in order to keep up with consumption we had to increase capacity. Constantine recognised this as an opportunity to scale up and played an instrumental role in securing the land needed to extend the factory. Now fully operational, the plant in Djekanou employs 300 workers, 80% of whom are women.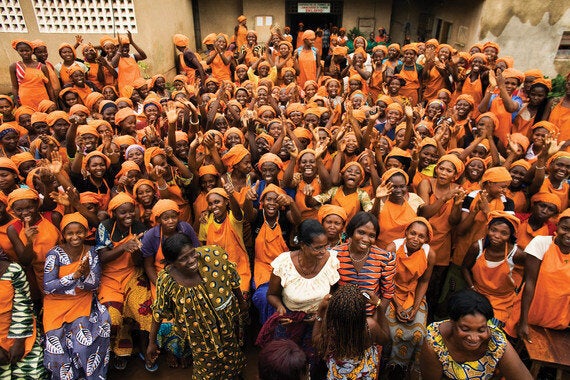 Last year, Constantine successfully transformed her co-operative into a limited liability company, empowering local women and catalysing the economy of her hometown. In her own words: "Djekanou is more alive now, the housing market has exploded as people are building and buying better places to live and, most importantly for me, women can now look after their children without having to depend on anyone."
Today I have told one story of the remarkable achievements of one woman in one community, but it is not an uncommon story - remarkable, yes, but not uncommon. Entrepreneurs like Constantine fight against the odds to make a difference to communities every day. My advice is this: if you have an opportunity to offer someone like Constantine the tools and support to help her excel - do it, and become part of their story.