There comes a time in any artistic process when the rules of time no longer apply, when everything seems to be taking twice as long as it should, or wraps up in half the time expected. Hours and days lose their meaning, minutes and weeks slip and slide over each other, we flail around in a honeyed temporal mist, until we all fall down in a durational heap of splayed limbs and lost hours. Edinburgh has become a psychedelic groundhog day, there is no separation between one block of time and the next, the routine has become hypnotic and inescapable, a strangely comforting cynosure which guides our days.
My co-star, Erin, and I are onstage for Boy in a Dress, each day (at the lolworthy time of 4.20), and have found ourselves in an almost constant state of déjà vu. Sometimes I honestly cannot remember whether or not I have already said the lines I am speaking, if it is a moment of temporal backwash or if I am actually repeating myself. The whole affair has become some strange sort of dance to the death with time, with the footsteps falling with only an ever so slight difference each day. Each performance sees the destruction of the paper dress I wear in the final scenes, which means of course that a new dress has to be made each day. Stephen, our unsinkable stage manager, has that particularly unenviable task, daily.
Likewise, it's good practice in Edinburgh, with such stiff competition, to update the show flyers with the addition of the latest press quotes attached. Each day our apartment is filled with the sounds of snipping, sewing and stapling, the place resembles a snowy little workshop somewhere near the North Pole. This productivity is usually soundtracked by Bowie or Patti Smith, and I can't help but wish that Nan Goldin were here to capture this strange little family hard at work. Really the list of things to do before show time is endless, from laundering the costumes to tweeting reviewers, warm ups, script revisions, and drumming up an audience, it seems like there can never be enough hours in the day. This week we will be doing three radio interviews, in addition to the late night schmoozing, in an attempt to irritate every last humanoid in the city with our promotional campaign.
Remarkably, on Monday we were in fact granted a full twenty-four hours of freedom, a large part of which was spent in the Botanic Gardens inadvisably rolling down damp hillocks, and eating sultana scones (arguably not the most sensible combination of activities). The gardens are beautiful though, and gave me the time to step outside of the festival madness and explore something quieter, something with its own selfish logic. This is the only day off we will have for the duration of the festival, and so I swallowed it whole, in amongst the greenery. From a certain vantage point in the gardens, the whole city can be seen sprawling out below, and really it is a beautiful view. Edinburgh is ancient and feels it, with its winding thoroughfares and its cobbled streets, the city feels regal, haughty and ever so temperamental, it is a city with an artistic sentiment.
On the subject of artistic natures, we managed to see Lady Rizo at Bosco last week, she was simply amazing. From the moment she swaggered into the room she had us. Possessed by a voice that moves from angelic to despotic in the bat of an exaggerated eyelash, she gave us song, sass and food for thought, in a truly mesmerizing one hour set. She's becoming the one to watch on the cabaret scene this summer in Edinburgh, having just garnered a five star review in Time Out.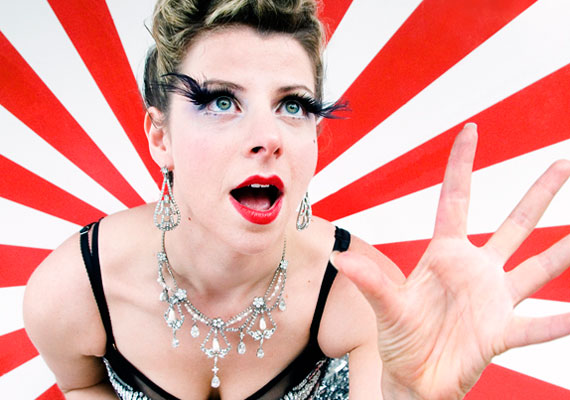 But then again, so did we, just this morning in fact, in addition to another five starer from Stage Won, and making the long list for the Amnesty International Freedom of Speech award, which is quite the trifecta.
We are now entering the home stretch, just eight shows left. How will we cope when it's all over, when the anomie hits home hard and the family is rendered asunder? For now we are putting any looming rainclouds to one side and concentrating on giving the show one last push over the top. We'll be devising some sort of out door stunt to grab the attention of casual festival guests, and we'll be popping up at various late night cabarets for guest slots around town. The Olympics have hit the festival's audience hard, and we can't afford not to be out there selling the show and seducing new punters. Our audiences have been healthy and engaged but to make the figures work we need more of them! An honorable mention goes out to drag art star Jonny Woo, who came to see the show this week and when picking up his ticket, persuaded an unknown couple of ladies that they ought to see it too! Also in attendance this week were cabaret kooks Bourgeois and Maurice, the aforementioned Lady Rizo and TV actress Joanna Bending, ritzing up the front row. Next week we're expecting Hilary Clinton, Jermaine Dupri and the disembodied spirit of Katetherine Hepburn, which is all very exciting.
For now, I leave you with this, the gorgeous trailer for She Male Snails, a new movie by Esther Martin and Eli Leven, which everyone on the continent is raving about. The film touches on several of the themes present in Boy in a Dress, and deserves some thorough appreciation.
She Male Snails trailer
Pojktanten / She Male Snails - TRAILER / Teaser 2 min from Ester Martin on Vimeo.
La JohnJoseph is performing at the Edinburgh Fringe in Boy in a Dress - The Stand @ 16.20