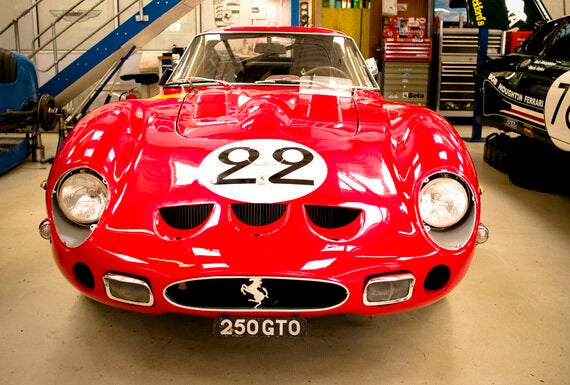 An invite to look at a load of car exhaust pipes might for some, seem a little 'dreary' shall we say, but when those exhaust pipes are connected to a selection of the world's most iconic and beautiful racing cars, then the dreariness seems to evaporate as quickly as the fumes that come out from them. It is a fairly well-known fact that Nick Mason, the drummer from Pink Floyd, holds a serious collection of these cars and yesterday I had the opportunity to immerse myself surrounded by what I can only describe as pure heaven.
In amongst this glorious throng of speed awaiting to happen are about five or six cars that Nick, and his 'works' drivers like to race each season at notable events, such as Goodwood Revival, Silverstone Classic and the Historic Monte Carlo Grand Prix. In particular, one very special Lola T297, which he raced in period at Le Mans in 1978 and 1979 coming second in class and in 1980 coming third in class, will be presented at the forthcoming Goodwood Road Racing Club, 72nd Members Meeting at the end of March this year.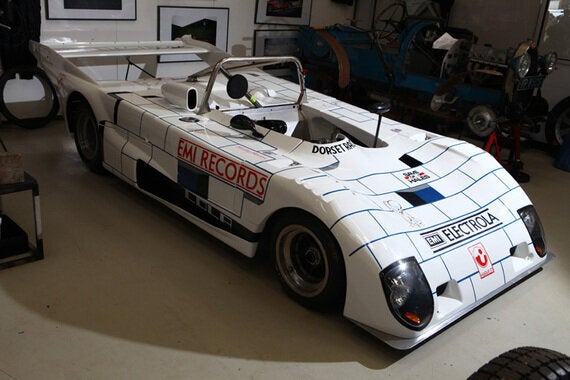 It is this Lola, a rather luscious Ferrari 250 GTO and a Ferrari 512 BBLM that I have come to look at - well actually - their exhausts and manifolds to be more precise.
"The 512 BBLM was a 1979 Ecurie Francorchamps car when Steve O'Rourke, (Manager of Pink Floyd) bought it and raced next to Nick's Lola in the 1980 Le Mans," Mike Hallowes tells me, "and the Ferrari 250 GTO is often driven by Mark Hales at Revival in the TT race."
So what of the exhaust pipes and manifolds that I have come to see? Well along with advancements of engines, brakes, road surfaces, suspension and so forth, there is indeed an intricate advancement to exhaust pipes too; in the form of tiny ceramic particles to be more precise. Zircotec started their industrial life working in the Nuclear environment, sealing cells and the most important aspect of containing heat. It is this element that enticed the Subaru World Rally team in 1996 that helped Terry Graham the Managing Director of Zircotec, move over to what is now their biggest market, the automotive industry.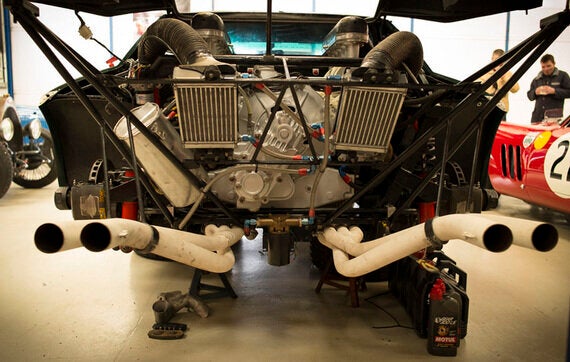 "We spray our ceramic coating onto the surface with a chap completely togged up with protective clothing and glasses, in a sound proofed room - as the tiny particles come out of the nozzle twice the speed of sound, at 12000c, using a gas plasma torch".
I take a pause of breath and try to imagine this environment - not quite like a spray tanning booth then I suspect, however the particles rest at 0.3mm deep onto the surface, reducing the heat reeling off the piping to up to a third and with their Zircotec 'Thermohold' coating, a 50c reduction in under bonnet temperatures can be obtained, improving reliability and performance of the car.
It is no surprise then the Terry has been working with Formula One teams with reducing heat amongst the Aerofoil systems, (where Zircotec have a smooth coating specifically engineered) helped control the Aston Martin Zagato cockpit and under bonnet temperatures using the 'Thermohold' based ceramic on the 25km Norschleife track and here with a plethora of Nick Masons collection, where these Classic, yet highly functional cars are put to their limits throughout the year.
"We have two engine set ups for the Ferrari 250 GTO," Mike Hallowes at the Nick Mason collection tells me, "we took the car on an Italian road trip and wanted to keep the original engine in the car, so whilst we have both sets of exhausts and manifolds using the Zircotec Performance coating, our race engine set up is completely different, every air vent is opened, and because of Zircotec we are confident that the car cockpit and engine wont overheat when the car is pulling top speeds around the circuit." Rather important when a car which was once worth £6k is now considered to be one of the highest valued cars recently sold.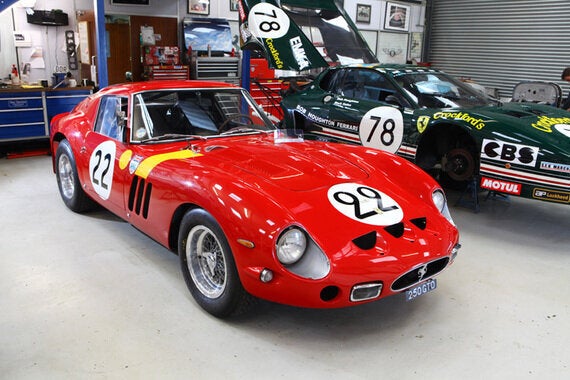 On a cheaper scale, my MG Midget which I plan to race this season would also benefit from the Zircotec Performance coating - especially on a car that has to keep up with experienced drivers and faster engines. Any improvements to the set up will surely help me stay in control too. With less heat passing around the whole car can only mean for a better reliability and performance all round. If it's cool enough for Nick Mason then it's cool enough for me I say.
Lara is writing a book about women racing drivers crowd funded with Unbound Publishing called: Girl Racers.