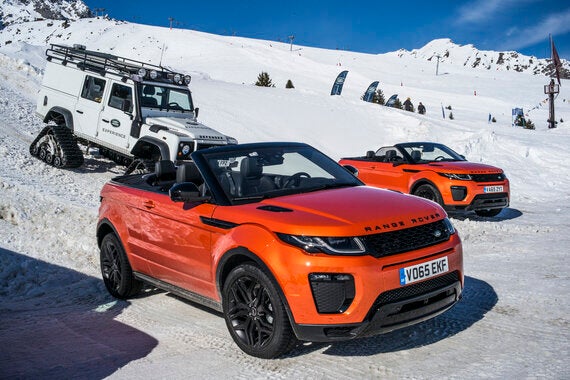 On the first day of the new year I set myself - as I am sure of many of you do too - over a well-deserved glass of Bloody Mary, a set of goals for the year, sort of a system a sort of a schedule, for the months ahead. Having practiced this regime for the past 8 years I also look back at the previous lists and see my progress - if any. Well this spritely January day, my ultimate goal was to have the strength to say NO. I wanted to put myself in a position to plan and schedule, rather than be as spontaneous as I am generally known for. Stick to being consistent, stick to my fabulous weight loss program, stick to my determination and need for finishing my 1964 Land Rover and stick to getting jobs completed on the night of the job. All was going well when suddenly I received a call, last Friday morning,
"Would you like to go snow driving?" the caller began, and already I had said yes. The caller continued (I presume), "wah wah wah" is what I heard (in fact he had been apologising for only thinking of me, due to a cancellation, so late and he had looked though his phone book to stumble across my name... "Tonight" is another word I had identified and "winter sports insurance" another set of words to comprehend.
Already I had strayed, left the platform of good consistent behaviour and visualised where I could have put my Salopettes (surely a spot of skiing was also mentioned, to be honest I cannot remember those words arriving into my ear piece).
By April my plan had certainly put me Off Piste. But this is actually what happened, I was transported to a five star accommodation whilst being able to drive the new Range Rover Evoque Convertible on the ski slopes of one of the Alps most expensive property locations, Courchevel. Constructed after the Second World War and France's first purpose built ski resort, at 1747 feet above sea level but known to many as Courchevel 1850, The Altiport at Courchevel featured in the opening sequence of the James Bond 1995 Golden Eye film and with 563 snow cannons installed all over the three valleys to ensure top quality snow for the entire season, my snow driving experience certainly provided some fresh fluffy and quite interesting snow to tackle with my All Terrain Progress Control facilities on the convertible.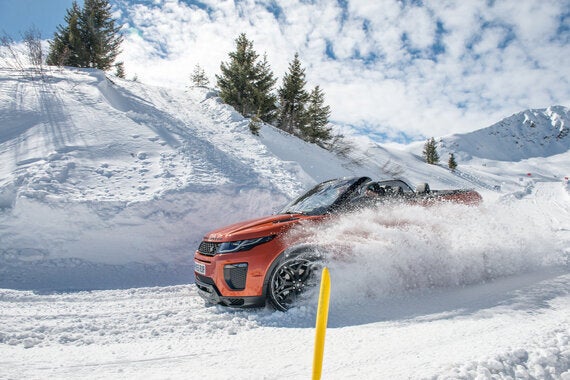 I have never been snow driving before, I have driven on sand and on off road in the woods amongst mud, tree stumps and along brooks, but snow was a new adventure to me. My dusting of Cotswolds snow was not in the same league. Courchevel 1850, the high slopes specifically Cap Horn is certainly one of the most glorious places to begin my knowledge of how to tackle snow under the car wheels. A special 'circuit; was created for us in the Evoque, the new convertible from Land Rover. Daniella Bagnall, the Evoque Programme Director, commented,
"Roof down motoring is in our heritage. It started 68 years ago when we produced the original Series I Land Rover. We have tested the Evoque Convertible to the same all-terrain standards as every Land Rover before, maintaining excellent ground clearance that's comparable with five-door and coupé models."
Well I experienced this and utterly forgot my hood was off, whilst 'getting up speed' which was one thing I hadn't expected to have been told.
"Build it up build it up" my driving instructor screamed... I replied "What happened to as slow as possible as fast as necessary?" (The usual mantra for Land Rover Off-Road work).
Either way, I got up the speed or promptly made the car stall on the slope which my instructor said, "Don't stall now there are people watching," to which I just laughed, reversed a bit and continued onwards.
I managed to find the harder ground and proceeded around the track missing more 'puddles' of fluffy snow. Whilst turning off the All-Terrain Technology I wanted to drive the car in its basic form, and felt really happy to find the hard ground and continued on my way with good speed and grip. However turning everything off... might have had some reason for my 'flying' lap which resulted in a double pirouette, landing completing horizontally across the snow track, to which my instructor - now added to my Crows Feet Cream gifts on my Christmas list - simply cried out, "that was the best fun I have had on this circuit all morning!" (I took a bow in my head). Along came the tow, and we were off again.
Alan Volkaerts, Land Rover's Vehicle Line Director, said: "Producing a convertible Range Rover presented a unique set of engineering challenges, including maintaining torsional rigidity despite the removal of the roof structure, providing roll-over protection in an open-top vehicle designed to tilt to 35 degrees, and offering the luxurious interior refinement demanded by Range Rover customers"
It is indeed true, whilst parking horizontally and at a rather interesting slant, I could open my door to see what the fuss was about, the convertible really does have everything the closed Evoque contains, plus it has a rather lovely long storage hatch for your skis. You also have the sun in your face and the wind in your hair. This added bonus of the open sky is sublime.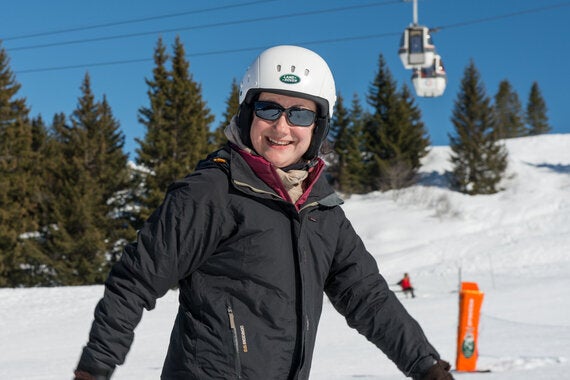 What did I learn from snow driving in the Evoque Convertible? Quite a lot about individual gears and clutches with the intricate details of the Active Driveline, with the ability to look at the centre consul to see which wheel used the power at each given time, I began to understand how torque and engine ratios work together - something so very useful to know for my 1964 Series2a. Another lesson learnt is to provide crow's feet wrinkle cream to ones driving instructor - who, by the third time asked me "shall we go round again?"
Sadly we simply had to go skiing!
All photos by kind permission of JLR press room.