For once I have arrived at a motoring event during the middle of the morning, quite a leisurely time indeed and also for once I am quite undressed, I am 'without' the Leica camera. For today I am simply having a look at how the general public are reacting with the current fleet of electric vehicles parading amongst London's designer shops along Regent Street.
This weekend, the annual Veteran Car Run from London to Brighton takes place celebrating the emancipation run of 1896, when the road speed limit was raised from 4 to 14mph for light locomotives and abolished the requirement of man on foot with the red flag in front of the vehicle.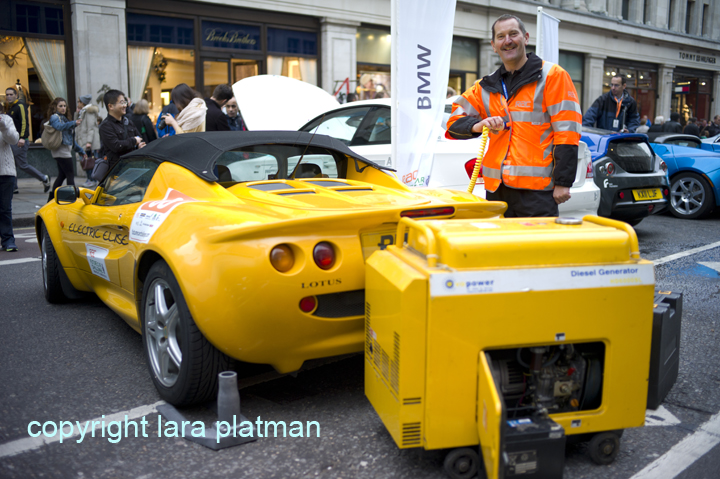 Last year I rode almost shot gun alongside Genevieve and Spiker for my page on the BBC website, battling the unexpected speeds of Spiker with my rather slow Freelander, I hung out the back like a puppy dog trying to photograph the moving car chase.
This year however, being stationary, and in the warmth of the RAC press room, I had the luxury of speaking to one of the drivers in the Future Car Challenge, which occurs the day previous to the Veteran Car Run. Ben Collins, who drove from Brighton in the Nissan Leaf, costing about £2.00 to complete the course keeping to the speed limits of 60pmph, was 'somewhat' different from his latest antics on the set of the new James Bond film 'Skyfall'.
"Daniel Craig actually did most of the stunts in the live action, I stepped in really when he was utterly uninsurable" Collins tells me, "there was some sections where I was driving in tandem on top of Craig, but really he got stuck in and I think he really enjoys the challenge."
I asked Ben about his day on Regent Street and driving the Leaf, "Only today can we really see the possibility of driving an EV, with the infrastructure provided by British Gas now being put in place in the cities, we can see the future of these cars as a reality."
What is next for the ex Stig driver? "I would really like to get back to racing at Le Mans for next year." I tell him I have just obtained my racing license and he immediately pipes back, "Brake late brake late." I visualise my corners at Silverstone... "Ok I will brake late, perhaps you might be able give me some track tuition?"
We leave it there and I dream on... perhaps he will.....
Follow my driving diary at www.photofeature.co.uk