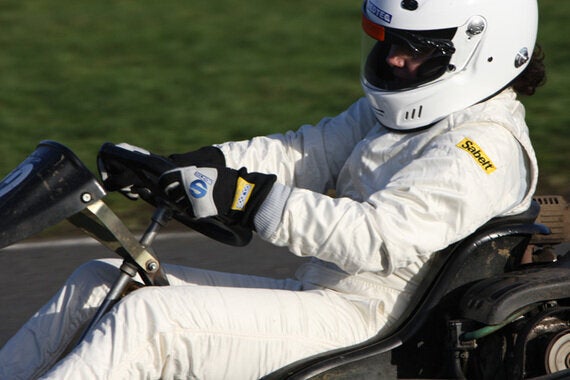 'Rubber Necking' is a saying I often heard on the radio when stuck in traffic jams in London, bumper to bumper, between the endless sets of red lights all trying to squeeze into the smallest of spaces and all desperate to reach their final destination in ridiculous time. So to see some real rubber necking last weekend in Daventry, Northamptonshire, where a group of girls were testing for the 2014 Northampton Maidens Karting team was quite a revelation.
Since deciding to 'Go Racing' and take my ARDS At Silverstone last year and understand how some of the ladies in my book 'GIRL RACERS' might have felt and how the contemporary girls are feeling, I thought a spot of Karting might help me get a feel for the racing circuit again.
Stepping into a Kart for the first time (at the age of 44), at the Whilton Mill Kart Circuit, I realised that my bottom was inches off the ground, cushioned into a bucket seat, a petrol tank fixed between my thighs and two metal pedals for gas and brake, I soon started to understand the thrill of Karting the moment I set off onto the circuit. Having watched the first group of the Northampton Maidens do their time trials, with a mixture of dread and excitement, my turn soon arrived with a highly impractical white Sabelt Nomex that was to be soon splattered with tiny fragments of mud.
My first lap was slow, I hadn't realised that only one of my petrol engines was firing - I was more concerned with trying to stop my hands vibrating out of my arm sockets whilst figuring out that being so low to the ground was actually completely enthralling to understand anything about lawnmower technicalities. On return to the pit, they fired up my second engine and I had a somewhat quicker lap time.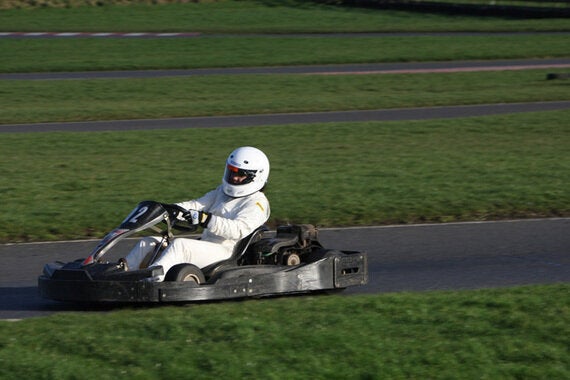 However, it wasn't until James, the circuit steward for the day (and part of the Northampton Knights Karting Team) suggested that he take me round to show me the ways in which to handle the kart, but really and far more importantly, the speed in which I was supposed to be travelling. He did and my lap time reduced by 12 seconds! Now I could finally understand what Karting was about. The sensation in my arms had reached full vibration and my eagerness to catch the girls in front of me had totally engulfed my brain, all I could do was to get my body leaning from left to right on the corners and get a move on.
With every morsel of my flesh quivering, I was fast discovering my new found ability to trust this little plastic hover machine and try for a faster and faster lap time. The smallest details of coming into a corner was so apparent when you left that corner, one tiny mistake could slow you down by seconds or even points of seconds allowing the other Karts to pass in a whirlwind. The more laps I completed the more my body was fuelling, until the chequered flag of the session where I could get back to the pits to sponge more insights to perfect my performance and allow my body to come to a less quivering state.
The final session would be a time trial for the girls to secure their place in the Maidens team, partnering up with a more advanced team member. Since James and I had been working so well together, I was allowed to keep him, which for me was a blessing as we had worked out our hand signals and a strategy. At this stage I would go in front of him and see what I had learnt or achieved and if at any point he needed to push me further he said he would 'bump me up the back' which naively I found hysterical but actually this didn't need to happen, I was doing quite well on my own. We then had a rolling start for the final time trial and apparently because my kart slowed down for this start, one of the petrol engines cut off again and I was left high and dry at the back driving Miss Daisy. I returned to the pits with a very grumpy face.
All in all, the afternoon with the Northampton Maidens Karting Team was so exhilarating; I can't wait to join them again for another session, hopefully avoiding the donkey of the litter. At least now I can full appreciate the real notion of rubber necking.
Next on my Girl Racer quest will be a return to the car I took my ARDS test in - the Renault Clio.
Photos courtesy of Sarah Warwick