Most people when they think of taking a responsible/eco/green holiday immediately think it has to be in the countryside, not the city, but that just isn't true. Cities have the same challenges with the environment and local communities as the countryside does.... You can have a great holiday anywhere in the world that is also a responsible holiday.
A great responsible holiday is all about getting under the skin of a destination, experiencing that WOW factor and of course enjoying yourself!
Two weeks ago I went to Istanbul for the first time. Although I have been to lots of different cities I had never stayed in a place in a city that promoted itself as responsible, and I have to say that I was thinking it would just be a token greenness factor.... In actual fact I was pleasantly surprised.
The apartment was right in the centre of Beyoglu which has great restaurants and nightlife. I was warned before I arrived that the apartment is on a very busy street with nightclubs and that it might be noisy, and yes believe me the street was noisy - the loudest night being Sunday! But with the doors closed and some ear plugs I was fine.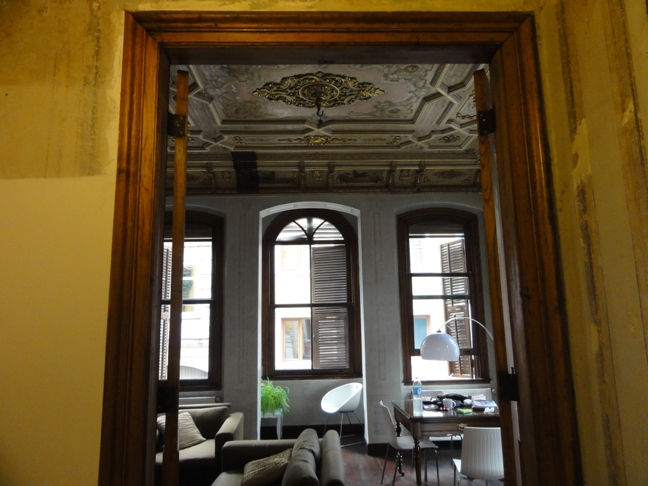 The apartment is called Pera!Place and is in an old 19th century building, what I found fascinating is that the building was badly burnt in a fire and the apartment owners, Julia and Tarquin lovingly restored it to what can only be described as beautiful. While I was in Istanbul I explored places like the Aya Sofya, the Blue Mosque and Topali Palace and the decoration of the apartment is entirely in keeping with all those. The building restoration was all carried out by local crafts-people, they preserved all the original building features (including not putting in double glazing despite the loud street below) and used original materials where possible.
At Pera!Place for every visitor who stays the owners arrange for a tree to be planted in Turkey. There are a wide range of books and DVDs in the apartment to educate the visitor on Turkey and in particular Istanbul. I watched a DVD documentary on visitors to Istanbul and their perceptions while I stayed which my Turkish friend told me I "had to watch", great music and scenery but with no English subtitles it was a challenge!
Unlike in a hotel the apartment is not cleaned daily, I had the option to have it cleaned daily for an additional cost, but with just me for four days I didn't really need it - I like this concept. I mean staying in a hotel and not having to make my bed is nice, but the hotel staff seem to ALWAYS change the towels even when there is a sign saying they will only change what are left on the floor and not hung up, and I hang mine up!
I also liked that there was a sign on the front door encouraging me to switch off lights, the tv etc before I left the place. Staying there I felt that the place was really cared for.
While I stayed in Istanbul I walked every where (in fact I needed a holiday to recover from the long weekend!) and if I really had enough I got the tram. A city break didn't have to mean I impact the local environment negatively.
I stayed in a gorgeous apartment, a tree was planted because I stayed, I spent money in the local markets, cafes, bars and shops, my visit helped preserve some of the architectural history of Istanbul, which believe me it needs.
As a city Istanbul really is an East meets West destination and as such is a tourist attraction, tourism brings in a huge amount of money into the economy - you can have an amazing holiday that helps the local community and environment, don't feel guilty about a city break, just make sure you check the details of where you plan to stay.