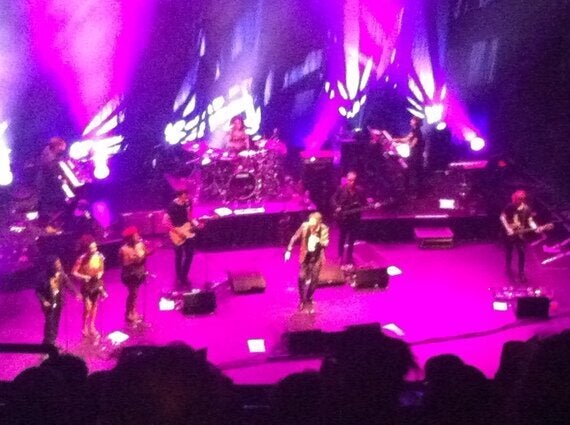 Ferry & Co. Do The Strand, Beacon Theater on 1 Oct. They didn't play that song, but they did "Editions of You," also from Roxy Music's 'For Your Pleasure' (1973).
Three years ago, I had the privilege to observe a soundcheck prior to the Bryan Ferry concert at the Beacon Theater in New York.
Continuously stopping and starting the band after a few bars, it gave me insight on how much of a perfectionist Ferry is, how every detail both aurally and visually is considered and reconsidered.
His live sound engineer quipped to me at the time, "This is not a soundcheck; it's a rehearsal."
Ferry's solo tour returned to the venue 1 Oct. as part of a North American tour that began 22 Sept. Prior to the show, I learned that Bryan had been ill with an ongoing throat infection, forcing the cancellation of the two previous gigs in Washington, DC.
The Roxy Music frontman stuck to the game plan. Whereas another performer might have divvied up vocals among his formidable, soulful backing singers, or rely on The Jazz Age instrumental '20s-style rearrangements (used last year so effectively in Baz Luhrmann's The Great Gatsby), Ferry soldiered on, slightly hoarse, looking spiffy in a snazzy dinner jacket.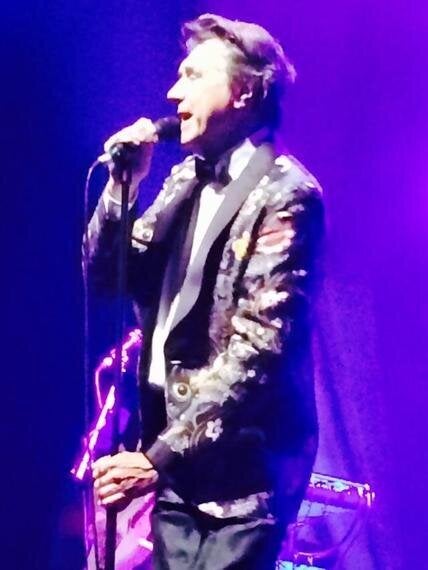 Bryan Ferry, 4/10/14, Tower Theater, Philadelphia. Photo: Paul Lauricella
His voice improved as the nearly 90-minute set went on, about half of which he retired to the keyboards sitting on the raised platform to the right of the drummer, when he wasn't centre stage holding court.
Opening with a spirited "Re-Make/Re-Model," Ferry sublimely selected the very first track on Roxy's 1972 debut album, ushering in a glamour and avant-garde musical genre-shifting sensibility sorely lacking in the post-Woodstock denim and flannel era.
Every tour, Ferry remakes and remodels, and this latest jaunt features three new band members, a keyboardist and two guitarists. Despite being nearly twice the age of many of his band members, Ferry (he turned 69 on 26 Sept.) shows no signs of slowing down either as a live performer or as a recording artist. His new albumAvondale arrives 17 Nov.
The set list slightly favoured Roxy Music staples (11 of the 20 songs played), but Ferry has always seamlessly blended live his solo work with Roxy material that never sounds dated, despite the four decades in between and the replacement musicians.
For instance, Andy Mackay's oboe solo on "Tara" is embedded not only in my DNA but also in Jorja Chalmers's too, only that she can play it note for note. She's been a mainstay of the Ferry solo band for a while. "Tara" turned into a duet between Chalmers and Jacob Quistgaard on acoustic guitar, letting the song breathe with some improvisational soloing.
All in favour of racial and gender diversity in his band, Ferry also added female drummer Cherisse Osei in 2012, and she ably pounded the skins that were occupied by original Roxy drummer Paul Thompson three years ago at the Beacon.
Ferry delivered with aplomb his romantic crowd-pleasers "Kiss & Tell," "Slave To Love," "If There Is Something," "Oh Yeah" and "Avalon," satisfying those planning a trip to the boudoir in the very near future.
He debuted two songs from Avondale, including Robert Palmer's "Johnny and Mary," continuing his always excellent choice of covers that accentuate his knack for making all his own. His latest single "Loop De Li," already on Spotify, gave the audience a taste of what's in store from the new album.
Ferry slowed down with deliberate phrasing "Johnny and Mary" and a fragile reading of Roxy's "More Than This," which probably helped his ailing vocal cords down the stretch.
Encore-time, he mustered enough energy to crank up the band on the toe-tapper "Let's Stick Together."
Whereas another performer would have pre-programmed, for situations like this, a perfect whistle in John Lennon's "Jealous Guy," Ferry did his best live lip puckering, albeit slightly off, making you love him all the more.
Ferry ended up canceling the next night in Boston (2/10/14). His Facebook page stated: "Bryan Ferry has been required to cancel tonight's show at the Orpheum Theater following medical advice due a continuing viral infection."
My mate in Philly who attended the 4 Oct. show reported mid-show: "He's on and he sounds great," as evidenced on "Kiss & Tell."
A fortnight off, the Ferry & Co. tour heads back to Europe for 20 dates, starting with a 21 Oct. gig in Copenhagen and wrapping up 11 Dec. in Brussels.