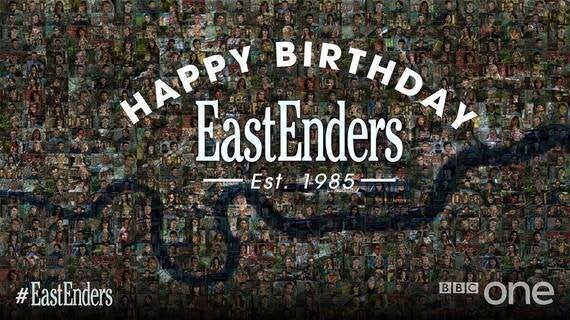 If EastEnders' 30th anniversary proved anything this past 19 February, it was that the series could still grip the nation (that would be the UK) with a whodunit.
Kudos to current executive producer Dominic Treadwell-Collins and the publicity office for feeding the Internet with a constant barrage of memes posted on Facebook, Twitter, etc. in the months and weeks leading up to "EastEnders Live Week," 17-20 February (also known as "EastEnders: The Week of Revelations").
Treadwell-Collins described the live week as being "a fantastic opportunity for EastEnders to create a massive national event, and one that will enable us to celebrate 30 years of [the show] in spectacular style." He didn't disappoint.
The actual anniversary episode peaked with 11.9 million viewers (and a 44.7% share), and was considered a great success. In contrast, "Who Shot Phil?" garnered 22 million nearly 14 years ago. In 2001, social media wasn't invented yet. More than 30 million Brits watched Den serve Angie divorce papers on Christmas Day 1986, but then there were only four TV channels in the UK.
The 19 February show was performed entirely and broadcast live on BBC-1. Live scenes had been inserted into episodes during the week. As the murder mystery unravelled, social media records were broken twice, no doubt helped by the omnipresent, superimposed #EELive. The first episode saw 508,678 tweets sent, while the flashback episode broke that record with 519,359, making it the most tweeted-about UK soap episode.
Stateside, the Los Angeles Times ran a nice essay from a London writer about why EastEnders is so important. "You're forced from an early age to watch it, in a way," TV critic Emma Bullimore was quoted as saying. "You see them grow up as you grow up. They're kind of part of your life."
The live episodes made one American, Priscilla Mayfield, who lives in southern California, become a fan again. Although previously addicted to EastEnders since the early days, she lost interest over a decade ago and stopped watching.
"Like Michael Corleone, we're pulled back in. Dang EastEnders," she posted on Facebook, attributing her rekindled appreciation to a VPN service, Tunnelbear.
Albert Square fans will no doubt want to take a close look at the Walford Gazette's "Periodic Table to EastEnders", the pullout centerfold of the 30th Anniversary edition of the Walford Gazette.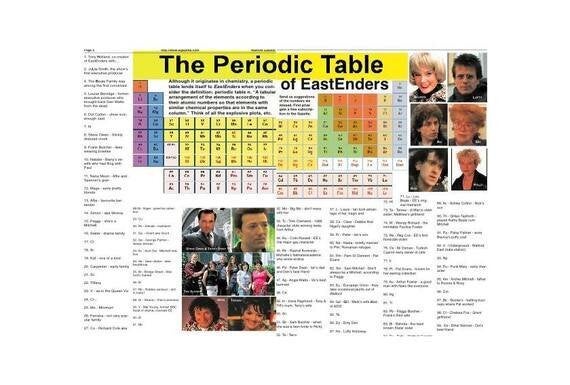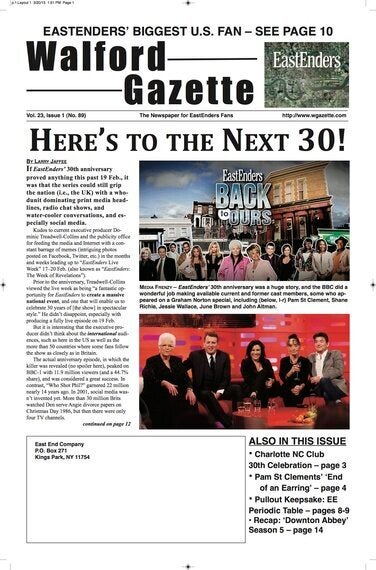 Order the pdf of the Walford Gazette's 30th Anniversary edition for £3 from http://www.wgazette.com
Related