Writing this on the morning of Thanksgiving is especially appropriate, coming on the heels of last night watching two excellent episodes of EastEnders on public television in the US, which is about eight years behind the storyline you lot see in the UK. Yes, I'm in a time-warp.
Despite being the editor & publisher of the world's only quarterly newspaper dedicated to EastEnders(www.wgazette.com) for the past 20 years, I am somewhat ashamed to admit that I haven't seen all that much of the show in the past month, partly due to Hurricane Sandy knocking power out for a week.
Last week I was fortunate to catch the last few minutes of the second episode in which Minty finally expressed his unrequited love for Samantha, unsuccessfully convincing her to marry him instead of Andy. (It's nice to see Cliff Parisi in Call The Midwife (also on PBS these days), in a supporting role not all that different than Minty, although set five decades earlier).
But last night's two EastEnders episodes were different, and demonstrated a rare creative flourish in juxtaposing of storylines. True, on the eve of an Albert Square wedding, the production team usually notches up the storylines, as they did last year for Kat & Alfie. But Sam & Andy aren't exactly Kat & Alfie in the tug-at-the heart, sympathy department. Andy is a piece of work (shameless plug: Michael McCarthy has worked up a great analysis of the character for the next Walford Gazette), and Sam means well, but let's face it, she is just lost. She's so desperate to finally find love with a good-looking bloke. Sorry Minty, Andy has you beat in that department even if you're right about the creep.
Back to the scenes on the screen, we move from bedroom to bedroom - Sam and Andy; Martin and Sonia; Dennis and Zoe (or Sharon); and Kat and Alfie - all discussing last-minute details about the wedding, as well as their own love and/or marriage. A guilty-looking Martin's all jumpy when the mobile rings, thinking it's his one-night stand who refuses to leave him alone; Sonia senses something is awry and lets it go.
Dennis inexplicably agrees to be Andy's best man, and frisky Zoe is about to fool around with her boyfriend when Andy barks about Dennis making sure that the wedding transportation is all set. Sharon manages to pull Dennis into her bedroom for a snog, Zoe none the wiser.
Andy then calls Alfie to make sure the Vic will be ready for the reception. Kat's somewhat reticent about Andy getting married, which Alfie misinterprets that she still has feelings for her former fiancé.
Meanwhile, Sam finally expresses to Andy her doubt about getting married to him, and how maybe Minty had a point about him. Andy calls her bluff, and says if she can't trust him, he's calling it all off. Of course, Sam - so desperate to get married - recants, dismisses it as prenuptial jitters and fretting about her impossible-to-please mum Peggy. It's also worth noting that Andy isn't about to made the fool again at the altar, and is as desperate to get married as Sam.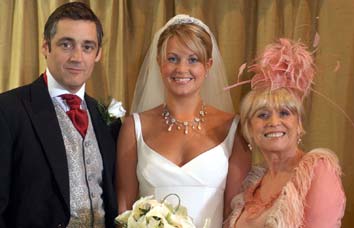 The second episode, the morning of the wedding, revolves around the return of Peggy, the undisputed Queen of Albert Square. Boy, she has been gone a long time, as we realize she missed Kat and Alfie's wedding. Alfie gives her a big "DUCHESS!" greeting. Peggy can't believe Sam hadn't invited them to the wedding, and insists they come any way, as she also did with Patrick and Yolande, making her away around the Square.
Andy does his best to impress Peggy, who seems smitten that her daughter has made a good choice. Meanwhile, Minty keeps on missing Peggy, and you could only guess he would let her know what he really thinks of Andy.
Best line comes from Aunt Sally, who hopes her niece doesn't cock it up again like she did "with that donut Ricky." It's hard to believe that the teenage runaways eloped more than 20 years ago.
In any case, these two episodes reinforced how thankful I am of EastEnders at its best.