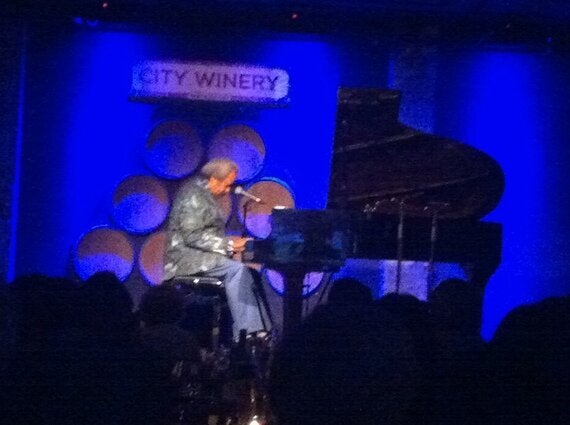 "That shirt's talking!" bellows music legend Allen Toussaint to me, regarding the psychedelic poppy design that looked like it was swiped from Alfie Moon's wardrobe.
I tell the 75-year-old New Orleans pianist that his dinner jacket was pretty snazzy and I'd gladly swap. He signs my vintage LP instead, which I'll surely treasure for the rest of my days.
This exchange came minutes after his nearly two-hour solo set at Manhattan's great club City Winery in which Toussaint demonstrated why he's New Orleans' best ambassador. He transported the SRO crowd to the French Quarter during Mardi Gras, and serenaded us with his trademark piano style that could only be him caressing and finessing the 88 keys.
He's a septuagenarian gentleman, who's seen it all, and plies his trade flawlessly, as he knocks out hit after hit that he penned and made famous by others: "From A Whisper to a Scream" - Robert Palmer; "Mother-in-Law" - Lee Dorsey; "Fortune Teller" - Rolling Stones; "Southern Nights" - Glen Campbell, among them.
Anyone who's attended Toussaint's concerts at London jazz club Ronnie Scott's still fondly remembers the joyful sounds that wallowed through that quaint room played by all of his fellow greats. Pasty white English guys like Frankie Miller ("Brickyard Blues," played this night) and Elvis Costello (with whom he recorded an entire post-Hurricane Katrina album), have been touched by the Toussaint magic.
At City Winery, Toussaint also played Louis Armstrong's "St. James Infirmary," Professor Longhair's "Tipitina, "Steve Goodman's "City of New Orleans" and Randy Newman's "Louisiana 1927," and marveled "what a great songwriter Randy is." Takes one to know one, indeed.
To make sure the audience gets in the Mardi Gras mood, he breaks out a bag of party favours, and tosses out chains of colourful beads, frisbies and t-shirts to the lucky souvenir recipients. He implores us to "keep it funky."
Toussaint yells out, "Are they piano players out there?" An attractive woman more than half his age saunters onto the stage, and she has the chops as she bangs out treble leads on the right side of the keyboard while the master holds down the bass rhythm. Toussaint repeats the gimmick a few songs later, when "a dude" lumbers up. The guy also knew what he was doing on the instrument with a more aggressive pounding touch.
Toussaint's the epitome of how one should respect-your-elders, and hats off to City Winery for booking him. But they also always have a great programme in store, adorned with many of Britain's best musical exports.
Just last week I took in Karl Wallinger's 3-piece World Party, who provided a different brand of songwriting craftsmanship mulling over the mysteries of love, and another septuagenarian, Mott The Hoople's ageless wonder Ian Hunter, celebrated his Diamond Jubilee Birthday Bash there on 3 June. Further into the summer, come The English Beat 28 & 29 June, I confess.