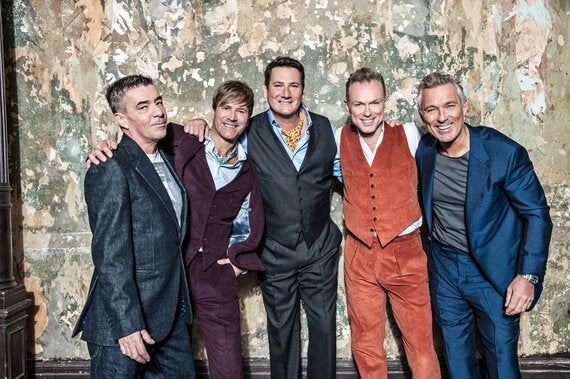 Martin Kemp, far right, courtesy of Sundance
Thirty-two years since Spandau Ballet called it a day - and six years since its return - the Not So New Romantics just wrapped up a brief North American tour finding numerous baby boomers anxious to relive the 1980s and their smooch sessions to "True."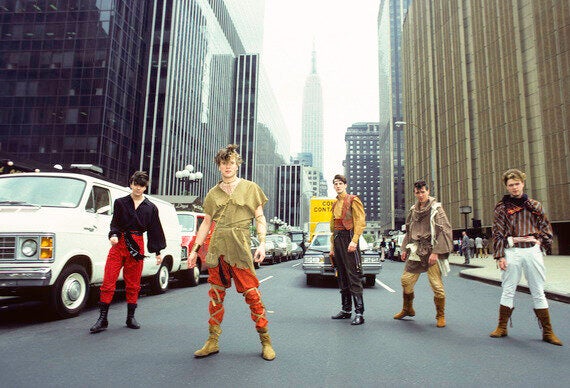 Spandau Ballet lands in Manhattan, Martin, second from right, photo by Lynn Goldsmith
Refreshing to find a decades-old band in reunion mode with its original lineup intact, the Spandaus also are promoting a feature-length documentary, Soul Boys of the Western World, which chronicles their rise, demise and revival.
Spandau bassist Martin Kemp, fondly remembered by EastEnders fans as the dashing gangster Steve Owen last seen blown to bits in a car explosion before handing off an infant to nemesis Phil Mitchell, shared some tidbits in his hotel lobby a few hours before taking the Beacon Theatre stage.
Was EastEnders' Peggy Mitchell based on Violet Kray?
"I think it was Barbara [Windsor] who suggested [to the EastEnders producers] I play Steve Owen. I thought Barbara was fantastic. We used to talk a lot about Reggie Kray (whom Kemp played in the 1990 film The Krays). She knew Reggie really well, and went out with him at one point. We spoke a lot about that. I love Barbara. Among entertainers, she's one of the most beautiful women. We come from the same part of town. Whenever I meet up with her, it's like meeting up with an aunt."
Earlier this year, Kemp co-starred in Assassin with Danny Dyer, whose Mick Carter "is probably the best character they've had in a long time. Recently the show has gone to strength to strength."
Kemp admits he's not a regular EastEnders viewer these days, although he watched last Christmas and got caught up in the "Who shot Lucy?" drama this past February coinciding with the show's 30th anniversary.
"I was lucky enough to be in EastEnders when the cast was really incredible. Myself and Tamzin [Outhwaite] - certainly Walford's all-time best looking couple, votes the Walford Gazette], we turned it into something special in a short period of time."
The Walford Gazette points out that Steve Owen's E20 nightclub in Albert Square was later turned into Scarlett by Johnny Allen, played by Bill Murray, whom Kemp cast in his 2010 horror film, Martin Kemp's Stalker, which he directed and co-wrote.
Did Kemp and Murray ever compare notes on EastEnders even though they missed each other in Walford by about a decade?
"We did, but nothing I'd like to say about it. In entertainment the jobs you have and the friendship you make are all very transient - you pass through. It's not like an ordinary person you work with every day for six years. You're new job is always right around the corner. But that's how [EastEnders] is made, that's how it's done. You meet people, they're your best friends, until the next bunch of best friends."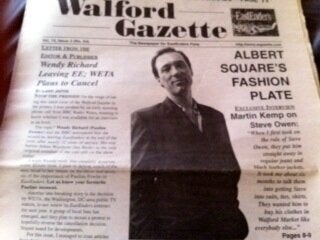 On the eighth episode of the first season of the American sitcom Modern Family, a wife Claire hopes to surprise husband Phil with an anniversary gift of a private concert of "True" by the bass player of Spandau Ballet, a cameo played by Ed Norton.
"I laughed as everybody else did," says Kemp, who wasn't approached by Modern Family to play the part. "What was funny about that was the incredible research they did. When Ed comes through the door, they say 'This was the bass player in between [original Spandau bassist] Richard Miller and Martin Kemp'. They made up [Norton's character, Izzy LaFontaine]. Richard was the kid at school when the band first started. What a great compliment. It's been covered so many times and so many years. Everybody loves to talk to you about it."
Contrary to Internet lore, Kemp explains it didn't take him three months to learn his instrument after Spandau manager Steve Dagger (who's still at the helm) decided Gary's younger brother must replace Miller because of his good looks.
"That's a bit of a fallacy, really," he points out of joining a band for reasons other than musicianship, a la Sid Vicious or Stu Stutcliffe. "I already had a school band that I put together," explains Kemp.
"We were punk. It was called The Defects. But I played guitar, only three or four chords, because punk opened up the world of music to everybody. Every kid that wanted to be a rock star who couldn't play guitar, it opened up. People then were listening to Yes and Emerson, Lake and Palmer. To be a musician in a band you had to be brilliant. Punk changed all that. So I learned three or four chords.
"Then Gary and the boys asked me to be in [Spandau]. I picked up a bass guitar. I knew how to move up and down the neck of the guitar. So I had to learn 14 songs in three weeks."
Did Martin's mum urge him to join his older brother's band?
"No, she urged Gary to let me in. It was [Spandau manager] Steve Dagger who wanted me to be in it. Getting Gary to agree was a different thing. I'm not sure Gary wanted his younger brother (by two years) in. I think my mum talked him into it."