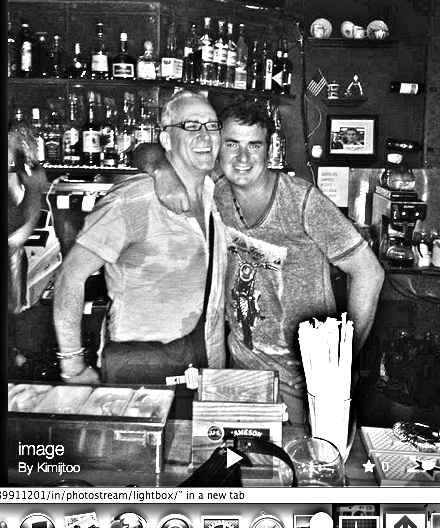 NEW YORK - At a recent meet and greet held at midtown Britpub Churchill's here for Shane Richie, the actor schmoozed a few dozen stateside fans, some who traveled several hundred miles to speak with EastEnders' Alfie Moon, arguably the Queen Vic's favourite manager of all time.
An impromptu Q&A kicked off with the star attraction stationed behind the bar, of course. The first punter to ask him a question, more like 'yell', was Alec Jackson (pictured on the left), an expat partner in the real-life Queen Vic pub located in Manhattan's East Village, which opened about two years ago.
"Mr. Richie, may I buy you a drink?" Jackson screamed, catching Shane's eye. "Vodka tonic, please," he answered. Jackson, who hails from Leeds, called Richie "the most happy celebrity I have ever met." He then managed to coax Shane the next night into coming to his Queen Vic, the obvious location for the event, but unavailable because its kitchen was being renovated.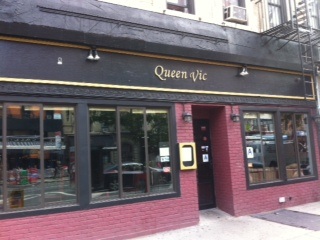 It all started with a tweet in late July. Richie contacted his good mate Kimberly Johnson, whom he had met in North Carolina a few years ago, that he and his manager Phil Dale were going to be in New York in mid-August and perhaps she could throw together a do that could raise some dosh for the stations that broadcast EastEnders in NY or NC.
Johnson interviewed Shane for the Walford Gazette in the spring of 2011; you can read it here.
Wearing my best "Alfie" shirt, I purposely wanted to talk to discuss with Richie subjects other than EastEnders, about which I figured he was going to be asked all night. It turned out to be a great plan.
I broke out a DVD of Shoreditch, Shane's self-financed feature film, on which he took a bath and the UK critics weren't kind. Shane told me he had no regrets about making the movie. I responded that I understand completely about investing emotionally into such a "labour of love - after all, who else would do the Walford Gazette as long as I have been doing it?"
Richie laughed, and said: "Yes, the Gazette! You know, you're the only person to ever ask me to sign one of these." Phil pulled me aside afterwards, and told me what a brilliant move it was to bring up Shoreditch.
My 15-year-old daughter Annie joined me meeting Shane, and we told him about how we saw a community production of Grease. "I was Danny Zuko in the West End," he told us, and how John Travolta and Olivia Newton John met him after a performance that they attended.
Richie asked Annie if she was a fan of Justin Bieber because his 21-year-old son Jake Roche, who acts in Emmerdale, is lead singer of a band called Rixton, which had recently played in New York. (Annie doesn't care for Bieber, but One Direction is another story...)
Shane mentioned that he enjoyed his whirlwind few days in New York, and that he "loved" the Broadway musical Kinky Boots, which he and Dale saw a few hours earlier.
Conscious of not monopolizing his time, I stepped aside for a crowd still waiting to meet the star.
A few days later, Richie tweeted from New York about "interviewing some lads for bar work at the Queen Vic" and getting recognised by American fans on Fifth Avenue.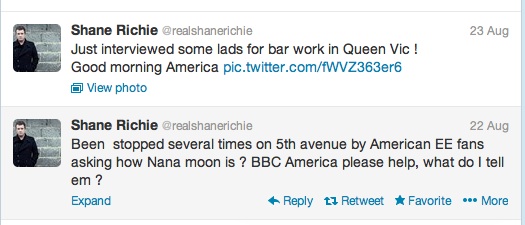 Postscript: Brooklyn EastEnders fan Cathie Tagliagambe, who was at the Churchill's. met chip-off-the-old block Jake Roche at a pop-up Rixton concert at Union Square Park on 5 Oct.